The Best RV Storage Operators Make Vehicle Storage Easy
---
August 5, 2018 | Storage Tips
Boats and RVs are great for traveling on America's endless highways and scenic byways. However, finding a place to park oversized vehicles in between trips can be a challenge. That's why the best RV storage operators in the country provide options for storing recreational vehicles including boats, campers, motorhomes, and RVs.
Market research shows that fewer than 5% of RV and boat owners have a place to store their vehicles at home. Off-site self storage options for recreational toys and vehicles remain in high demand. People of all ages love the flexibility and affordability of RVing.
What type of self storage is available for RVs?
There are three options for how you can store recreational vehicles; outdoor storage, covered parking, or indoor storage. Options that include 24-hour video surveillance are available at the best RV storage operators.
Covered RV storage can feature interior climate-controlled storage space designed to accommodate the storage of any vehicle such as classic cars. However, typically this type of storage is a covered parking space in a gravel lot behind a secure perimeter.
It's worth noting there are RV and boat storage operators that specialize in only storing large recreational vehicles. These facilities are usually the most expensive option, and this type of specialty large-vehicle storage facility may not available in every city.
That's why most people rely on self storage facilities. They are a great option when you need to find storage for your boat, RV, or commercial car that is close to home.
Choosing your local storage operator also gives you convenient access to household storage units. Drive-up units are ideal for storing camping and fishing gear, jet skis, or outdoor sports equipment such as canoes and kayaks.
RV storage features you'll want to have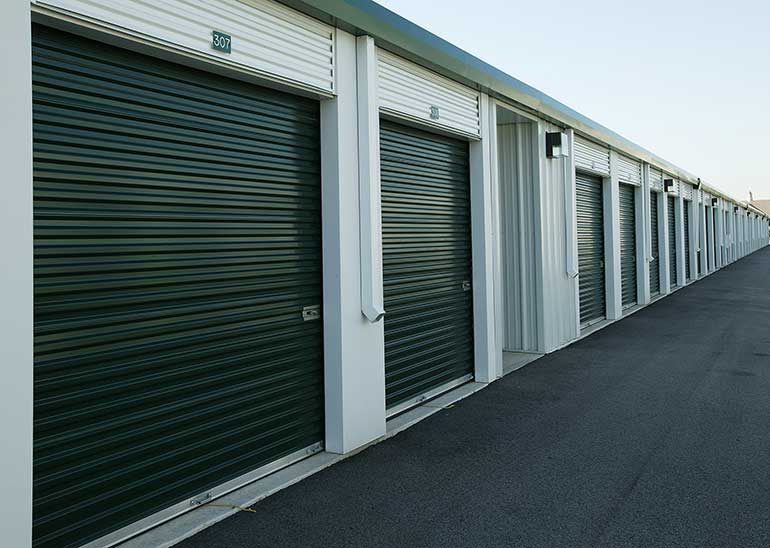 Your RV Storage facility is only as good as the features your facility offers, so you should keep a look out for these features before choosing a facility:
24-Hour Access: With extended road trips or fishing outings, you'll want to pick up your boat or RV early in the morning and drop it off late in the evening. RV Parking  a storage facility that's only open during business hours is going to be a hassle. Find a facility that offers round-the-clock accessibility.
Covered or Indoor RV Storage: Covered RV parking might be a feature you'll want if you live in the Midwest city like Bloomington or in a Southeast city like Fort Meyers . Not only will a covered space protect your investment from inclement weather it will help prevent RV or boat from developing mold or mildew, but it will also keep parts of your vehicle from harmful UV rays.
Prominent RV Security Features: Metro Self Storage invests in state-of-the-art security systems to protect your RV while it is parked at one of our storage facilities. Our RV and boat storage facilities have security cameras strategically located throughout the properties. Many have advanced systems such as motion detection lighting and 24-hour recorded video surveillance.
Ample Lighting: Metro RV storage locations feature quality illumination and as an enhanced security feature, metal halide lamps, and LED fixtures are installed. Well-lit RV storage areas on our properties include entrances, designated parking areas, and drive aisles between storage buildings.
Easy-Access RV and Boat Parking: Outdoor covered and uncovered parking features should always include wide drive aisles to make dropping off and retrieving your vehicle expedient. Paved parking makes finding your spot much easier and if it is rainy or snowy you will appreciate paved parking.
Clean, Well-Maintained Facilities: We set the bar high—Metro storage facilities are clean, well-maintained, and ready to impress whenever you visit.
Resident Property Managers: We value you and your belongings, and we put you first in everything we do. Many of our storage facilities have property managers who live on the premises and care for their storage facilities as if they were their homes.
The Best RV Storage Facility Operators put Customers First
At Metro, we understand that boat and RV ownership represents a significant investment. We believe that the best RV storage operators offer value, security, friendly service, and extended access hours every day of the year. Fortunately, with self storage, you don't have to worry about the safety of your items or fines resulting from city ordinances.
Whether you purchase a motorhome, camper trailer, or sports utility trailer, you want to enjoy it for years to come. In between trips and vacations, there are several advantages to parking at a well-lit, secure, and reliable Metro RV storage facility.
Boat and RV Storage Features Checklist
The best RV storage operators understand that location plays an important role when deciding where to store your vehicle. Knowing that you can access your vehicle within minutes of your home makes planning for travel much more relaxed.
Metro Self Storage RV and boat storage facilities are located in cities and large metropolitan areas that are in proximity to popular outdoor destinations including State Parks, National Park Campgrounds, and lakes. Our RV facilities are well-maintained to exacting standards, offer prominent security features, and above all, outstanding customer service.
When storing your boat or RV away from home at a local self storage facility, you'll want RV storage amenities that make it easier to maintain and access your vehicle.
When choosing an outdoor RV storage facility, here is a helpful list of questions to ask your local RV storage operator when making a decision on what facility to go with:
Is the parking area paved or is it a gravel parking area?
Is the outdoor storage area secured by a gate or some other type of wall?
How tall are the fences securing the parking area?
If the RV storage is adjacent to a self storage facility is there some kind of wall or fence separating the self storage units from the RV storage?
Is the storage facility's entrance secured by a gate?
Does the storage facility have a 24-hour security camera system?
Are there any additional amenities such as electrical hookups, freshwater hookups, or a dump station?
Is there ample lighting for security and late-night drop-offs?
Is there ample room for entering and exiting your parking area?
How does the facility handle snow removal?
Find RV Storage at a Metro Facility Today
Metro Self Storage is your local resource whenever you need extra space in your life. From personal and business storage to recreational vehicle storage, we help people just like you 365 days a year. At Metro Self Storage,  we pride ourselves on creating relationship-driven facilities where people come first.
Find a location near you to learn more about your recreational vehicle storage options in your city.