Benefits of Having a Roommate
---
May 17, 2022 | Lifestyle
Whether you are heading off to college for the first time or moving to a new city after landing a cushy job, one of the things you may be wondering while looking for a place to live is whether or not you should find roommates to live with. While it ultimately boils down to personal preferences, more often than not living with other people has far more benefits than detriments. If you're currently on the fence about whether or not having a roommate is the best move for you, Metro Self Storage is here to help you decide whether or not you should live with a roommate.
Pros of Living with Roommates
While not for everyone, there are certainly plenty of benefits when it comes to living with roommates. From cutting down on the monthly bills to having a built-in companion to spend those slow Sunday afternoons with, the list goes on and on for why you should consider moving in with other people:
Save Money
The biggest perk of living with roommates is the savings you'll accumulate. Not only are the rent and utility bills split up amongst everyone living in the household, but you'll be able to take turns purchasing necessities such as toilet paper, cleaning supplies, and other important general-use items. You can also save money on purchasing furniture, pots and pans for cooking, utensils, and other large expenses that you would need if you lived alone and didn't already own them. Essentially, you'll have more hands to take on the financial burden.
Share Household Chores
Another fantastic pro to living with roommates is getting to split up the household chores. Everyone should do their part to keep the common areas clean, whether it's washing the dishes, sweeping or vacuuming the floors, or wiping down the counters once a week to remove built-up grime. And the best part is that if there is a chore you don't like doing, chances are you can barter with your roommates to take on something they don't particularly like instead. Hate unloading the dishwasher but don't mind sweeping up the linoleum floor in the kitchen once a week? Make a deal!
Companionship and Convenience
While it's nice (and often necessary) to have time to yourself, one perk of having a roommate is the built-in companionship you'll have when you need it. Even if you're just sitting down to watch a show together or sending funny videos to each other from across the room, having another person in the same space can go a long way in fighting off loneliness. And if you're moving to a new city where you don't know anyone, roommates are a great way to expand your friendship circle and dive into the local scene.
Roommates can also be a very convenient resource to lean on when you need it the most. Want to go explore a new restaurant, park, or event but don't want to go alone? You have someone you can ask right down the hall from you! Or if you're going out of town and need a ride to the airport or someone to care for your pets or plants while you're away, a roommate can be an easy solution.
How to Minimize Conflict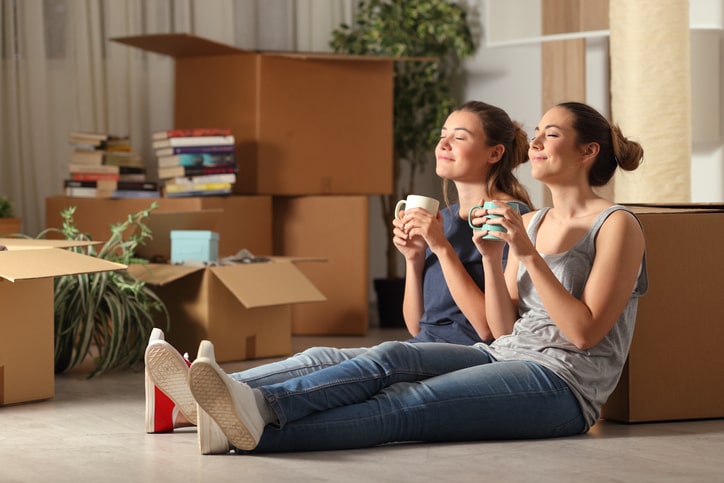 Whether you've had a bad experience with roommates before or have seen all of the hallmarks of a lackluster roomie situation on your favorite TV show, most people know that conflict is bound to happen when sharing a space with other people. While this is a natural occurrence, there are still some steps you can take to help alleviate the worst of the issues and quickly bring about resolution:
Create "House Rules": While it might sound cheesy, creating house rules is a great first step to avoiding conflict and should be done towards the beginning of your lease. Set quiet hours, limitations and preferences on guests coming over, shower schedules, and more so you and your roommates know what to expect from each other and can reference the list when a rule is broken.
Set a Budget: With everyone sharing the expenses, it's important to create a master budget for the household so everyone knows what they need to save each month. That way, nobody is shouldering more of the financial load because one roommate did not hold up their end of the agreement, and things can be worked out in the case of an extenuating circumstance.
Communicate: Honest and open communication with your roommates is key, especially if it's about behaviors that are bothering you. Letting actions (or inactions) that bother you continue to occur and bottling up your emotions can create greater conflict down the road, so it's best to be honest and address situations early before they become a habit. It's alright to agree to disagree on things too—as long as your roommate knows where you stand on something, actions can be taken to avoid conflict.
How to Maintain Privacy with Your Roommates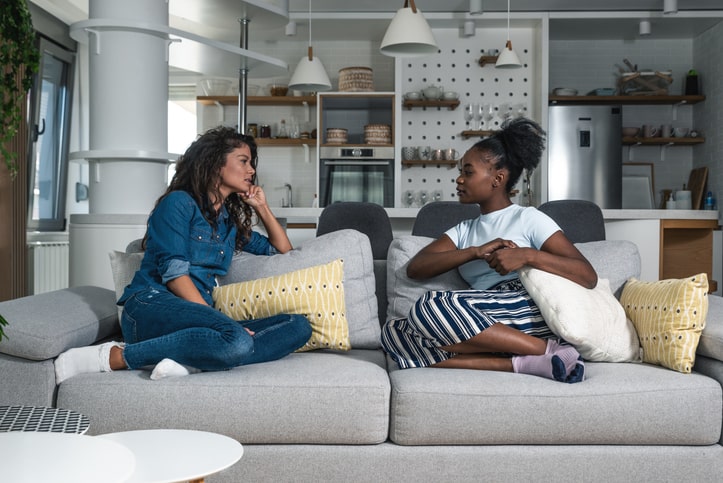 Living with other people comes with a natural reduction in privacy, since you're sharing common areas and belongings. Maintaining your personal boundaries is important, so here are some tips on how to avoid lines getting crossed:
Set and Respect Boundaries: Communicate with your roommates what your preferences are, whether it's about how tidy you like the common spaces to be, who uses the furniture or appliances that you provided to the home, who has access to your personal room and space, guest rules, and more. Being clear about these things can help ensure that you and your belongings are respected how you want them to be.
Always Ask When Borrowing: If you need to borrow something from your roommate, always be sure to ask first! No matter how trivial it may be, you always want to make sure that you have the owner's permission before using something of theirs—they may have preferences or rules about using it that you don't know about!
Keep Things Separate: It's easy for your stuff to end up in your roommate's space and vice versa when living with other people, so make sure that boundaries are established and your personal belongings, that aren't part of the common areas, remain separate from theirs so personal space lines aren't blurred.
Discuss Your Schedules: Alone time is necessary for everyone, regardless of how extraverted you are. Discuss your schedule with your roommates so you can pencil in some personal relaxation time watching your favorite bad TV show without fear of being disturbed early.
Store Overflow Belongings at Your Local Metro Self Storage
When combining your living space with someone else, things can begin to feel cramped very early on if you aren't careful! Coordinate with your roommates on who is providing which pieces of furniture, appliances, and other communal necessities so you aren't stuck with duplicates of the same thing. And if you find that your couch is the odd one out and you have no place to keep it, you don't have to resort to selling it right away—utilize a self storage unit instead!
Self storage is a great way to expand on the space you have to store things without going over your budget. Whether you need to get seldomly-used appliances out of the kitchen or have an extra washing machine you need to tuck away for now, self storage is a flexible and affordable solution for expanding your apartment storage space. With monthly leasing terms and a variety of unit sizes and premium features, Metro Self Storage is happy to help you find the additional space you need—find a storage facility near you to get started today!