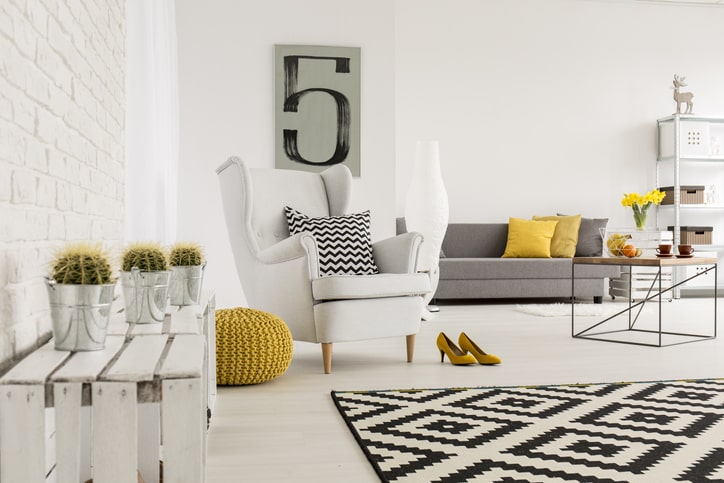 Good DIY Home Staging Tips for Selling Your Home
---
May 11, 2022 | Family Life
You've decided to put your home on the market! But now what? It's time to start thinking about home staging to sell your home as quickly and for as much as possible. While there are no absolutes, real estate agents and home staging professionals advise home sellers to deep clean and declutter their homes to attract qualified home buyers.
Selling a home is an emotional journey, making depersonalizing your spaces an important part of a successful sales process. Unfortunately, it's never too early to start implementing home staging tips and packing away the extra clutter.
So if you're looking for DIY home staging tips for selling your home, we can help. Once you're done, you may love living in your new spaces so much that you won't want to sell your home.
Declutter and Depersonalize Your Spaces
Professional home stagers will be the first to tell you that their top three rules for good DIY home staging are to declutter, depersonalize, and thoroughly clean your home. By decluttering your house, you can easily create the illusion of more living space, and if done right, there will be more actual space.
Next is to remove all personal pictures and photographs around your home. Any certificates with your family's names or other personal mementos should be safely stored. Taking the personalization out of your home is the best way to help others see themselves living there.
Also, remove anything, including books on shelves, that speak to political or religious persuasions. Again, you want whoever comes into your home to fall in love, like they could live there—not distracted by an image or a title.
The Three P's of Good Home Staging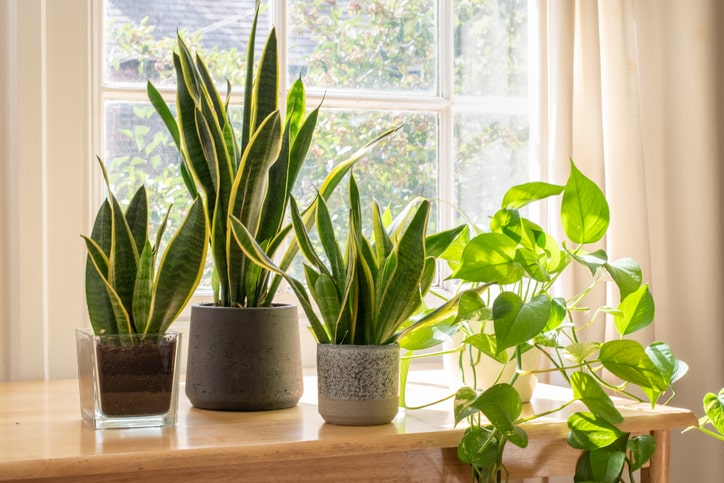 The first impression potential buyers will have of your home will most likely be online. They'll see your listing on Zillow, Trulia, or via a link that their realtor sends to them. The photographs of your home's interior and exterior and the price, square footage, and location will determine whether or not you get a showing.
Plants, pillows, and framed artwork are the cheapest items to add to a good DIY home staging strategy. It may be a matter of relocating pillows from one room to another. If there is an IKEA nearby, you're in luck! Here, you will find a wide range of pillow covers in designs and colors to compliment your decor and inexpensive framed artwork and artificial plants at reasonable prices.
Plants: Incorporating greenery such as plants and flowers improves your home's overall vibe and energy. If you don't have a green thumb, choose the forgiving and very modern-looking snake plant (pictured above). The snake plant needs little water, thrives indoors, and is widely available at local home improvement stores. 
Floor plants add an understated elegance and elevate spaces. They're great for hiding cords and other imperfections too. But large floor plants are usually expensive and can be a challenge to keep looking as green and lush as the day you bought them.
Also, if you plan on utilizing self storage for your move, you can't store houseplants in a storage unit. Instead, choose artificial floor plants that you can often find at discount and thrift stores.
If you're on a tight budget, consider succulents, an affordable option. Succulents and cacti are trendy and hardy, and their small and miniature sizes can add a touch of green anywhere, including bathrooms and office desks.
Pillows: Decorating and home staging with throw pillows may seem like an afterthought, but this isn't the case at all. Especially when it comes time to take photos of the interior of your home before listing it. Pillows add a pop of color and can do an excellent job creating depth to beds and couches, so they appear less dull and more luxurious.
Another multifunctional piece of furniture professional stagers love to use is the ottoman. The ottoman's advantages for home staging are many, thanks to its small footprint and the fact that it can easily be moved around.
Consider stationing ottomans at the entry or arranging them to act as extra seating or footrests in the living room. Square ottomans make excellent side tables too.
Pictures: As we mentioned earlier, personal photographs and family portraits are off-limits for good DIY home staging. However, you don't want to have bare walls if at all possible. Instead, go for abstract artwork, nature, landscapes, or even geometric shapes in colors that compliment your spaces.
Good options for finding framed posters and artwork are second-hand stores, IKEA, or the Facebook marketplace. Think outside the box too. Maybe you can simply rearrange pieces already hanging in different rooms to create a professional home staging look that will also photograph well for your listing.
Book Styling Tips for DIY Home Staging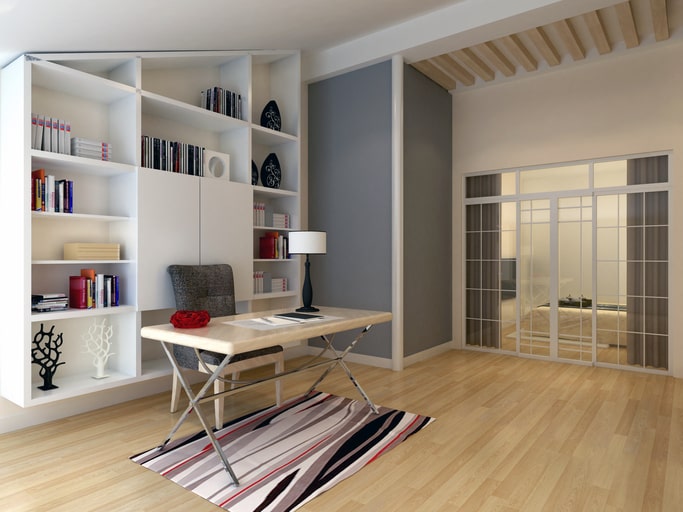 For most households, bookshelves are strictly functional, overbrimming with books of varying sizes and colors. However, home staging with books is an inexpensive and creative way to elevate your home's appeal if done with style. But first, you have to clean off the shelves and start anew.
If you have an abundance of hardbound books, remove their covers to discover an array of beautiful book cloth covers in a wide range of colors. Safely store books that don't fit on shelves properly or are not the right color in heavy-duty book boxes designed to transport and store books while protecting their spines.
The best books for staging should be arranged by color and size. Stack them vertically on shelves by color and to allow space for tasteful accessories to add interest. Accessories can be small succulents and candlesticks to glass jars filled with moss, grass, shells, sand, rocks, or pebbles.
Be sure to leave lots of space around the books and accessories on your bookshelves. Like all good DIY home staging tips—less is more.
Clear Out Your Closets
The best part about preparing your home for sale, whether you're hiring a professional stager or working with your realtor to make your home look perfect, is all of the packing you'll do ahead of time.
When it comes to organizing closets, expect potential home buyers to take a peek. They won't be interested in snooping, but closets are significant for any home's storage space. So when it comes time to make closets look bigger, wardrobe boxes will be a lifesaver.
If you've never used these handy moving boxes, you'll wonder how you ever moved without wardrobe boxes. Pricey in terms of boxes but worth their weight in gold, as the saying goes. The wardrobe box is specially designed with a metal hanging bar, so it's a breeze to grab items from your closet and hang them in the box.
The boxes are typically at least 2-feet tall, allowing you to store shoes, extra hangers, or other items at the bottom to maximize space. Suitcases and duffel bags are excellent alternatives to save money on cardboard boxes for things out of your dresser.
Finally, before the photographer arrives to take photos for listing your home, replace all the lightbulbs, so rooms are as bright as possible. Try taking photos of your rooms from different angles to see where you might add a plant or fluff a pillow to make your rooms photo-ready.
Simplify Staging Your Home with Metro Self Storage
If you plan to declutter and stage your home before putting it on the market, the best option is to store with your local Metro Self Storage facility. We make it easy to store for as long or as little time as you need with flexible, month-to-month storage rentals, online storage deals, and friendly storage professionals. 
Find a Metro Self Storage location near you and reserve your unit online today!