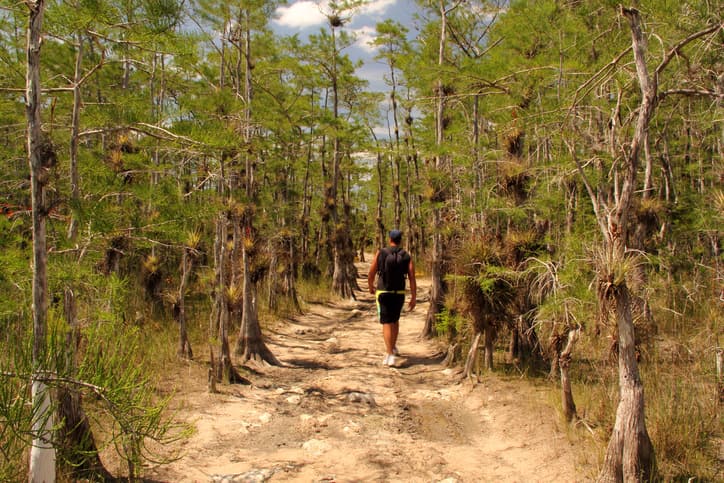 4 Beautiful Hiking Destinations Near Wesley Chapel, Florida
---
May 24, 2022 | Family Life
Wesley Chapel is a fast-growing suburb of Tampa in the northern part of Pasco County and a popular tourist destination on Florida's Sports Coast. Pasco and nearby Hillsborough counties are home to thousands of acres of nature preserves offering beautiful hiking destinations near Wesley Chapel.
These preserves and parks offer a wide range of activities from hiking and biking to fishing, camping, bird watching, and hunting. Some even allow your four-legged friends to join the fun. If you or the kids love hockey or ice skating, Wesley Chapel is home to the Southeast's largest ice skating rink and a 98,000-square-foot sports complex.
However, it's Florida's scenic preserves and parks that offer unrivaled outdoor activities for locals and tourists to enjoy. Discover these beautiful hiking destinations near Wesley Chapel that you'll want to visit time and again throughout the year.
Best Time of Year to Hike in Wesley Chapel, Florida
With an average of 244 sunny days per year in Wesley Chapel, there is a reason Florida's nickname is the "Sunshine State." Located in Florida's Central Gulf Coast, the climate in Wesley Chapel is considered humid and subtropical.
Average Summer High: July high is 91 degrees
Average Winter Low: January low is 47 degrees
Rain: Averages 53-inches of rain a year
Since there is no point in the state that is more than 60 miles from the ocean, Florida towns like Welsey Chapel enjoy prevailing sea breezes. But be aware of thunderstorms and hurricane warnings, before planning a hike near Wesley Chapel. Always check the weather before embarking on an outdoor adventure in Florida wilderness areas.
Two wet periods could lead to tropical rainstorms and hurricanes during the year—late winter or early spring and again during the summer. The most pleasant weather conditions for hiking occur in November, April, and March, while August and July are the least comfortable months.
Cypress Creek Preserve
If you're looking for something more than a stroll in nature near Wesley Chapel, we've got you covered. The Cypress Creek Preserve is approximately 12-miles from Wesley Chapel and provides a scenic setting for horseback riding, fishing, biking, backpacking, and more.
There are several miles of well-maintained unpaved roads to explore at this recreation site, which is part of the 16,000-acre Lower Hillsborough Wilderness Preserve, one of the largest premier contiguous recreation areas in Hillsborough County.
Bikers and intrepid hikers will find numerous single-track and out-and-back trails that lead to forests filled with Cypress and hardwoods.
While most trails are marked, look for the kiosk near the gate that shows a plan of the Cypress Creek Preserve and gives advice on the levels of difficulty at various locations. And remember, fishing and camping are also enjoyed at this location.
The scenic environment includes slash pine, longleaf pine, and palmettos growing on the higher sections of the preserve, while an abundance of wildlife can be observed, including birds, butterflies, and other native species.
The Details
Address: 8720 Pump Station Rd., Land O' Lakes, FL 34639
Trails: Approximately 5 miles of paved trails available from Pump Station Rd. and 11 miles of unpaved trails.
Dogs allowed: No.
Hours: Daily from sunrise to sunset.
What to bring: Hat, sunscreen, camera, wallet, insect repellent, and water in addition to waterproof shoes.
Activities: Hiking, fishing, horseback riding, inline skating, and biking.
Flatwoods Park Trail
Flatwoods park is the ideal destination if you're looking for a paved-loop trail. The loop road travels through wooded areas with opportunities for birdwatching.
Because it's conveniently located near Wesley Chapel neighborhoods and nearby towns, the park can get crowded. On any given day, there is a good blend of joggers, hikers, skaters, and cyclers, so proper etiquette should be used by all.
Like all trails listed here, Flatwoods Park is part of the Southwest Florida Water Management District. The website offers an easy way to search parks and preserves by activity. So for example, whether you're looking for ADA-Accessible, equestrian, or cycling trails, you'll find a list of parks to explore.
The Details
Address: Two conveniently located access points from 14302 Morris Bridge Rd. or 18205 Bruce B. Downs Blvd.
Trails: 7- miles of paved looped road that serves as a multi-use trail.
Dogs allowed: Yes.
Hours: Daily sunrise to sunset.
What to bring: Hat, sunscreen, binoculars, drinking water and snacks, and comfortable walking or running shoes.
Activities: Hiking, biking, inline skating, birdwatching, jogging, and dog walking.
Brooker Creek Headwaters Nature Preserve
Located 18-miles west of Wesley Chapel, Brooker Creek Headwaters Nature Preserve encompasses 1121 acres of nature preserve for hiking, bird watching, picnicking, and walking your dog.
A 4.3-mile hiking loop takes visitors through wetlands and wildlife habitat that serve as the headwaters of the much larger Brooker Creek system. A looped hiking trail is often preferred by beginner hikers while still offering an amazing nature experience.
The park includes forested swamps and abundant wildlife and vegetation, making this property limited to hiking and walking and ideal for nature photography and bird watching.
The Details
Address:18102 Ramblewood Rd. Odessa, FL 33556
Trails: 4.4 mile loop.
Dogs allowed: Yes..
Hours: Daily Sunrise to Sunset.
What to bring: Hat, sunscreen, insect repellent, drinking water and snacks, binoculars, and closed-toe shoes.
Activities: Hiking, bird watching, biking, and dog walking.
James E. Grey Nature Preserve
A little further from Wesley Chapel than our other hiking destinations, the James E. Grey Nature Preserve is worth the drive if you're new to kayaking or canoeing or simply looking for a change of scenery.
Additionally, the checklist of more than 150 bird species includes songbirds, herons, ducks, and many more. Once inside, you'd never know the James E Grey Preserve is a city park. Its 80-acres run along the Pithlachascotee River in Pasco County. Understandably, locals refer to the river as the "Cotee River."
Pack a picnic lunch to enjoy after hiking or kayaking at one of the four covered shelters.
The Details
Address: 6938 Plathe Rd., New Port Richey, FL 34653
Trails: 2 miles of nature trails and ½ mile ADA accessible boardwalk.
Dogs allowed: No.
Hours: Open sunrise to sunset.
What to bring: Hat, sunscreen, insect repellent, drinking water and snacks, binoculars, and closed-toe shoes.
Activities: Hiking, fishing, kayaking, and canoeing.
The most beautiful hiking destinations near Wesley Chapel all have one thing in common– they're close to big-city amenities and lifestyles. The region is dotted with lagoons and ponds as well as thousands of acres of wetlands and low-lying forest lands.
Aside from these nature preserves, Wesley Chapel offers upscale shopping, boutiques, lagoons, galleries, theaters, breweries, and so much more. So after your hike on Florida's Sports Coast, you'll have plenty of places to choose from to recharge and cool off before your next adventure.
Find Space for All Your Outdoor Gear
If your Wesley Chapel home is filled to the brim with outdoor gear, take back that valuable space with a unit at your local Metro Self storage. Living the ideal Florida lifestyle includes spending a lot of time outdoors for many.
As a result, you've likely collected plenty of outdoor gear such as kayaks, canoes, fishing gear, camping gear, and more. With units ranging from 5×5 to 10×20 and the choice between climate-controlled and drive-up storage solutions, you're sure to find a storage unit for all your adventure gear with Metro. Find the right unit for you with the help of our unit size guide and reserve or rent your Florida storage unit online today!