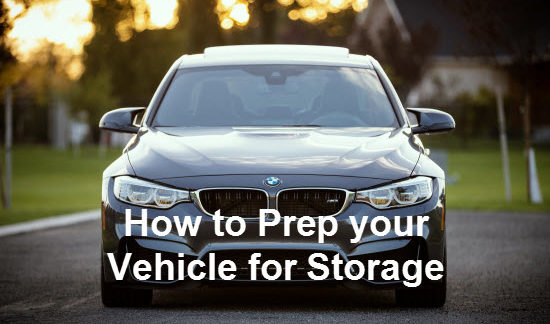 Car Storage: How to Prep your Vehicle
---
December 7, 2015 | Storage Tips
If the cars in your family start to outnumber the spaces in your garage, and you need to find additional parking, look for desirable car storage options before parking your extra car at the nearest self storage facility.
Popular Car Storage Features
The car storage features you find at our local storage facility will play a role in determining the cost of parking a car in either short- or long-term storage. Car storage features vary and can include the choice of covered parking or uncovered parking outdoors or parking in indoor climate-controlled car storage in a 10X20 storage unit.
Car storage fees will typically range from $75 to $300 per month depending on where you live, the type of storage features you choose, and the availability of parking spaces.
• Drive-up access to your vehicle storage unit or parking spot
• 24-hour state-of-the-art video surveillance
• Electronic gate access
• 24-hour access is rarely needed for car and other types of vehicle storage
Find Your Vehicle's History
Storage managers have security measures in place to prevent their property from being used to hide stolen cars. As a result, don't be surprised if you are asked to show your driver's license, and be sure the name on the registration matches your license.
Typically, self-storage facilities impose a variety of rules for vehicle storage, such as:
• Cars must be in working order
• Proof of car insurance
• Current license plate and car registration
Open Up the Hood
Before putting your vehicle into storage, there are some steps you should take before parking it for an extended period of time. Start by thoroughly cleaning and detailing your car; eliminating crumbs and other debris will discourage pests from invading your stored car. Thoroughly washing off dirt and grime will help preserve your car's paint job.
If you plan to store a car longer than 30 days, adding a fuel stabilizer to the tank when it's almost full is highly recommended. This is because the shelf life of standard fuels is only about three months. If your vehicle isn't used within a few months, the stabilizer will help keep the fuel lines and engine from corroding.
The next step in preparing your vehicle for car storage is to check tire inflation. Temperatures vary to a greater degree in outdoor storage environments, and to a much lesser degree in climate-controlled storage units. Either way, temperature fluctuation can cause tires to slowly lose pressure over time. Inflate your tires to near the top of the recommended pressure range, but of course, don't exceed the maximum.
It is probably a good idea to get an express oil change service with all the bells and whistles at Jiffy Lube, Pep Boys, NTB, or your local dealership. If you are a DIY kind of gal or guy, then be sure to remember to top off your vehicle's fluids including engine coolant, brake fluid, power steering fluid, transmission fluid, and windshield wiper fluid.
Car Storage Preparation Checklist
• Wash and wax
• Change the oil
• Top off the fuel tank
• Add fuel stabilizer
• Use a tire stopper
• Cover your car
• Inflate tires to recommended pressure
Taking Your Car Out of Storage Checklist
• Check engine compartment for signs of rodent damage
• Inspect rubber strips on windshield wipers
• Confirm tire pressure is good
• Check the breaks
• Don't forget to check your oil and all vital fluids
Is your car like a second home? For many people, the answer is a resounding yes. Our cars are the place we can practice singing like Adele or croon like Chris Martin. Cars also serve as a respite from the kids, the hustle and bustle of work, and if the volume on the radio is loud enough traffic noise. When you need a safe place to store this important part of your life, put your trust in Metro Self Storage. Find a location near you to check for availability today!