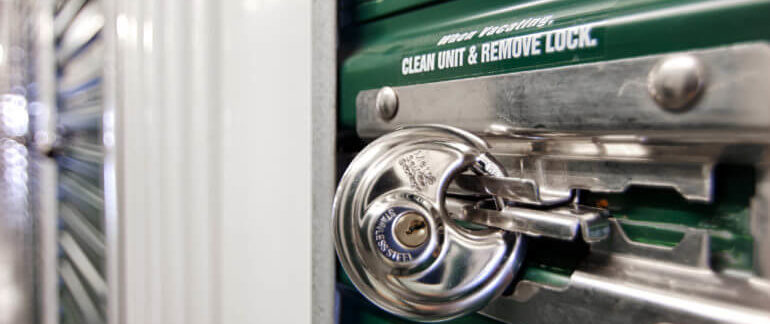 Top 5 Storage Facility Security Features to Look For
---
July 25, 2016 | Storage Tips
When you use a self-storage facility, you expect that your items will be safe from theft. After all, isn't safety one of the top reasons for using self storage?
Unfortunately, though, not all self storage facilities are equally safe. Some provide excellent customer service, yet have gaps in their security. Once you're gone, your items become vulnerable. That's why it's important to carefully evaluate the security features of any self-storage facility you're considering. While friendliness and cleanliness are important, they ultimately won't protect your property.
But what exactly should you look for? To judge a self-storage facility's security, you should look at the following 5 features.
1. Lighting
The best time to visit a self storage facility is after sunset. Then, you can easily see how much lighting the facility has. There should be plenty of light. A self storage facility shouldn't be trying to save electricity. Security should be its #1 priority, not reduced light bills.
Sufficient lighting is an easy way to discourage crime, but it's also important for other security features. For example, video surveillance is only effective if the area is well lit. Before asking about high-tech security, then, first check out the quality of the lighting.
2. Video Surveillance
If there's enough light, start looking for and asking about video surveillance. Are there enough cameras? Are they always on? For how long do they record video?
Recorded 24-hr video surveillance is absolutely necessary. Don't be satisfied with just 'video surveillance'. Be curious about it, since you want any potential crimes to be on video. Otherwise, if your stored property does get stolen or vandalized, you won't be able to identify the criminal or get your property back.
3. A Good Fence
Robert Frost once wrote, "Good fences make good neighbors." The same could be said of self storage facilities. An excellent fence is an essential security feature every self storage facility should have. The fence should surround the entire perimeter, not just the entrance, and be sturdy and difficult to climb. A chain-link fence won't be enough to keep criminals away from your valuables.
4. Secure Access to Storage
Let's say you want to get something out of your self storage unit. How does the self storage facility allow you to access your unit? Is it easy—perhaps too easy?
Accessing your unit should be convenient yet secure. Simple locks are convenient, but not secure enough. Coded keypads are much safer. The main gate to the self storage facility should definitely have a coded keypad, ideally monitored by video surveillance. Then, entering the premises will be difficult for outsiders, yet easy for you.
5. Disc Locks
Getting an excellent lock is an essential part of making sure your storage unit is secure. The self storage facility might have the best security possible, but that shouldn't stop you from choosing the best lock—a disc lock.
While padlocks are cheaper, they're not the most secure option. Even an inexperienced thief can pick a padlock or cut it off. Disc locks, on the other hand, were designed especially for storage units. They're resistant to picks, bolt cutters, and heavy hammers. A thief would have to grind it off, a loud, time-consuming process.
Disc locks are more expensive than padlocks, but that extra investment is worthwhile if you're storing valuables. They definitely discourage theft, and they're not hard to find. You should be able to buy one at the self storage facility.
Metro has All the Security Features You Need
If a storage facility offers these five security features, you can rest assured that your storage unit will be safe. However, keep in mind that security features can't protect your property from natural disasters, like earthquakes and flooding. For complete peace of mind, take advantage of tenant insurance, which covers accidents and unexpected events.
For more information about security features, contact a local Metro Self Storage near you today!