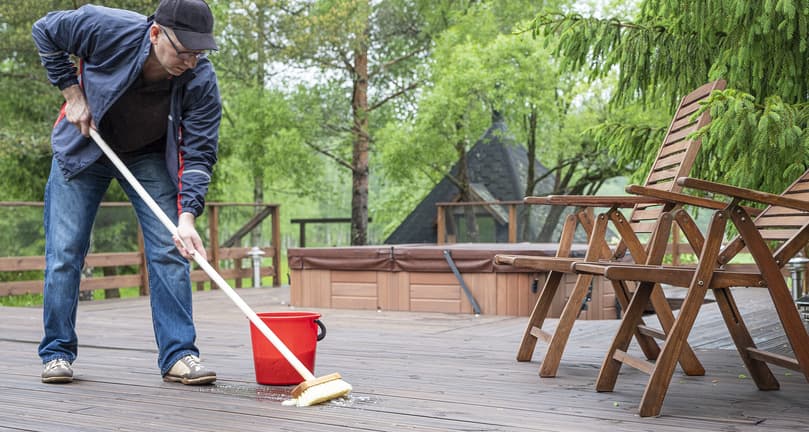 Tips for Closing Up Your Summer Home
---
August 30, 2022 | Lifestyle
Sadly, a summer of relaxation and fun has to come to an end. The kids are heading back to school, which means additional responsibilities you have to tend to around the house. Before you head back to your busy life, it's crucial to close up your home for the summer, especially if you don't plan to rent out your space in the interim. If you aren't careful, you can overlook the minor details that would lead to unwanted critters and pests or mechanical or plumbing issues while you're away.
It's important to take the necessary steps to close up your summer home to avoid costly mistakes. Doing this can save you a lot of money in the long run and keep your home looking great. Keep reading for the tips you need to close your summer home up this summer and avoid problems later.
Checklist for Closing Up Your Summer Home
When closing up a summer home, many details can fall through the cracks and lead to disaster later in the year. This is especially important if you have a vacation home in an area of the country that experiences frigid winters. In this case, a checklist for closing your vacation home is key to ensuring you don't forget the essential details. Seven tips for closing up your summer home include:
1. Clean the Rooms
It usually goes without saying, but cleaning the rooms before leaving is essential. If you don't vacuum the floors and wipe down the counters, food particles could get left behind, making mice, insects, and other critters more likely to enter the house in search of food. These nuisances can wreak havoc if left alone for long periods of time, so be sure to also schedule a pest control service to treat the outside of the home to keep pests out during the offseason.
2. Go Through the Refrigerator and Pantry
Going through the pantry and refrigerator before leaving your summer home is vital. Food that sits for long periods can mold, cause odors, and attract rodents and insects. Any open or perishable items should be thrown away or taken with you.
Before leaving, unplug the refrigerator and leave it cracked open. Doing so will prevent mold from growing inside.
3. Take Out the Trash and Clean Trash Bins
Throughout the summer, trash cans go through a lot. Once you've taken out all the trash, it's quite possible you'll find some sticky spills at the bottom of the bin. This is an often overlooked attractant for bugs, so be sure to give your trash can a good rinse with soap and water to avoid harsh smells or pests when you return next year.
4. Turn off the Water Supply
Turning off the main water supply to the home is crucial for nearly any vacation home. If a pipe in your home's plumbing starts to leak, you can prevent unnecessary costs from the utility company and minimize any damage to the home. It's particularly important that vacation homes that are located in climates that experience freezing temperatures have their water shut off to prevent a pipe from bursting while you're away. The last thing you want when you arrive the following summer is to find a flooded house.
5. Close and Lock All Windows
While you may feel like you didn't use specific windows throughout the summer, checking the lock on your windows is still essential. A guest or a child could have unlocked a window at some point without your knowledge. If there is an open window in your vacation home, you could leave yourself vulnerable to theft or leaks when it rains or snows.
Doing one last check around the house to ensure all windows get shut and locked could save you from costly damage.
6. Take Valuable Items Home and Set the Alarm
One detail people often forget is taking home any valuable items. If someone notices a house is vacant for a long time, they might take advantage of the opportunity to break in and take anything of value they can find. In addition to taking all of your valuables home, it would also be a good idea to install a security system, if you haven't already, or arm your system on your way out. That way, your security provider can notify you if there is any suspicious activity to be aware of.
7. Safely Store Outdoor Furniture
While outdoor furniture can usually withstand the elements, bringing them inside during the offseason when you're away will extend the life of your furniture and save you needless time throwing away or shopping for a new patio set when you could be relaxing.
Consider a storage unit if you don't have an indoor space or shed to store your furniture. A self-storage facility would allow you the freedom to go in and out as you please to retrieve items you are storing. So whether your summer home is in the Hamptons or down by the ocean in Florida, self storage options are available.
Hire Available Services To Protect Your Summer Home
On your way out, it could be worth considering the available services around your summer home community. Having a housesitter, for example, to check in on the property could save you from extensive damage to your home. Other services that could help protect the home include:
A pool cleaning service
A security system
Landscaper
Pest control services
These services can protect your home and provide the peace of mind that everything is taken care of when you can't be there.
Plan Ahead and Close Up Your Summer Home With Metro
Getting through this list in one day might prove to be more difficult than you first imagined, so it's a good idea to plan ahead and give yourself a couple of weeks to knock out everything on the list. Giving yourself some time will provide some cushion so you don't leave out any important details, especially if you're planning to hire a housekeeper or pest control service.
Another important factor to get set up is a storage unit. Whether you need to store your patio furniture or recreation equipment during the offseason, Metro Self Storage has you covered. Our storage units offer a variety of climate-controlled and non-climate-controlled storage units from 5' x 5' to 20' x 20'. We even have vehicle, boat, and RV storage for any cars or oversized vehicles you need to shut up for the year.
While you're away, you can rest easy knowing that nearly all of our storage facilities are fenced and outfitted with 24-hour video recording and unique access codes. Whenever the time has come to close up your vacation home and head back to reality, choose Metro Self Storage for all your vacation storage needs.
Find a facility near you to get started or give us a call today!