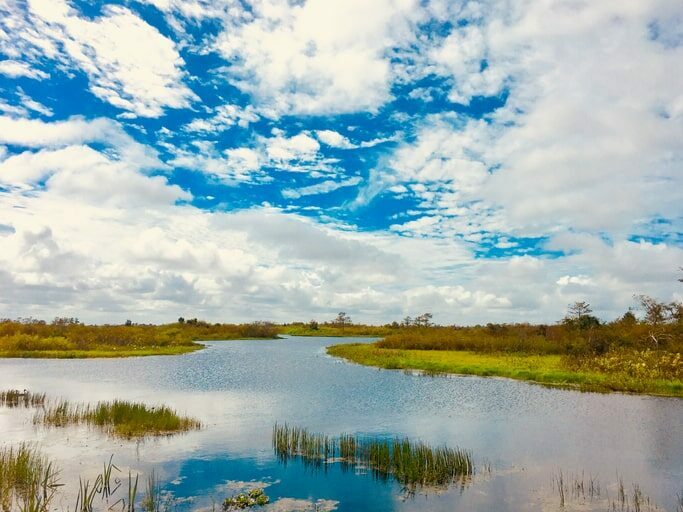 The Best Hikes Near Spring Hill, Florida
---
August 24, 2022 | Lifestyle
Whether you're moving to Florida or are visiting during a vacation, you'll soon discover there's no shortage of outdoor adventures in this part of the Sunshine State. Spring Hill is situated in Hernando County—also known as Florida's Adventure Coast—on the Gulf side of Florida.
From thousands of acres of nature preserves to the dazzling clear springs at Weeki Wachee State Park, families will find plenty to do without having to travel more than an hour from Spring Hill. Here are some of the best hikes near Spring Hill, Florida, to put on your list of things to do this weekend.
Weeki Wachee Preserve
The Weeki Wachee Preserve is 11,000 acres of public lands located 15-minutes west of Spring Hill. The preserve is centered around a mine reclamation area that once quarried limestone. As a result, on sunny, clear days, the suspended limestone particles in the lake reflect a stunning blue color.
Today, Weeki Wachee is a destination for hiking, biking, fishing, hunting, birding, and boating. Beginning hikers can enjoy a 5.5-mile interpretive loop, while more experienced hikers will find more than 10 miles of trails winding through a rich mosaic of habitats.
The hiking trail runs for several miles along the Weeki Wachee River frontage and passes through fresh and saltwater marshes, swamps, and pine-covered sandhills. Hikers need to bring plenty of sun protection and water as most of the Weeki Wachee trails are not shaded, and sturdy hiking shoes to traverse over the occasional limestone outcroppings.
Address: 2345 Osowaw Blvd, Spring Hill, FL 34607, USA
Website: Weekiwachee Preserve
Opening hours: Sunrise to Sunset Daily.
Price: FREE
Lake Townsen Regional Park
Lake Townsen Park is a 376-acre park located along the Withlacoochee River in Nobleton, FL. And besides being one of the best places to hike near Spring Hill, Lake Townsen Regional Park has something for everyone. Located approximately 30-minutes northeast of Spring Hill, the regional park offers miles of Florida hiking trails in addition to horseback riding trails, basketball and volleyball courts, and a playground for little ones.
While hikers will see several species of birds, including bobwhites, Florida sandhill cranes, and red-headed woodpeckers, it's important to stay on the designated trails. Volunteers and county officials are working to restore overgrown sandhills to their optimum habitat to create a gopher tortoise sanctuary.
A short boardwalk and fishing pier also make this a popular fishing spot.
Address: 28011 Lake Lindsey Road (CR 476) Brooksville, FL 34601
Website: Lake Townsen Regional Park
Opening hours: Sunrise to Sunset Daily.
Price: FREE
Withlacoochee State Trail
While most of the best hikes near Spring Hill are less than 30-minutes away, the Withlacoochee State Trail is worth the slightly longer drive. The 46-mile-long paved trail makes this ideal for families with baby strollers.
The Withlacoochee State Trail is a former rail line along the Withlacoochee River. It offers an exhilarating journey for those traveling on bikes or able to hike long distances through small towns, ranches, and forest lands.
Visitors enjoy hiking, biking, and in-line skating on the trail, although hikers will have the best advantage of seeing the diverse plants and wildlife, including deer, along the route. Some of the most interesting sites along the Withlacoochee Trail are its historic communities, including Floral City, Citrus Springs, and Inverness.
The trail ends at the town of Trilby, where the foundations of the original train station, built circa 1900, remain. Before you go, check the weather, and bring plenty of sunscreen and water.
Address: 3100 S. Old Floral City Road. Inverness FL 34450
Website: Withlacoochee State Trail
Opening hours: 8 am to Sunset Daily.
Price: FREE
Where to Bring Your Dog Near Spring Hill
There's little doubt that many pet owners consider their dogs like family members. Even so, our furry friends are not welcome everywhere. Some Florida Nature Preserves allow dogs as long as they are on a leash. However, if you're looking for a place to let Fido run free in Hernando County, you're in luck.
The Rotary Centennial Park is the county's first dog park and features 3 acres dedicated to dogs. The fully fenced spaces for off-leash activities include three separate areas: one for small dogs, one for large dogs, and the third for guide or timid dogs.
Address: 10375 Sandlor Street Spring Hill, FL 34608
Website: Rotary Centennial Park
Opening hours: Sunrise to Sunset Daily.
Price: $3 parking fee.
Make Room for Your Florida Lifestyle with Metro Self Storage
Whether you love to kayak, canoe, mountain bike, or hike, you're in luck if you live near Spring Hill, Florida. This small town is ideally located in the heart of Florida's Adventure Coast, so you'll never be far from the fun.
When you need to make some extra space in your home to live your ideal Florida lifestyle, Metro Self Storage is here to help with clean, secure, and conveniently located storage units. Check out our state-of-the-art facilities at Metro Self Storage in Florida and reserve or rent your unit online today.
We've been making room for people just like you since 1973. So whether you're house hunting or starting a new business, our friendly storage solutions can help you get back to all the fun and adventure Hernando County has to offer.