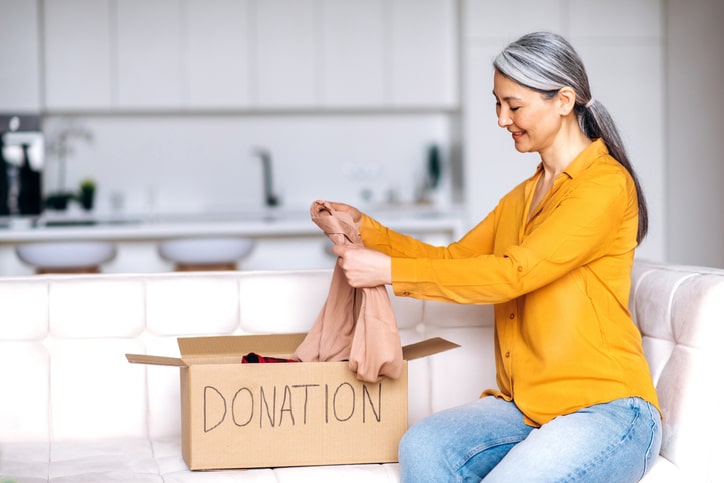 Where to Donate and Recycle Items in Chicago
---
January 10, 2023 | Home Organization
There are many reasons to donate to local Chicago charities. Most of us are already doing things to reduce, reuse, and recycle, so taking the time to locate nonprofits in your community that have specific needs is well worth your time.
You'll feel good about your choice to help others, and whether you're decluttering or moving out of your home, you're sure to come across things you no longer need or use. Moreover, when you research your local Chicago nonprofits, you'll become more informed and familiar with their donation processes making it easier to donate in the future.
Many nonprofits like the YWCA Chicago accept donations at conveniently located drop boxes throughout Chicago and outlying suburbs in addition to scheduling free pick-ups.
Additionally, most Chicago charities will accept a wide range of household items, from bed frames and clothing to used furniture and appliances, to sell or provide for local families in need.
Lastly, if you let your family and friends know about your charitable donations, you may motivate them to donate to those charities as well. Here are some Chicago charities with noble causes that make donating your items convenient and stress-free.
Chicagoland Furniture Bank
Chicagoland Furniture Bank opened its doors in 2018 and has grown to become one of the largest furniture banks in the country.
They accept a wide range of items, which must be clean and free of odors and pest free. The Chicagoland website gives a detailed description to help you determine if your items are suitable for them or their sister nonprofit, Honest Junk.
While there is a fee for the latter, Honest Junk will pick up everything and anything from both residential and corporate projects and distribute all usable items to various charity partners.
Open Books
Open Books is a Chicago charity that provides literacy programs for tens of thousands of young readers each year throughout Chicagoland through the sale of new and used donated books at their West Loop and Pilsen bookstores.
Open Books delivers thousands of books to schools and nonprofits across Chicagoland each week. Open Books West Loop is an inviting, full-service neighborhood used bookstore with more than 50,000 books in dozens of genres.
A dedicated kids and young adult section offers more than 10,000 books alongside comfy chairs and reading nooks.
Habitat for Humanity's ReStore Chicago
Habitat for Humanity is a global nonprofit housing organization that offers families who are unable to buy a home based on their income opportunities for home ownership. Their stores cater to DIY builders and remodelers with an eclectic range of home-building materials and other items.
Habitat for Humanity Chicago provides local educational programs, including homebuyer university, home care, and maintenance, and other strategies and services to help people on a path toward home ownership.
All donated items must be approved by photo before you can schedule a pick-up. Please note that this charity cannot enter residences or use stairs, so you'll need to get your furniture items and other household donations to the sidewalk beforehand. You can also drop off your donation at the ReStore anytime between 11:00 AM and 5:30 PM, Wednesday through Sunday. 
This online donation calculator offers a handy way to determine the value of your non-cash donated items for your records and tax purposes. For example, you can look up the tax write-off value of clothing, household goods, furniture, and appliances.
Where and How to Recycle in Chicago
If you've got junk—not working, not useful—in Chicago and the surrounding suburbs, you're probably wondering how to get rid of it. Taking it to the landfill is one option, but it's not always a convenient choice for heavy and oversized items.
By properly recycling things like broken appliances, old carpets, outdated electronics, and used furniture, you'll put them to better use and divert them from valuable space in landfills. While some junk removal companies try to find a new home for discarded items, others follow the recycling model.
Electronic or e-waste can have hazardous materials that are not allowed in landfills. Many common household items and types of office equipment become outdated and obsolete so quickly we tend to stack them up in the corner of the office, garage, or closet, unsure of what to do with them.
According to the U.S. Environmental Protection Agency (EPA), more than 100 million computers are thrown out in the U.S. alone – and less than 20% of those computers are being recycled properly.
Metro Self Storage in Chicago
Metro Self Storage is a Chicago-based company founded in Wheeler, IL, in 1973. We've grown to become one of the nation's leading storage providers paving the way for innovative storage features, including state-of-the-art security, storage-to-office communications, well-lit spaces, fenced perimeters, and professionally trained storage teams.
Utilizing self storage during a move or other type of life transition offers a clean and secure off-site storage solution for your personal belongings. We always recommend that our customers declutter and donate items like clothing, furniture, and home decor if they know they won't be using these items in the future.
Our friendly Chicago customer service teams are here to help answer all your questions to select the right-sized unit and features for your individual needs. If you're ready to rent your storage unit online and take advantage of all these benefits at this new facility, you can reserve or rent online now.
Still have more questions? We invite you to contact us for more information.