Ease the Christmas Rush. Home Organizing Tips for the Holidays.
---
December 17, 2017 | Family Life
If you Google "Home Organizing Tips for the Holidays," in exactly 0.37 seconds you will get 101,000 results. Two questions immediately come to mind: Where does one possibly begin, and aren't the holidays already stressful enough?
There are probably at least 50 organizing tips for every room in your house, and at that rate, you might be organized in time for next Christmas.
If you are super-organized, say, like Martha Stewart, the real queen of home organization, then kudos to you. The other 99% of us are green with envy. Especially if you have a team of minions at your beck and call as Martha does. However, for most of us getting ready for the holidays is simply a way of ensuring that our loved ones will not have to deal with an overly-emotional, stressed-out version of ourselves.
Make Room for The Holidays
Declutter. It is the buzzword of the year, and it could easily be one of the most popular terms used in the self storage and real estate industries. You see it everywhere and for good reason. Declutter, and you will feel better. Rooms get bigger, and closets become more spacious. Also, research shows simplifying makes people happier in general.
Create a Holiday Guest Room
Make your guests feel right at home with a considerate overnight setup that includes a basket of items we sometimes forget to pack: toothbrush, toothpaste, disposable razor, lotion, shower cap, and shampoo and conditioner.
It is easy to add a touch of holiday to your guest room too; pine scented candles, gingerbread scented sachets or Christmas potpourri on a bedside table won't go unnoticed. Hang a white terry cloth robe on the back of the bathroom or bedroom door for trips to and from the shower.
5 Home Organizing Tips for a Low-Stress Christmas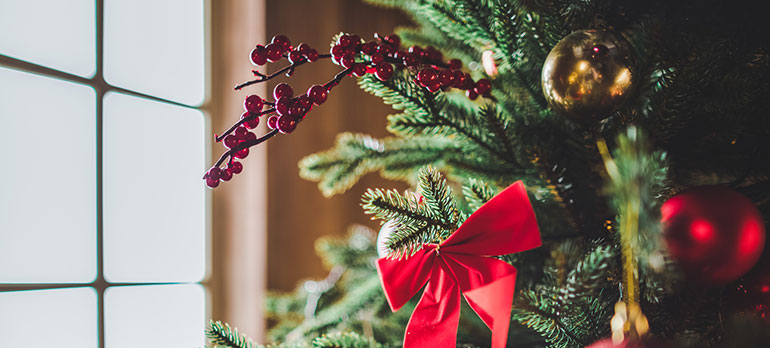 1. Downsize. Reduce your Christmas decor on a regular basis. As you unpack holiday decorations, this season makes two piles. One to donate and one to decorate.
2. Keep it simple. Make one list of everything you have to do and keep it with you always.
3. Shop early. Last-minute shopping leads to overspending and the possibility that the perfect Christmas gifts for a loved one are sold out.
4. Shop online. Save time, money, and gas by choosing to shop at online retailers with free shipping and returns. If you are an Amazon Prime member, shipping is free!
5.  Stage a Christmas prep area.Set up a wrapping paper station. Delegate wrapping paper duties when possible. Moreover, don't forget to remind loved ones to remove price tags before wrapping presents.
Clean Your House Like a Pro
Assemble cleaning products, rags, and gloves in one bucket that you carry from room to room. Use one plastic trash bag to collect trash; keep a pile of extra liners at the bottom of every receptacle to save time. Dust, vacuum, and mop, then sit back with a cup of hot peppermint tea and enjoy the fruits of your labor before guests arrive.
Maximize your kitchen space by doing a quick inventory of boxed foods, canned goods and other nonperishables in your pantry and cupboards. If you find foods that you do not plan to use this holiday season, consider donating food to a local food bank.
Ease Christmas Chaos
Taking a few steps to get things organized using these home organizing tips before house guests arrive and Santa slides down the chimney can help reduce Christmas chaos. After all you do, you should enjoy singing Jingle Bells, not nursing jangled nerves. If you need help clearing out the clutter before the holidays, find a Metro Self Storage location near you.