How Self Storage Can Help You with Your Wedding
---
April 6, 2022 | Family Life
When it comes to weddings, planning is the name of the game. In anticipation of your special day, lots of time and energy is poured over details like your table settings, wedding colors, bouquet arrangement, and more. Not to mention the events leading up to your wedding—the bachelorette party, bridal shower, and rehearsal dinner. When it comes to planning a wedding, especially if you've chosen to cut costs with a DIY wedding, it's easy to lose track of some of the finer details like centerpieces, cutlery, and decor needed to tie everything together.
But, with a little help from your friends at Metro Self Storage, we can give you a few decoration storage tips to ensure that your DIY wedding is carefully organized so you can have a stress-free wedding day when the moment finally arrives.
How to Pack Your Wedding Dress for Storage
Chances are, you'll have a wedding dress picked out long before the day for wearing it comes along. So where does it stay in the meantime, and if you need to pack it, how can you do so without damaging it?
If your dress has any beading involved in its design, you should wrap it in muslin cloth to prevent the fabric from getting caught when you eventually fold it. If the fabric catches, it can lead to snags and pulls which damage the integrity of the dress.
If it's an option, request your bridal shop to turn it inside out before folding it. This will help to protect the outer layers in the unlikely event that the wardrobe box containing your wedding dress gets damaged.
Once you've wrapped your dress or had it turned inside out, it's time to fold your dress. Start by slipping your dress into a garment bag. This is especially important to keep your dress from getting wet or sustaining any other damage. Now, start folding your dress from the bodice to the hem, and gently place your dress in a storage box until the day arrives that it needs to be unpacked. Take care not to place anything on top of the dress that might crush or wrinkle the dress and leave it in a dry environment that's not too hot or too cold. Depending on where you live, renting a climate-controlled storage unit might lend the best results in keeping your dress in good shape.
Don't forget to put the same care into storing your wedding dress after the big day. Especially if you want to keep it for your children or hold onto it as a memento of the special day.
Storing DIY Wedding Decorations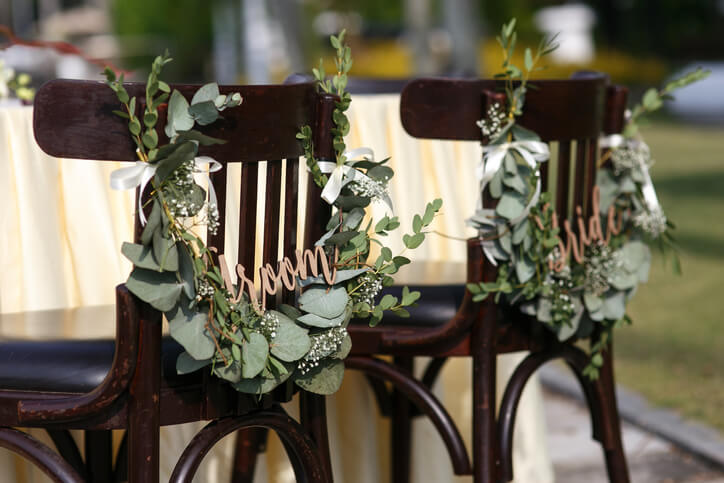 There's an endless variety of wedding decor ideas. When designing them for yourself, the creation process can take a long time, and if you have many guests that will attend your wedding, chances are you're going to need to make a lot of decorations. Decoration storage is ideal for holding your DIY centerpieces and decorations until the day they're needed, so they aren't in the way or aren't somewhere that they're likely to be damaged.
Decoration storage should involve placing each item off the ground, on racks or shelves. If the decorations are delicate, make sure they have space between one another. Make use of tissue paper or bubble wrap as needed. Another option to keep fragile decorations separated is to invest in a few cell kits. These boxes come with cardboard separators that are perfect for holding multiple centerpieces at a time without damaging them.
Storing Furniture for a DIY Wedding
Though you might see any variety of furniture at a wedding or reception hall, what you're most likely to see in abundance are foldable tables and chairs. Depending on the number of invitations sent out, this could require literally hundreds of chairs for the attending guests. Chances are, you don't plan on keeping those in your basement the entire time, so where do they go?
Storage units were practically made to solve this exact problem. Especially with a convenient service like drive-up access, you can quickly pick up and move large quantities of tables and chairs in minimal time. Most of our facilities offer extended access hours from 6 a.m. to 9 p.m. giving you ample time to set up your reception the night before or the morning of, just make sure to plan accordingly.
Wine Storage
Rare is the wedding that doesn't feature some 'adult' beverages, right? Taking care of wine can be precarious, especially if you're working with a high quantity of bottles. It's easy for something to slip and break, or to leave them too long in a car, exposing them to weather too warm or cold for them.
Fortunately, for brides living in Kingwood, TX, or the nearby areas, Metro Self Storage offers wine storage so you can store all the wine you need for your big and never worry about the taste or quality changing in the months leading up to the ceremony.
Ease Your Wedding Woes with a Storage Unit from Metro
There are a lot of moving parts involved in planning and organizing a wedding and the last thing you need to worry about is where your decorations are and if they're at risk of getting damaged. With Metro Self Storage, we offer wine storage and standard storage units to help you keep your DIY wedding organized. A storage unit allows you to organize and store your items away from your home so that your decorations, furniture, and wine is in pristine condition when your big day rolls around.
Plus, our storage facilities are equipped with plenty of convenient features and friendly staff to boot! Don't let time get away from you. Find a decoration storage solution at the Metro Self Storage facility near you!