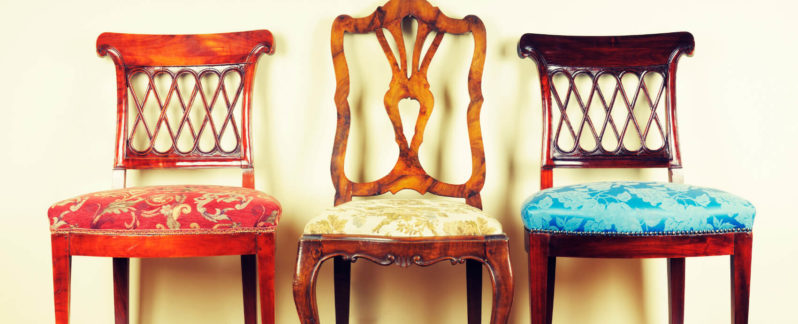 How To Prepare Furniture for Storage
---
June 20, 2015 | Moving
Household furniture usually represents the largest investment inside a home. A wide range of styles, quality, and materials of home furnishings guides how you prepare furniture for storage. If you are wondering how to store furniture during your next, we've got some handy tips to keep your belongings in the best possible condition.
It is highly recommended to thoroughly clean wood, leather, and upholstered furniture before storing it. Higher-end professional moving companies will shrink-wrap your upholstered furniture before moving it. This provides an extra layer of protection against dirt, stains, scuffs, and fingerprints.
Also, be sure to wrap wooden and leather furniture with paper or moving pads then shrink-wrap it before loading it onto the moving truck. However, when it comes time to store shrink-wrapped furniture, be sure to check with your storage facility manager on whether or not to leave your furnishings wrapped in plastic while storing furniture in your storage unit.
Whether you are a homeowner getting ready to move or a real estate agent staging a home for sale, self storage can provide both short-term and long-term options to reduce clutter during a move.
6 Things to avoid when storing furniture in a storage unit
Allowing furniture to come in direct contact with floors or walls inside a storage unit
Storing upholstered furniture in any other position than how it was designed to be used
Pests including termites, cockroaches, and rodents
Placing boxes or other items against or on top of upholstered furniture
Extreme heat
The cost of storing furniture will vary based on whether or not you need a climate-controlled storage unit in your state and city. However, climate-controlled storage is usually recommended for storing all types of home furnishings.
Fabrics, padding, and cushioning found in upholstered furniture are all highly susceptible to heat, cold, and humidity that will cause them to deteriorate more rapidly.
Placing wood furniture in a storage unit requires a few extra steps
Wood has been valued in furniture construction for centuries due to its innate beauty and durability. However, wood expands and contracts with changes in surrounding temperature and humidity.
Storing wood furniture in a garage is typically not advisable. Before storing antique wood furniture be sure to consult a furniture restoration specialist in your area for the best advice on how to prepare your investment for storage.
Whether you are storing furniture in the garage or plan to rent a nearby storage unit, it is almost always necessary to prepare your wood furniture beforehand. Painted furniture may simply need to be wiped down, but stained, dyed, oiled, and waxed wood furniture may require special care such as applying linseed oil or a specific type of furniture wax.
When storing furniture long term, a climate-controlled storage unit is the best option. Remember to take special precautions with your wood furnishings and that underneath your upholstered furniture is a wood frame.
There are several benefits of having a nearby storage unit—convenience, easy access, top-notch security, month-to-month leasing options, and protection from the elements. From family heirlooms to extra home furnishings used by real estate agents, it's possible to keep all types of furnishing in excellent condition while in a storage unit.
Are you looking for climate-controlled storage for your upholstered furniture? Metro Self Storage offers affordable storage solutions in several states. Contact us today to learn more.