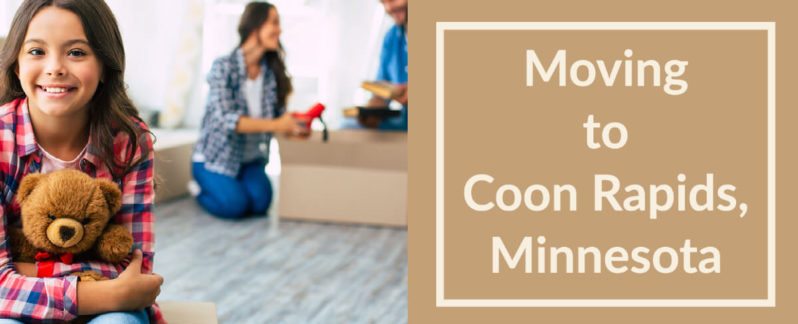 Moving to Coon Rapids, MN? Here's What You Need to Know
---
September 20, 2020 | Your Local Metro
Ideally located 15-miles north of Minneapolis, Coon Rapids is known for its diversity, friendly way of life, and abundant outdoor activities. So if you're considering a move to anywhere in Minnesota, here's why you'll want to consider moving to Coon Rapids.
A Little About Coon Rapids Township
Are you curious about how Coon Rapids got its name? According to the town's history, residents once valued the pelts of raccoons who populated the low swampy areas in and around Coon Creek. The town was once called Coon Creek Rapids and eventually dropped "Creek" and shortened its name to Coon Rapids.
Today, residents reporting on the real estate site, Niche.com, say Coon Rapids is hands-down one of the best places to live in Minnesota.
The Best Time of Year to Move to Coon Rapids
Nobody likes the idea of moving to a new home in the snow or when the weather is too hot and humid. So the best weather to move in is when temperatures range between 65°F and 80°F. Therefore the best time of year to plan a visit or move to Coon Rapids is from mid-June to early September.
Average Winter Low: January low is 24 degrees.
Rain: Averages of 48-inches of rainfall per year.
Snow: Averages 23-inches of snow a year.
Average Summer High: Around 83 degrees in July.
Because Coon Rapids is located in Minnesota, it is in a humid climate zone. So the summers tend to be sticky and winters snowy with freezing winds.
However, on average, Coon Rapids gets fewer six fewer inches of annual rainfall than the U.S. average of 48-inches per year.
Cost of Living in Coon Rapids
Situated within the Minneapolis-St. Paul-Bloomington Metro, the cost of living in Coon Rapids, is higher than other Minneapolis 'Burbs due to its desirable location. One of the most fantastic perks of living in a Coon Rapids neighborhood is the Township is less than 15-miles north of Minneapolis along the beautiful Mississippi River.
According to Zillow, the median home value in Coon Rapids is $251,773, with the median list price at $214 per square foot. This is $12 per square foot higher than the Minneapolis-St. Paul-Bloomington Metro.
If you're worried about the biting cold Minnesota winters, renting before buying a home may be advisable. The average Coon Rapids 2-bedroom apartment goes for a little under $1,265 a month. A studio apartment averages around $840 per month while a one-bedroom hovers in the $1,000 per month range.
Like any city, the main expense is going to your mortgage or rent. But what about the other living costs such as groceries, utilities, and transportation? Except for healthcare costs, those expenses all run a little higher than the national average.
Education in Coon Rapids
The Anoka-Hennepin School District is made of 13 suburban communities north of the Twin Cities of Minneapolis and St. Paul. As one of Minnesota's largest school districts, it serves approximately 38,000 students and 248,000 residents. Anoka-Hennepin has 26 elementary schools, six middle schools, and five traditional high schools. Its award-winning Community Education program is a big draw for families moving to Coon Rapids.
It's worth noting Coon Rapids High School, which offers an impressive range of educational opportunities for its diverse student body. Students can participate in biomedical and engineering programs, take distance learning courses from the TelePresence Lab, and enroll in college-credit courses.
Anoka-Ramsey Community College is named one of the top 10 Community Colleges in the nation by the Aspen Institute. Students attending college at Anoka-Ramsey with the goal of transferring to a four-year university attain their bachelor degrees above the national average.
Parks in the Greater Coon Rapids Area – Anoka County
Coon Rapids offers 48 parks with more than 40 miles of trails giving residents an abundance of opportunities to interact with nature. Coon Rapid's Dam recreation area is a year-round destination, especially during the cross-country ski season. Park visitors also love picnicking, fishing, in-line skating, walking, and bicycling— all favorite activities in the park.
The city is also home to Bunker Beach, Minnesota's largest outdoor waterpark. So whether you love to hike, mountain bike, swim, fish or all of the above, Coon Rapids has a lot to offer.
Coon Rapids maintains several sledding hill parks throughout the city (see below). Beginners and families with little ones can learn how to sled at smaller hill parks including Marshland Park and Peppermint Stick Park.
Riverview Park
Rockslide Park
Sand Creek Elementary School
Thorpe Park
Wintercrest Park
For those who love to golf, the award-winning Bunker Hills Golf Club is recognized as one of the top 25 public courses in the country by Golf Digest. Additionally, there are other sports opportunities, such as fishing. Outdoor enthusiasts won't be bored in Coon Rapids!
Living in Coon Rapids Township offers residents an outdoorsy suburban feel with proximity to big-city amenities in Minneapolis. And with a population just over 62,000, small or not, Coon Rapids is only 29-miles from Minneapolis-Saint Paul International Airport, making traveling pretty convenient.
Becoming a resident of Coon Rapids, MN certainly has its perks. This little slice if suburbia is known for the friendly people who live here, and family-friendly is at the top of the list.
Anyone moving to Coon Rapids will discover it combines the perfect balance of big-city diversity with a friendly and tranquil suburb.