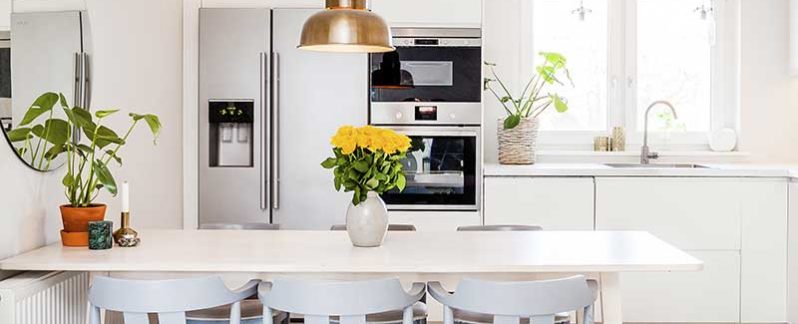 A Happy Healthy Lifestyle: 5 Easy Ways to Declutter Your Spaces
---
September 26, 2020 | Home Organization
We're spending more time at home than ever before. However, many of us don't realize the impact of cluttered spaces on our mental health and motivation. Studies reveal that a cluttered space can directly impact our moods and thereby affect our productivity.
The good news is decluttering creates clarity and a sense of emotional wellness. There might be some pains along the way, but the exercise of reimagining your spaces free of clutter will quickly outweigh your concerns.
That's why we're bringing you some easy ways to declutter your spaces that are sure to brighten your day. Our friendly team of storage experts can help you choose the right storage solutions whether you've got sentimental belongings or family heirlooms that don't fit with your new home decor.
1. The first step to decluttering
The first step to creating uncluttered spaces is figuring out if you have a home for everything you own. Most likely not, which is why you're looking for ways to declutter in the first place. Benjamin Franklin was on to something when he said, "A place for everything, everything in its place."
Assign a specific storage place for each item you own.
Group similar types of things together and store them as close as possible to where you will use them.
Place frequently used items in locations that are easy to access.
Create the right type of storage for your needs.
Most importantly, when you use something, put it back where it belongs.
Thinking of new ways to utilize the spaces in your home is part of the fun of decluttering. Don't be afraid to put your CD and DVD collections on consignment if it frees up valuable space. In their place, you can store throw blankets, family games, or other items you need to access and put away frequently.
2. Create a Zero Clutter Zone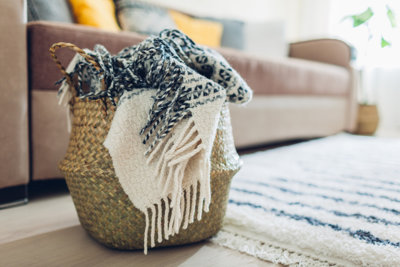 Start by declaring a room or a space in a room as a clutter-free zone. If that sounds daunting, choose the smaller scale option: a workspace or an island kitchen counter, for example. What do you use frequently?
What do you love to look at? These are your essential items, and everything else needs an out-of-sight storage solution or to be donated to a local charity.
Real estate stagers love utilizing baskets because they provide easy ways to declutter a room in minutes. If you love seeing your throw blankets on the back of your couch, then leave them out by all means. However, if they're not part of your decor aesthetic, store them in a nearby drawer, cabinet, or in a rattan basket when they're not in use.
3. Give yourself permission to say good-bye
Letting go is hard, and frequently this is the phase in decluttering discourages people from moving ahead. Decluttering can be emotionally draining. We totally get it. Deciding on what sentimental items to keep and what to let go of can be difficult and bring up different emotions. Be sure to take frequent breaks to avoid decision fatigue.
Things you might decide to donate or sell might be gifts (Yes, even wedding gifts!) that you at one time felt obligated to use. But no more because this is the new you. Lighter, more productive, and happier in your home. Donate old clothes and those that no longer fit. Don't forget to declutter your home office.
If you're having trouble at this point, try writing down why you're decluttering in the first place. See our example below.
My Mantra: I am decluttering and committing to living with less physical clutter.
4. Practice the "one in one out" rule
Whether you're buying a new pair of shoes, a belt, or a winter jacket for outdoor recreation, get rid of an already owned like item. Sticking to this rule will help avoid impulsive purchases that lead to overstuffed closets and overflowing drawers.
To apply this rule successfully, establish clear limits on every household item category, including books, kitchen gadgets, and home accessories.
5. How do I deal with piles of mail and magazines?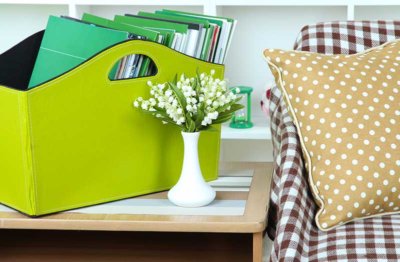 What about paper clutter? If you're tight on space, use magazines as part of your decor. Stack them by size and color, but don't let the pile(s) get too high!
The best way to declutter mail is not to toss it aside and let it pile up. Nobody wants a call from an angry bill collector because a bill got lost in the junk mail. Instead, sort through all the mail and toss the junk mail into a nice-looking box or basked labeled "shred" or throw in the recycle bin.
Open every single piece of mail you're keeping. If possible, take immediate action for each envelope if you do it in a couple of minutes. Otherwise, create a system on how you pay bills using file folders. Your local office supply store will offer various file storage options to match any space and home decor.
Last but not least, make it a habit. Once you've decluttered your home and designated Clutter-Free Zones, stick with it by practicing these simple tips. Creating a new habit takes practice, but if you learn to value the reward—a clean, organized space—you'll not only be happier with your new abode, but you'll be more likely to maintain your new lifestyle.
Make Decluttering a Breeze with Metro Self Storage
It is not uncommon to have items you want to keep but take up a lot of space, such as appliances, furniture, or seasonal clothing. When you need additional space outside of the home to keep these belongings, Metro Self Storage has you covered. Our wide range of storage units in all sizes are able to fit almost every unique need you may have. Find a Metro Self Storage location near you today!