How To Flip Furniture With Self Storage
---
April 11, 2023 | Business Storage
One man's trash could be your next treasure. Old, used, faded furniture can be found everywhere you look. Thrift stores are full of it, garage sales are bound to have a selection, and sometimes you can even get lucky and snag something left out by the side of the road.
While many may take one look at these pieces and decide it's not up to their standards, you might see something with potential. Scrub it down, swap out the hardware, or give it a fresh coat of paint, and suddenly that old furniture has a brand new life to it that's perfect for your home—or someone else's.
Flipping furniture is an excellent way to make a little extra money. People are always looking to refresh their space with something new. Flipped furniture can be more affordable than buying something brand new and can offer better quality than something cheap.
However, as you get deeper into furniture flipping, you'll likely run into a problem: what do you do with furniture that hasn't sold yet? Furniture is heavy and may not be easy to move into your attic or basement. It might be too large to hide away in your closet or garage. And unless you're only working with one piece of furniture at a time, it can very quickly overtake the space you do have available.
At Metro Self Storage, we have the perfect solution for furniture flippers: self storage! You can easily rent a storage unit that will fit every single one of your pieces, regardless of whether you're just starting out or have several finished and ready for purchase. With affordable rates and convenient locations, a Metro Self Storage facility is here to help you make money flipping furniture.
What Is Furniture Flipping?
Flipping furniture, either as a hobby or a business, is built on furniture restoration. It's the process of taking an old piece of furniture and giving it a new look by putting in time, effort, and materials. You don't have to be experienced or skilled to flip furniture. You just have to be committed and maybe a bit creative!
How To Make Money Flipping Furniture
Flipping furniture can be a side gig to help cushion your pocket or it could eventually become your new primary source of income. But if you're looking to turn a steady profit from flipping furniture, you have to get more money out than what you put in. That means being smart with your spending and being choosy about your projects.
Supplies: Quality vs. Cost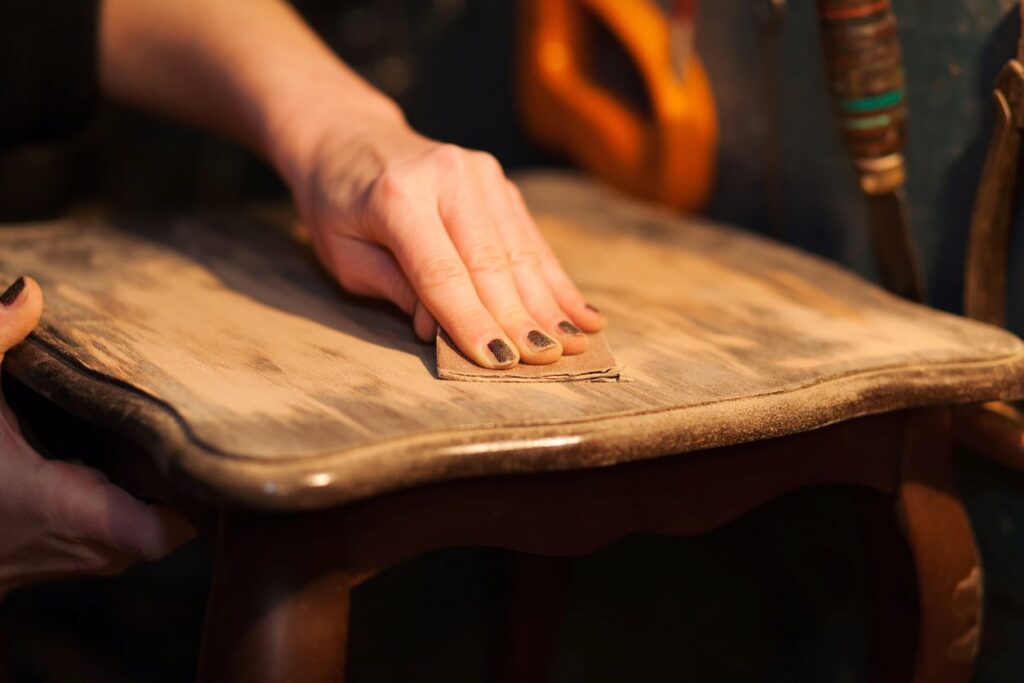 Quality materials will produce better results, but you don't want to invest in top-of-the-line tools and supplies only to not make back that money. On the other hand, going with the cheapest options to keep your expenses low will make it difficult to create the best product you possibly can. People won't want to buy unattractive furniture.
Find that perfect balance by making your money count. Hunt for deals when purchasing essential supplies, and start out by just gathering high-quality basics before you eventually add more to your toolbox. Necessary supplies to flip furniture include:
Furniture spray cleaner
Tarp or drop cloth
Gloves
Wood filler
Tape
Paint
Stain
Top coat
Paint brushes
Choosing Furniture To Flip for Profit
Not all furniture flips the same. Certain items are in greater demand than others, and those that are more damaged or detailed will require more time and materials to restore. As you're getting your feet wet, stick with types of furniture that are more likely to sell.
Nightstands, end tables, and coffee tables tend to be consistently easy to sell. They're smaller in size and lighter in weight, making them easier to store, transport, and handle.
Bookcases and shelves are also popular among buyers. Similarly, dressers and storage chests sell fairly quickly.
Full-size tables and desks, complete bedroom and dining room sets, and other larger items have the potential to bring in the greatest profit, but they're also going to demand the greatest investment on your end. Buying them costs more, requires more work, occupies more space, and may take longer to find a buyer once you're finished.
When deciding whether you take a piece of furniture home to flip, get up close and personal with it. Really look at its overall construction. Does it just need some small repairs, or was it poorly built to begin with? Is it made of real, solid wood or other good materials? Do the drawers or doors open and close smoothly? Does it look nice?
Condition is also important. Your level of skill can better determine the sorts of repairs you're capable of making, but just because you can doesn't mean you should. Large cracks, broken parts, missing pieces, and other glaring issues will make it harder to flip. On the other hand, if some sanding, wood filler, and a fresh coat of paint or stain are all it needs, it might be worth your time.
How To Store Furniture in Storage
Whether it's your next project, a work in progress, or ready to go to its new home, the furniture you flip needs a place to stay. Instead of letting it clutter up your home, use a self storage unit! A storage unit is a flexible, highly convenient way to store your furniture.
Storage units come in a wide variety of sizes. At Metro Self Storage, you'll find anything from a small 5×5 storage unit that's perfect for one or two smaller pieces of furniture to a large 10×30 storage unit that can hold several large flips, such as complete sets, sectional couches, and more.
Picking the right size storage unit doesn't have to be difficult. Our storage unit size guide can help you determine which size will be the best fit for your needs.
When storing furniture, you don't want your pieces to be snug against each other. Instead, give each item some room to breathe. You don't want anything to be scratched or bumped when moving, resulting in scrapes, dents, and more work on your part in the form of unnecessary touch-ups. It'll also be easier to reach the items later.
Lay down towels, tarps, or cardboard to create a layer of protection against moisture damage and leg scuffing. Furniture covers are also a worthwhile investment to protect from dust, and they're among the many packing and moving supplies available at select Metro Self Storage facilities.
The Importance of Climate-Controlled Storage
After putting in so much time and money to flip furniture, the last thing you want is for that hard work to be ruined, especially by something out of your control such as the temperature outside. Within a traditional storage unit, your belongings are protected from the elements, but exterior conditions can still influence the environment inside the storage unit.
Common furniture materials, especially wood and leather, can be damaged when exposed to freezing temperatures or high heat. Your work can be warped, cracked, and faded, making it potentially impossible to fully repair.
So what can you do? Rent climate-controlled storage at Metro Self Storage! Climate-controlled storage units are heated and cooled year-round to provide a far more stable storage space, which can keep your flipped furniture in good condition.
Determining how to store furniture in climate-controlled storage is much like that of traditional storage. The main difference is that climate-controlled storage units are typically located indoors, so contact your local storage facility to see if they have any carts or dollies available for you to move your furniture into the unit.
Store Your Flipped Furniture at a Metro Self Storage Facility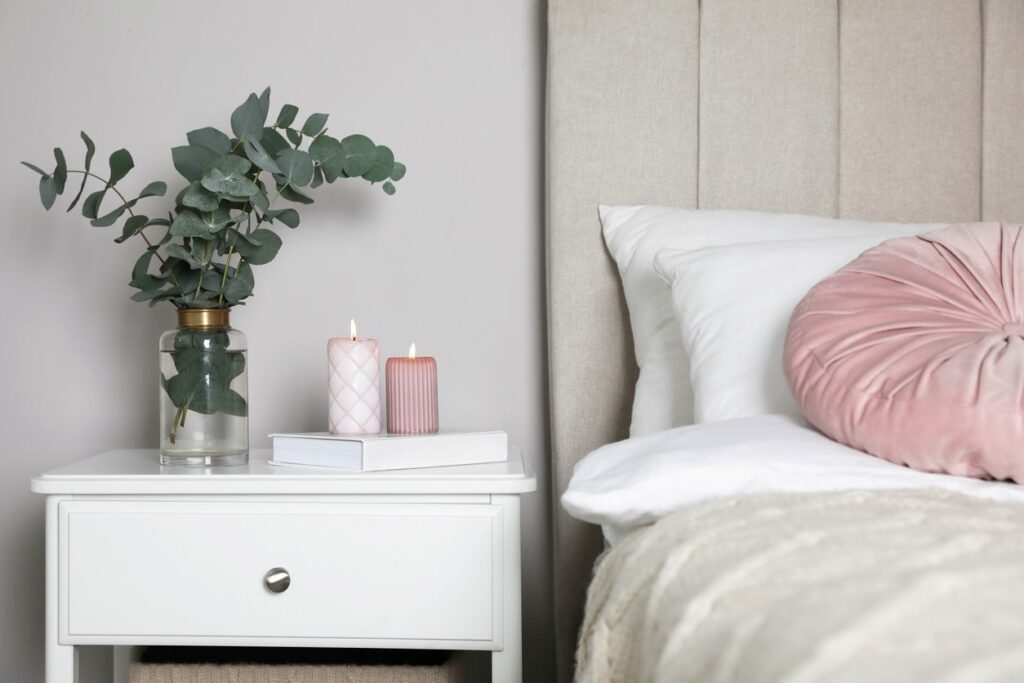 Now that you know how to flip furniture for profit and properly store it, all that's left to do is hit the ground running. With locations in 12 states, a Metro Self Storage facility near you can have everything you need and more to make space for your furniture flipping future.
Be sure to look for a climate-controlled storage unit that's the perfect size for your needs, then rent or reserve it online today! With affordable rates, convenient locations, secure storage features, and month-to-month rental flexibility, your flips will be in the best storage possible at one of our storage facilities.