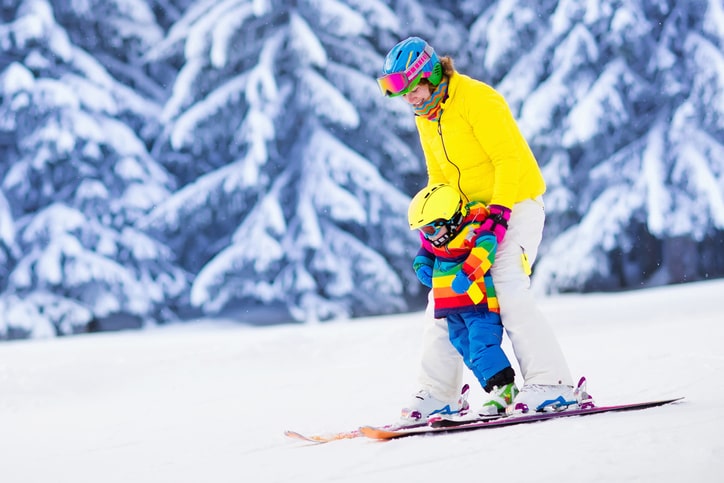 Family-Friendly Skiing Destinations Near Chicago
---
November 16, 2022 | Family Life
Chicago locals love their delicious hot dogs, delectable deep-dish pizzas, world-class shopping, and arts and culture. But how do families enjoy the outdoors? While winters bring sub-zero temperatures, it creates ideal conditions for skiing, snowboarding, and snowshoeing.
So thankfully, there are some great options for family-friendly skiing destinations near Chicago.
There's no disputing that Chicago attracts people from far and wide. The state's sports teams alone—the Cubs, White Sox, Bulls, Bears, and Blackhawks—are enough to make sports enthusiasts want to live in Chicago! Foodies live for the top-notch restaurants and would be hard-pressed to visit all 5,000 in Chicago proper over a lifetime.
But when it comes to winter outdoor destinations, almost everyone agrees it's well worth their time to drive to these family friendly ski destinations near the Windy City.
The Mountain Top at Grand Geneva Resort & Spa
7036 Grand Geneva Way Lake Geneva, WI
Distance from Chicago: 83 miles
Winner of Conde Nast Readers' Choice Awards in 2022, the Grand Geneva Resort and Spa offers families Stay and Ski Free packages Sundays through Thursdays in addition to Stay and Ski weekend packages.
The ski resort is 30 acres with 21 runs for skiing and snowboarding and a six-acre terrain park for ice skating and sledding. The Mountain Top has something for the entire family to do all winter and you'll want to stay and play for more than a day at this highly rated ski destination near Chicago.
If it's too cold outside, there are plenty of indoor activities, including ping pong, air hockey tables, and a full arcade, in addition to on-site restaurant options.
Wilmot Mountain
11931 Fox River Rd. Wilmot, WI
Distance from Chicago: 65 miles
One of the oldest ski resorts in America's heartland, Wilmot Mountain, shares a border with Illinois just above Gander Mountain. Wilmont is known for its family-friendly ski and tubing runs designed with beginners in mind.
The ski resort is nearly 120 skiable acres, 23 trails, 7 lifts, and progression terrain parks, including one for snowboarders interested in learning tricks. The tubing area is off-site but features 22 lanes and 2 magic carpets that tow you back to the top of the run.
Wilmont Mountain doesn't offer accommodations, so families traveling from Chicago may want to check out the nearby Abbey Resort for overnight stays.
Alpine Valley Resort
W2501 County Road D Elkhorn, WI
Distance from Chicago: 90 miles
Alpine Valley Resort is located in Wisconsin's Sugar Creek Valley and provides some of the Midwest's most diverse skiing and snowboarding terrain. The resort's website boasts 100 skiable acres with 20 runs that range from beginner to expert-level for skiers and snowboarders.
The resort's infamous Thunder Run, not for the faint of heart, is a steep run with a vertical 388-foot drop! Alpine Valley Resort also features three terrain parks designed for snowboard tricks, including rails, boxes, and challenging snow features.
It's worth noting that this skiing destination near Chicago also provides guests with ski-in/ski-out lodging options. In addition, the resort offers on-site casual dining options like pizza, burgers, salads, and other choices sure to please the little ones.
Additional perks for families at Alpine Valley Resort include free weekend movie nights, an indoor pool and hot tub, and family suites for ski-in and ski-out rooms.
Villa Olivia
1401 Lake St. Bartlett, IL
Distance from Chicago: 35 miles
Located in Bartlett, IL, Villa Olivia is one of the closest ski destinations near Chicago. However, it's small and pretty flat, so it's not a destination for advanced skiers and snowboarders.
For families just beginning their ski adventures, Villa Olivia should be your first stop. There are 7 ski runs serviced by 1 chairlift and 6 rope tows for tubing fun. It's worth noting that sledding is prohibited.
Villa Nova is also close enough for those living further west of Chicago to take advantage of weekday evening hours approximately 10 miles from St. Charles, IL, and 17 miles from Addison, IL. Due to its size, tickets often sell out for the day, so check their social media accounts for the latest updates or call (630)-540-4199.
Tips for Storing Winter Gear
Living near ski resorts gives families plenty of opportunities to get outdoors during Chicago's coldest months of the year. But when it's time to switch to summer mode–mountain biking, kayaking, and hiking–be sure to prepare to store your winter ski gear properly.
For example, skis and snowboards need to be cleaned and waxed at the end of the season, and ski clothes need to be washed and dried thoroughly. It's less than ideal to store winter ski equipment and clothing in a garage if you live in a region of the country that experiences hot, humid summers.
Store Your Winter Gear with Metro Self Storage
A secure and reliable option to protect your winter gear investment is to rent a climate-controlled storage unit for seasonal storage. Storage units come in a wide range of sizes to accommodate a wide range of preferences. From 5X5 and 5×10 storage units to drive-up 10×10 storage units, it's easy to find the right size and features for every type of recreational gear.
Drive-up storage units with wide, roll-up doors make loading and unloading your gear easy. Metro Self Storage facilities are designed to accommodate your schedule, whether you're dropping off gear after a weekend adventure or stopping by before the sun rises.
Find a Metro Self Storage facility near you and rent your space today!