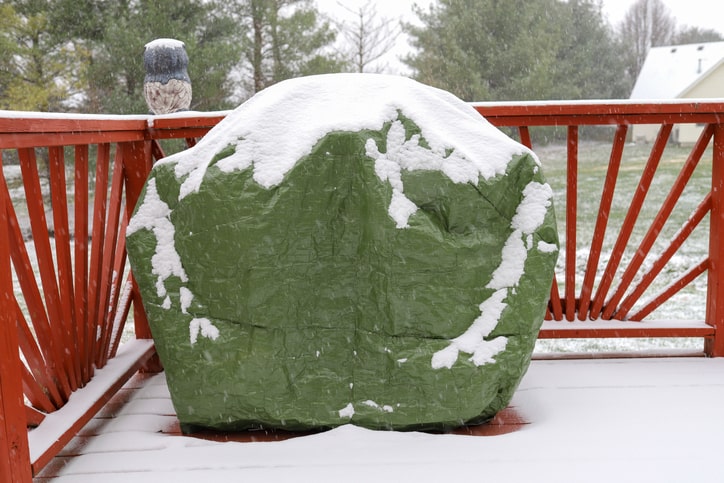 How to Prepare Your Summer Items for Winter Storage
---
November 30, 2022 | Home Organization
If you expect snow every year or the occasional ice storm, freezing temperatures can damage belongings if left unprotected outdoors. Depending on the materials, patio furniture can also be susceptible to mold and other types of damage.
Other items, such as lawnmowers and recreational gear, have moving parts that can start to erode if left outdoors. And while you may have room in your garage for some of these items, fitting an entire patio furniture set and other summer items is probably not feasible.
The best way to protect your outdoor items is to move them indoors to a shed, garage, or storage unit. However, if you have limited indoor space, renting a storage unit is a short-term solution that will protect your investment from harsh winter elements.
Patio Furniture
Winterizing patio furniture is recommended to keep it in pristine condition in harsher weather conditions. Snow and freezing temperatures can easily damage wood and plastics, and rain can cause mildew and mold, especially in humid conditions.
Some types of powder-coated patio furniture can be left out during winter, and manufacturers recommend applying a coat of auto wax annually. Even so, you should bring in all cushions and cover metal chairs for winter storage if they are constructed with any fabric.
Other common materials on your porch, patio, and deck might include wood, wicker (or rattan), and plastic. Remember that these materials are much more susceptible to extreme weather conditions and will have a much longer life when properly prepared for winter storage.
If you live in a midwest state where winter temperatures drop below zero, hopefully, winterizing your outdoor items is already on your radar screen. However, remember that sunlight—even winter and early spring sunlight—will take a toll on your patio furniture.
If you live in a Mediterranean climate, it's advisable to cover your patio furniture during winter and check on it frequently to ensure enough air ventilation to prevent mold.
Gas and Charcoal Grills
Practical winter storage for large barbecues and grills is to keep them on the patio during winter. However, they are susceptible to rust, so you will want to take precautions to protect your investment.
Winter preparation for grills of all sizes includes cleaning them to remove any grease or food residue, which can attract wildlife such as squirrels and chipmunks. While powder-coated and stainless steel barbecues are reliably resistant to corrosion such as rust, salt, and chemicals, they should still be adequately covered for winter storage.
Recreational Gear
Storing summer recreational gear may be the only option if you live in a big city or an apartment without a garage. Mountain bikes, golf clubs, and camping gear are significant investments. They should last for several seasons when kept in top condition.
To prepare your recreational gear for winter storage, clean all equipment according to the manufacturer's recommendations. For example, inflate the tires and lubricate the cables on your bikes and keep them indoors over winter months. Hanging bikes will prevent the frame's weight from slowly deflating the tires.
Air out tents and sleeping bags to ensure they're clean and dry before storing them during winter. Surfboards and kayaks take up a lot of space and can be awkward to store when not in use. But wall and ceiling hanging systems can come in handy if you are storing these items in your garage.
If you find your collection of recreational gear growing year-after-year, renting a seasonal storage unit is a great solution to keep your items protected, secure, and easily accessible.
Lawn Mowers and Landscaping Equipment
Whether you are a master gardener or in charge of mowing the lawn every week, multiple items benefit from winter storage. Shovels, spades, hoes, and rakes should be cleaned before storing so they're ready to be sharpened when spring finally arrives.
Review your owner's manual for outdoor power equipment you won't need during winter months, such as lawn mowers and leaf blowers. Before storing, perform the recommended service activities like draining and changing engine oil and removing batteries.
If you need to use winter equipment, such as snow blowers or generators, review the owner's manuals to refamiliarize yourself with how to operate them safely.
Over the last few years, we've all come to appreciate our outdoor spaces making them more important than ever. Outdoor furniture sales rose at an unprecedented rate during the pandemic, which means there are a lot of homeowners with a new investment to care for during the winter months.
With some preparation and planning, your summer items will bring you and your family many years of summer enjoyment.
Store Your Summer Items with Metro Self Storage
Off-site winter storage can help protect your summer items, including patio furniture, landscaping tools, jet skis, and kayaks, from damage caused by extreme winter temperatures or rapid temperature swings.
You'll find a wide range of storage unit sizes and amenities at your local Metro Self Storage. For example, outdoor drive-up units make accessing your items a breeze and indoor climate-controlled units feature covered loading bays, large elevators, and much more..
Find a Metro Self Storage facility near you and rent your space today!