Smart Kitchen Trends to Make the Most of this Multifunctional Room
---
October 4, 2020 | Home Organization
We demand a lot from our kitchens. As a result, today's smart kitchen designs feature a whole host of technological wonders. Imagine adjusting the kitchen lighting as the sun sets or changing the temperature and time on your oven from cook to warm from the convenience of your smartphone. All while walking the dog or helping the kiddos with homework.
There is no doubt, we all need a multifunctional kitchen in today's world. A high-tech kitchen can help us multi-task and remember what to put on the grocery list. The kitchen is where we prepare breakfasts, lunches, dinners, and snacks in addition to creating flexible work from home zones.  Then there is the seemingly endless task of cleaning up.
Here are three smart kitchen and appliance trends to help you create a space that is flexible enough to handle the demands of cooking at home.
After all, it is one of the busiest rooms in your household.
What is a Smart Kitchen?
Thanks to Artificial Intelligence and other technologies, our devices are becoming smarter. In large part due to IoT or the Internet of Things, which describes the network of physical things embedded with sensors and software to connect and transfer data over a wireless network.
Home-connected appliances include smart refrigerators, smart dishwashers, smart cooktops & ranges, smart microwaves & ovens, and smart coffee machines, to name just a few.
In combination with user-friendly interfaces with our smartphones, LCD screens, and various apps, IoT technologies can make operating kitchen appliances more effortless, less expensive, and more fun!
Here are a few examples of how appliance manufacturers are making kitchens smarter through home connected technologies.
LG's HomeChat feature directs its appliances through SMS. For example, when you text your appliances to say, "I'm going on vacation," the refrigerator can automatically go into power-saving mode. The oven may even respond just to say it will miss you!
GE's SmartHQ app on your smartphone or via hands-free control with Amazon Alexa or the Google Assistant, allows users to control their ovens and monitor cooking status from another room or while out running errands.
Belkin's WeMo enabled Smart Slow Cooker allows you to adjust its timer and heat settings straight from the Belkin WeMo app. However, like all home connected technologies, having a stable Wi-Fi connection is imperative for flawless operation.
Smart Appliances Personalize Your Cooking Journey
According to a recent NPR report, around 39 million people in America owned a smart speaker for a connected home environment. Voice-activated speakers and smartphone interfaces allow kitchen appliances like refrigerators and ovens to be accessed remotely.
How often do you find yourself googling a recipe? Deciding what to cook is one of the most challenging aspects of cooking for most of us. Children who are picky eaters or a mix of omnivores and vegetarians to feed under one roof can drive the home chef crazy.
Maybe that's why, according to Think with Google, consumers generally search for food inspiration and recipes several times a week. Smart appliances connected to the Internet have enormous potential to simplify and save time in the kitchen by helping you tailor recipes based on what you have in the fridge.
Smart Kitchens are More Efficient and Fun
Smart kitchens and appliances also support the constant exploration of new flavors, new recipes, cooking techniques, and time-saving tips and shortcuts.
Moreover, you could bring your favorite chef—Who loves Rachel Ray and Bobby Flay?—into your kitchen via an embedded video screen on the fridge, to cook right alongside you. Imagine the possibilities of having your kitchen appliances being connected to your choice of online food platforms.
From ingredients lists, shopping, and cooking, smart kitchens' offer promising technologies to inspire menu planning and help purchase and consume ingredients promptly.
Smart Appliances Can Save Money on Groceries
Appliance manufacturers like Whirlpool and Bosch are designing features into their products to simplify and personalize your cooking experience. The most innovative ideas include ways to store and utilize food in the kitchen.
Because we're all cooking in our kitchens more than ever before, food safety and reducing food waste are equally important. So whether you eat a Paleo or Keto diet or follow Dr. Gundry, eating healthy and nutritious food is essential to maintaining your goals.
The new technologies in appliances have great potential to undertake these issues. For example, smartphone apps guide at-home chefs to cook meals on what's have available in the fridge so that groceries don't end up in the waste bin.
Some day refrigerators may be so smart you can simply ask your refrigerator, "What can I make for dinner tonight?" and get a list of suggestions based on what's in your fridge and a few basic pantry staples.
Think LCD screens inside your fridge that can control temperature via Wi-Fi. Or Bluetooth-enabled devices that give you all power at a distance from your smartphone so you can be outdoors. Smart appliances give us flexible ways to stay involved with our kitchens without being at the stovetop.
Smart Technologies Save More Money and Water
The biggest energy consumers in American homes are heating and air conditioning systems. Nest it's large appliances such as freezers, refrigerators, washers, and dryers. Today, you can have a home with energy-saving technology features integrated into every function of your appliances.
If you're considering a kitchen remodel or want to try out a few smart kitchen features, sensors, smart gadgets, and other devices can be added to older kitchens. For example, easy add-ons include motion sense-equipped kitchen faucets that sense the presence of hands underneath and automatically turn on and shut off to save water. Or you can opt for a one-touch feature to have a little more control of water flow.
Connected home devices allow you to schedule your smart washing machine and dishwasher to operate when electricity rates are lowest. With incorporated sensors, your dryer adjusts cycle times automatically to help reduce its energy use and will automatically shut off when clothes are dry.
Smart Kitchen Appliance Manufacturers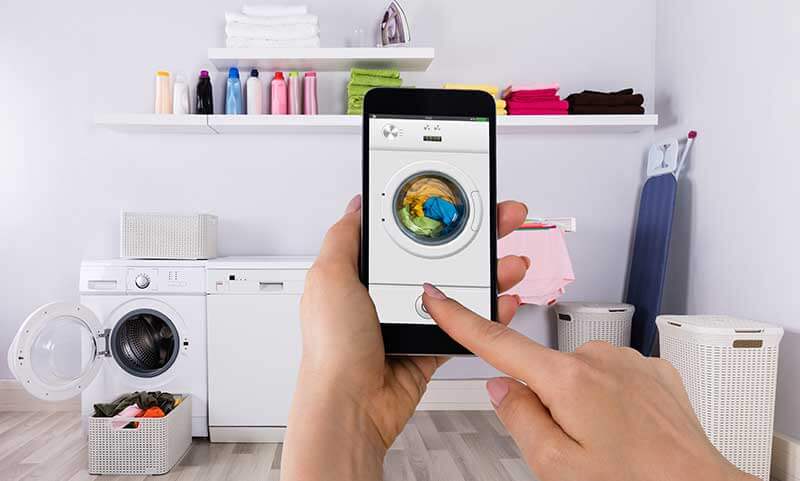 You can find a wide variety of appliances including cookware, cooktops, crockpots, coffee pots, water heaters, ovens, and dishwashers that are controlled through digital assistance applications in voice-controlled devices such as Amazon Echo and Google Home.
The manufacturers such as LG, Samsung, Bosch, Whirlpool, and others are rapidly innovating technologies to transform kitchen appliances in both residential and commercial markets. Look for products including Smart Refrigerators, Smart Dishwashers, Smart Cooking Ranges, Smart Microwaves and Ovens, and Smart Coffee Machine that are Wi-Fi/Bluetooth-enabled.
We know you want to make the most of your kitchen space as it continues to take on a bigger and more flexible role in keeping family life together. Additionally, the number of people kitchen remodels are likely to increase due to work from home and aging in place trends. In short, the smart kitchen of the future is efficient and intelligent enough to meet a wide range of needs while saving time and resources.
Clear Out Clutter with Metro Self Storage
Having Smart Appliances in your home can certainly take it into the future, and your clutter from the past just doesn't belong! Whether you need to temporarily move things around the house while your appliances are upgraded or you want to declutter your home to bring out that futuristic feel, Metro Self Storage can help! Featuring state-of-the-art facilities with convenient features to make moving a breeze, you can rest assured that we have room for you. Browse our unit sizes to find the right fit for what you plan to store or find a location near you to rent a unit today!