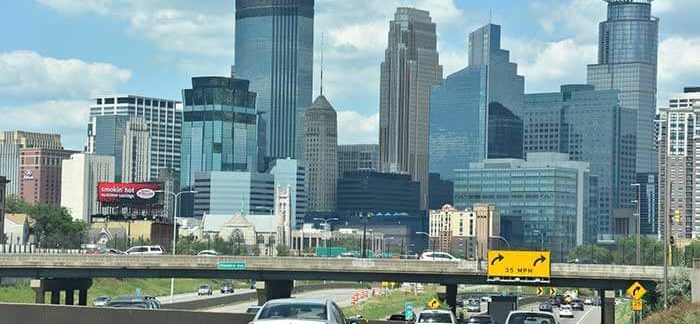 The Ultimate Guide to Commuting in Minnesota
---
February 25, 2018 | Your Local Metro
If you're thinking of moving to a new city (or even a new state), you should give the Twin Cities a long look. Time and again, Minnesota has proven itself to be one of the best places to live—it's even one of the happiest places in the country, according to some (well, most) sources.
Maybe the famous Minnehaha Falls will sell you on the North Star State, or the much-lauded Walker Arts Center. You might even find yourself wondering just what it might be like to live next to that the four-story behemoth, the Mall of America.
Certainly, you'll find no shortage of things to do and places to explore as you're taking a tour around the St. Paul-Minneapolis metro area. But if you're planning to make moves to one of St. Paul or Minneapolis's many neighborhoods, you'll also want a commuting game plan. Traffic can be terrible in and around the cities, but you'll find with a little research, you can make your drive that much easier.
St. Paul-Minneapolis Commuting Basics
The Twin Cities are known for their friendly people and equally friendly commutes. Still, there are a few essential things you'll want to know when you brave the roads around the Twin Cities metropolitan area. First, you'll need to know the best times to traverse St. Paul and Minneapolis. Like most cities, you'll find that traffic worsens around the times of 7:30 am to 9 am and 4:30 pm to 5:30 pm. Luckily, you'll find that most major roads are clear during the day.
You'll also want to know which roads to avoid when you're commuting during the busiest parts of the day. Major highways and thoroughfares like Interstate 35 and Interstate 94, as well as most direct roads to the downtown area, will be the most congested.
Between St. Paul and Minneapolis' highways and freeways, you're likely to be better off with city streets and backroads outside of the downtown area – though you'll still encounter some traffic in the most hectic and bustling parts of the Twin Cities.
Weather will almost always be an added factor for Twin Cities residents, too. St. Paul and Minneapolis' frigid winters can make for more challenging driving conditions.
Types of Transportation
A few types of public transit options exist around the Twin Cities metro area, but more likely than not you'll be driving in your trusty vehicle (or, if you're lucky enough to be close to your workplace, you might even bike).
Buses drive along the Twin Cities' major roads, and you'll find that the rapid transit bus system in St. Paul-Minneapolis is fairly reliable.
Other public transit options, such as the more recent addition of light rail metro system, also exist and are rapidly expanding their service areas. Minnesota additionally boasts the most bike trails of any other state, making it significantly easier for cyclists and green-minded residents to pedal their way to work every morning.
If you plan on driving to and from work, however, there's no reason it can't be fuel and energy efficient. Investing in a solid commuter car such as a Honda Civic, a Toyota Prius, or Hyundai Elantra can save you a mint on gas. It helps, too, that the most reliable commuter cars come with plenty of tech and gadgets to keep you occupied during your daily ride.
Tips and Tricks to Get Through Your Drive
It's not hard to imagine going a little stir crazy stuck in traffic on the way to and from work every day—you may in fact already be one of the road warriors braving rush hour traffic every day. But you can minimize the frustration with a few simple tricks.
Pack your phone with podcasts for the road, or pick out a few new albums to make the drive just a little shorter. Consider starting an audiobook to have something you'll look forward to listening to every day. Take deep, full breaths as you drive. Imagine traffic like a video game—to win; you'll have to strategize the most efficient way to get to work. With a little distraction and positive framing, you'll find the time flies.
Best Neighborhoods for Commuting Around the Twin Cities
If you're looking for St. Paul and Minneapolis' easiest commutes, there are a few neighborhoods you'll want to move to the top of your list. Minneapolis Uptown, a hip neighborhood adjacent to the Twin Cities' downtown, boasts plenty of rental options, convenient bus routes, and even a nearby bike trail.
For families, or those looking for a little more space to stretch out, Longfellow, Minneapolis will be worth a few tours. One of the cities' busiest economic corridors, Lake Street, runs directly through the Longfellow neighborhood, and it provides many bus and light rail stops.
Lowerton, in St. Paul, also touts its proximity to downtown, with the bonus of potential waterfront property. Whichever neighborhood you choose, you'll want to map out your daily commute, with plenty of alternative options. Before long, you'll be a Twin Cities commuting pro.
---
Guest blogger, Haley Kaiser, has a passion for creative writing, blogging, and exploring the outdoors. Among her favorite topics are Arizona sunsets, Midwest greenery, and craft beer.