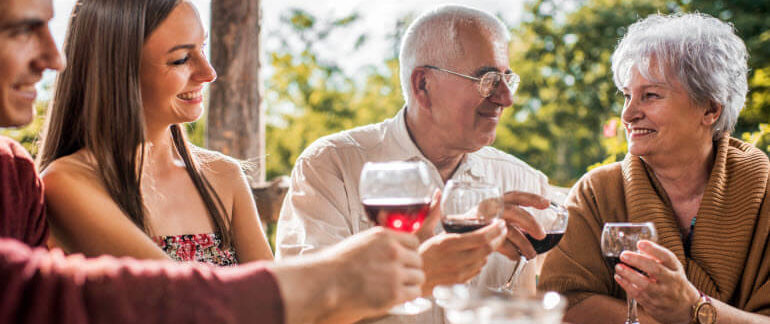 Quick and Easy Wine Storage Tips for Texans (in Less Than Ten Minutes)
---
February 17, 2018 | Storage Tips
Our quick and easy wine storage tips will have you looking like a sommelier in less than 10 minutes. Okay, maybe not quite at that level but close.
Have you ever wondered why wine improves with age? So many things do.
The great English Philosopher and Statesman, Francis Bacon, explains why, " … age appears to be best in four things—old wood best to burn, old wine to drink, old friends to trust, and old authors to read." Many red wines—and some white wines—are meant to be aged before they are opened.
Why should you consider wine storage?
Wine collecting has always been a popular hobby among the wealthy who purchase high-end wine that might appreciate in value over time. However, in recent years several new trends have emerged:
Wine is more affordable than ever
Millennials drink more wine than boomers
Winegrowing regions are now in all 50 states
Because wine grapes are grown in every state, importing and transportation costs are lower, which helps make wine more affordable. The Texas Hill Country is the country's second-largest AVA (American Viticultural Area), which makes it one of the top wine-producing states in the country.
Even though Texas may be the last place you think of for producing wine, the humid subtropical climate is perfect for growing grapes. However, like Texas, the climate in most states is not perfect for storing your wine.
Do I Need a Wine Cellar?
While a temperature-controlled wine cellar is an ideal place for long-term wine storage, they cost anywhere from several hundred dollars to several thousands of dollars. Besides your wallet, your energy bill will also take a pretty big hit. If you would rather invest that money into purchasing more wine, how to mimic wine cellar conditions are pretty straightforward.
Keep Wine at Cool Temperatures
Wines should be stored sideways at cool temperatures ranging from 55℉ to 65℉. Storing wine bottles on their sides ensures the cork stays moist, which prevents it from drying out. While there is a debate over whether wine bottles with synthetic corks need to be stored sideways, you can store bottles with screw caps upright.
Cool temperatures slow the wine-aging process by keeping the wine from getting too warm and helping it develop properly in the bottle.
If wine bottles get too warm, the cork seals break, which leads to "cork taint." You do not want "corked wine." It may not cause harm if you drink it but unless you like the taste of damp or wet cardboard, you will be pouring your wine down the drain.
Less Than 10℉ Fluctuation
Temperature fluctuations cause a wine to expand and contract, which can disrupt the aging process and damage the cork. Do you see a trend here? A compelling reason for proper wine storage is to prevent the threat of a dry cork. Once the cork seal is broken, the process of oxidization will eventually ruin your wine.
All wine bottles, even those with screw caps and synthetic corks, must be stored at cool temperatures with less than 10℉ fluctuation to ensure the wine ages properly.
Wine Labels Hate Humidity
Unless you are storing wine for longer than ten years, WineSpectator.com states that anywhere between 50 percent and 80 percent humidity is considered safe for wine storage. Less than 50% humidity can cause evaporation and oxidation, which is bad.
Humidity greater than 80% can encourage mold and ruin your wine labels. Not having a wine label can prevent your ability to enjoy and talk about the wine once you open it.
Why Are Wine Bottles Dark?
There is no denying it. Wine is sensitive. Excessive light exposure causes wine proteins to break down and thereby ruins the unique flavors of properly aged wines. This is why wineries choose dark bottles—think of them like sunglasses for wine.
Wines bottled in clear glass such as a light, fruity white wine are meant to consume quickly. This doesn't mean to gulp it once the bottle is open. Clear wine bottles only suggest drinking the wine within a reasonable time frame after you purchase it.
No Vibration is Good for Wine
The laundry room is not a good place for wine storage. Vibrations traveling through a wine bottle will disturb its sediment and hinder the wine-aging process. Even if you don't plan to age your wine, vibration will speed up chemical reactions going on inside the bottle.
Odor-Free Wine Storage
Do you love to cook with onions and garlic? If yes, then using your pantry for long-term wine storage is not advisable. It may seem obvious, but strong odors can ruin your wine. Some air molecules, even stinky ones, will get back into the wine bottle through the cork. Most importantly, keep your wine away from bleach, paints, and household cleaners. These products are odorous and toxic.
Self Storage is Always an Option
Whether you are an oenophile or a casual wine enthusiast, making sure your wine is properly stored is essential if you want to enjoy it at a later date. Keep in mind, even though most wines are produced to be consumed within a few years of their release, these wines typically get better with age.
If you are not blessed with a dark, cool, and not-too-damp basement that can double as a wine cellar to keep your wine safe, consider self storage as an option.
Metro Self Storage offers wine storage that includes a dedicated wine storage building with temperature, humidity, and light control while providing state-of-the-art security and reliable protection for your wine collection.