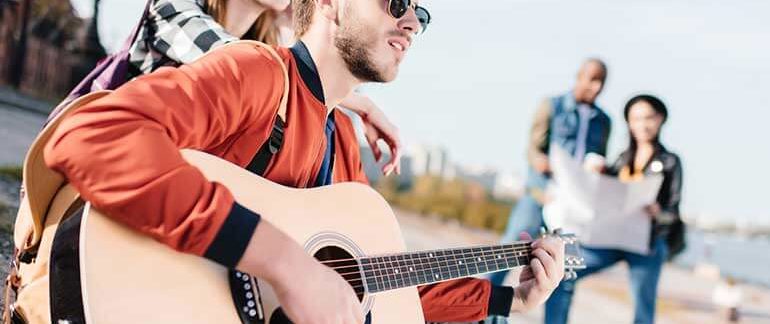 Where Not to Store your Guitar and Other Stringed Musical Instruments
---
March 11, 2018 | Storage Tips
Where you store your guitar and other types of wooden instruments will determine their longevity. Stringed instruments are some of the pinnacles of music creation. From Stradivarius Violins to the wide world of classical guitars, these creations are as delicate as they are priceless.
The utmost care is required for these instruments, and fluctuations in temperature and humidity can lead to harmful consequences. It's important to store your guitar, violin, and other stringed instruments correctly. Especially if you live in a humid climate, to keep it undamaged and functional.
Did You Pay Big Money for Your Guitar?
As a musician, the instrument is a critical component to success. If you paid hundreds or maybe even thousands of dollars for your instrument, chances are pretty good that you feel dedicated to your craft.
If you want your guitar, violin, or other stringed instruments to last for years, decades, or even centuries, be sure to store it properly.  Understanding the types of climate-controlled storage is the first step towards proper care, so read on to discover if you've been treating your valued instrument correctly.
The Biggest Enemy of Your Guitar's Longevity
Guitars and most other stringed instruments are made out of thin stacks of wood, specifically contoured and curved for maximum resonance. As a result, they are sensitive to changes in the atmosphere.  Extreme changes in temperature and humidity are the biggest enemy of your guitar's longevity.
Wooden musical instruments can expand and contract, and even adhesive and bonding material can shift and melt if it gets hot enough. While neck plies of stringed instruments will warp and deform, thin areas such as the top of a guitar or violin can crack.
All of these things are devastating for the tone and resonance of your instrument. Luckily, keeping your instrument in top condition is easy with a small amount of care.
Steps to Keep Your Guitar in Top Condition
Controlling temperature and humidity is the key to safely store your guitar. This can be achieved in many ways, the easiest of which is to store your instrument in its case, rather than in a stand since this will guard it against short or long fluctuations in the atmosphere.
There are many reasons to choose a climate-controlled storage unit to store guitars, violins, and cellos. If you aren't lucky enough to live in a Mediterranean climate like California, your city most likely experiences changes in temperature across the four seasons.
To maintain your stringed instrument's unique tonal range it is important to keep it stored between 60-80 degrees Fahrenheit, although around 70-75 (without humidity) is usually best.
Choose Temperature-Controlled Self Storage
Never leave your guitar outside overnight even if it is in a car. Not only will it be susceptible to theft it will also be exposed to remember a car in the sunlight, or anywhere it will see a big temperature swing. If your living situation is not well controlled, buy a heater or wall-unit air conditioner to keep temperatures moderate.
Guitars and other stringed instruments are most comfortable around the temperature range you might feel comfortable in, so if you feel hot and or cold chances are your guitar will as well.
Humidity Control is Important
A dehumidifier/humidifier and hygrometer will go a long way in keeping your instrument in the correct humidity range. Again, geographic location will inform your default humidity. However, these devices will ensure moisture control of 40% to 50% humidity. Too much humidity will cause the wood of your instrument to oversaturate with moisture. Not enough humidity will dry out wooden instruments.
Additionally, there are also products that sit inside all types of instrument cases, such as small humidifiers and atmosphere trackers. Humidity controlling devices will help maintain and monitor a safe environment for your instrument.
Every time you store your guitar, you should think about its well-being, and your instrument will last decades longer with its full tonal and performance potential.
Find a Climate-Controlled Unit for Your Guitar at Metro
Long-term storage is often a challenge because you won't be able to continually monitor and care for your instrument. However, opting for a  secure, climate-controlled storage facility with a trusted storage professional will give you peace of mind. You'll want the ultimate protection for your most valued instruments.
Don't make the mistake of losing your valuable and possibly irreplaceable instrument by storing it incorrectly. When it comes to long-term storage, it's advisable to pay a little more for a climate-controlled storage unit at Metro Self Storage.
With all the money you put into your guitar, it's not worth risking the longevity of your instument. At Metro Self Storage we offer flexible storage leasing, top-notch secuirty features, and a friendly storage team to help you find the right-sized unit. Find a Metro location near you and rent your unit today!