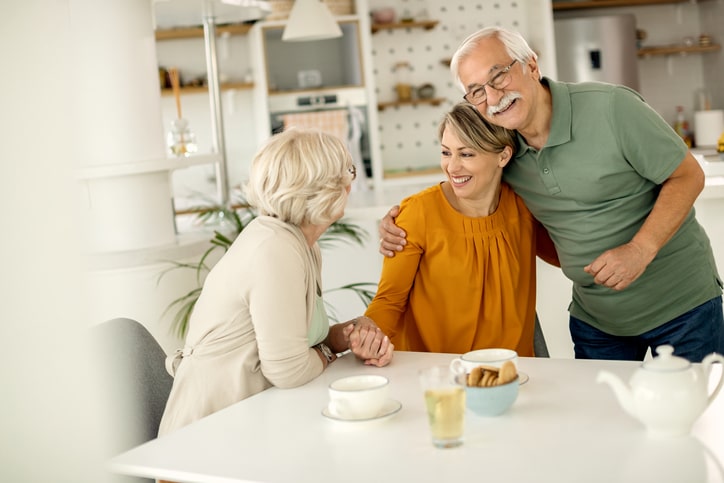 Is it Time to Move Your Aging Parents In?
---
December 6, 2022 | Family Life
How do you know when it's time to move your aging parents into your household or closer to you? If they've saved enough money for retirement or have long-term health care insurance, moving into an assisted living facility may be the best option.
Either way, caring for an elderly parent will probably be an added responsibility at some point in your life. According to the Pew Research Center, multigenerational homes continue to increase in the United States and have more than doubled over the last several decades.
There are a number of reasons to move your aging parents in with you and your family. If your parents are struggling financially or can help care for your growing children, moving a parent into your home at any age can be a practical decision.
As with any life transition, there are opportunities to make decisions and prepare in advance as best as possible. Read on to learn some of the considerations and ways to plan ahead of time.
How to Make Your Home Safe for an Aging Parent
Falls can lead to the loss of independence and are the third leading cause of death amongst the elderly in the United States. Elder-proofing your home before your parents move in with you is very similar to preparing a home to age in place.
Before moving your aging parents in, make less expensive modifications such as removing throw rugs and adding non-skid treads and yellow adhesive strips to steps leading into and out of your home. More significant and equally important elder-proofing includes these suggestions from the AARP:
Bathroom safety features: Grab bars, walk-in bathtubs or showers, bathtub safety strips, and bathtub chairs.
Accessibility features: Exterior ramps and wider doorways if you need to accommodate wheelchairs and walkers.
Smart-home devices: Voice-activated assistants and smart pill dispensers to help lighten your load throughout the day.
Emergency response system: Smart watches with fall detection sensors and medical alert devices if you work outside of the home or are gone for long periods of time.
Visual difficulties are guaranteed to come with age. Not being able to see small details combined with contrast sensitivity puts aging parents at more risk of falling and injury. To improve interior lighting, replace draperies with blinds or shutters and add motion-activated night lights in bedrooms and bathrooms.
Working with Aging Parents Who Resist Change
As a young, healthy adult, there's little doubt you place a high value on your independence. However, the need for independence is true for the vast majority of aging adults too. Regardless of their healthcare concerns, research has shown time and again that people prefer to stay in their homes.
But working with a parent who resists change or is obstinate can be challenging for adult children. One way to approach your aging parents if they're resisting the idea of change is to put yourself in their shoes by addressing these questions:
Will I lose my independence if I move out of my home and in with my adult children?
Will I be a burden to my children and grandchildren?
Will I have to find new doctors and try to make new friends?
It's never too early to talk about future scenarios with mom and dad, and it's easier to do so before it becomes evident to you that you need to move your aging parents in with you. When your parents become ill, frail, or at risk for falling, it can be harder to talk to them for many reasons.
If you're part of the sandwich generation—raising children while taking care of elderly parents—you're no doubt short on time and energy. While you'll want to act efficiently because you're juggling work, family, and caretaking responsibilities, moving faster than an elderly loved one is comfortable with can cause friction.
Taking the time to listen to your parents' concerns and fears will help keep your relationship intact and preserve trust between your family members. And, at the end of the day, that is really the priority. Start by asking what your parents' priorities are, and again, start the conversation early before their decision-making abilities become too clouded by fear.
In Summary
Knowing that aging is a fact of life doesn't make the changes that come with getting older easier for parents or their adult children. Making the decision to move your aging parents in with you can involve spouses, siblings, children, and other caregivers.
The sooner you can get everyone to discuss the options, the better. In other words, starting the conversation months and years ahead of time will go a long way in making this life transition a little smoother for everyone involved.
Reduce the Stress of Life Transitions with Metro Self Storage
Since opening our first storage facility in 1973, Metro Self Storage has grown to become one of the nation's most respected storage providers. Our friendly and professionally trained property managers are accustomed to working with customers experiencing all types of transitions.
Whether you're planning to move your parents in with your family or downsize their home, self storage can provide a solution to keeping their cherished belongings safe and secure.
Knowing that their belongings are close-at-hand can give parents the peace of mind they need to make moving away from home a little easier. To learn more about temporary and long-term storage options near you, visit Metro Self Storage or contact us for more information.