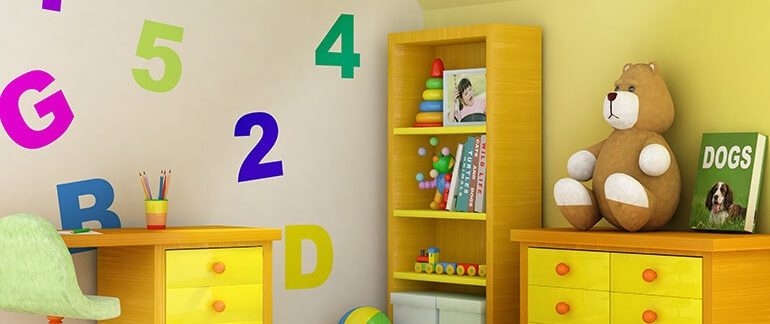 Tips for Storing Baby Gear for Future Children
---
November 2, 2017 | Storage Tips
Storing baby gear can give you or a loved one a head start when planning for a second baby. Instead of spending many hours and dollars buying more baby clothes, toys, and equipment, you can simply take out the storage boxes and rediscover the items you already treasured.
However, this plan only works if you've stored baby gear items such as  clothes, nursery toys, stuffed animals, and other items from the nursery well. When your first child is ready for a big-kid's bedroom, you storing nursery furniture items like rocking chair, cribs, and changing tables for future children can save money.
Without proper storage, your favorite items can mold, warp, or grow mildew. Then, instead of opening a box of treasures, you'll have a pile of trash to take out. To prevent this disappointment, check out these great tips for successfully storing baby room gear.
Ideas for Storing Baby Clothes
Try to limit clothes to good-quality and favorite items, so you won't waste storage space on baby clothes you'll just throw away later. For instance, you probably want to discard onesies, burp clothes, and other items that have stains or discoloring.
Wash all of your baby's clothes with fragrance-free detergent before storing, since pests like rodents and insects are drawn to scented detergent.
Even if you're using a self storage facility with excellent pest control, this step ensures maximum safety.
Fold and place the clothes into storage containers with clear labels, using categories such as size, gender, and item type (clothes, blankets, etc.). This will allow you to find the exact items you need without unpacking every container.
Pro Tip: Did you know that using vacuum-sealed bags for long-term storage, especially in humid areas can ruin your items? Moisture can build up in these bags, causing mold or mildew to grow and damage the clothes. Learn more about how to store your clothes.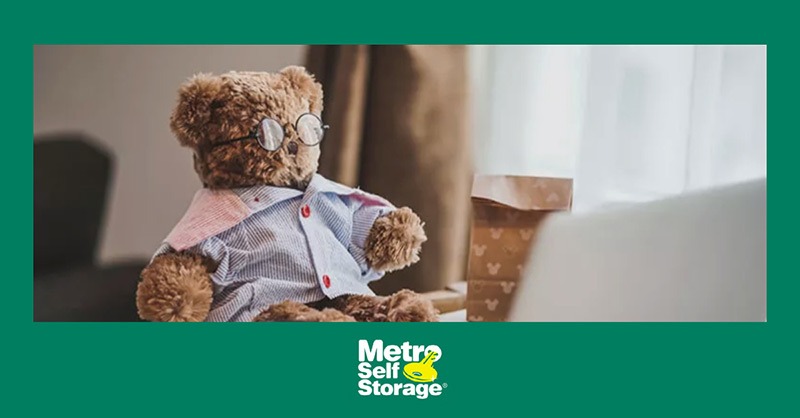 How to Store Nursery Toys for Future Children
Discard toys with chew marks or cracks. These crevices can harbor bacteria that's difficult to get out.
Clean and disinfect all toys before storing. This step can help prevent mold and mildew from growing, as well as stop bacteria from spreading.
You can put hard, plastic toys like Legos in the top rack of a dishwasher by placing them in a mesh bag. Stuffed animals can be put in a washing machine on a low cycle, then dried gently in a dryer or in the sun. You can also kill bacteria by placing toys in a sealed bag in the freezer for 24 hours.
Like clothing, place toys in storage boxes with clear labels, such as Legos, Barbies, Matchbox cars, etc.
Many toys can crack when exposed to fluctuating temperatures, and extreme heat can cause plastic to break down and release chemicals into the air. Even toys with fabric can absorb strange smells under these conditions. A climate-controlled unit is ideal for toys.
If you don't have a climate-controlled unit, take out all batteries from toys and other baby gear items. High heat can cause batteries to swell, crack, and leak acid. If the batteries can't be removed, either use a climate-controlled unit or avoid putting those items in storage.
Pro Tip: Avoid storing plastic or wooden toys in a storage area or unit with fluctuating temperatures or humidity.
How to Store Large Baby Gear Items (Cribs, Swings, High Chairs, etc.)
First, check whether the items you're planning to store have expiration dates or regular safety redesigns and recalls. For example, many car seats become outdated after 6 years. Only store these items if you plan to use them soon, not long-term.
Like toys, consider storing large items in climate-controlled units, especially if they have wooden parts. Wooden cribs and rocking chairs can warp in fluctuating temperatures and absorb water from humid air.
If you want to store a bathtub, carefully inspect the tub for signs of mold. Many tubs have non-slip stickers or bumps, which are prone to mold. For this reason, and because baby bathtubs are relatively inexpensive, they are often not worth storing.
Wash all fabric parts and make sure the gear is completely dry before storing. Otherwise, nursery items can mold, rust, or grow mildew. You can use a washing machine, or simply wash the surface with a child-friendly cleaner and let it dry in the sun to disinfect.
Dissemble as many baby furniture items as possible. To make reassembling the things like cribs easier, photograph each item before taking it apart, and save small hardware parts, like screws, in labeled plastic bags.
If possible, put each dissembled item in a large plastic container. Along with disinfecting, the container will help prevent mildew and mold from growing.
Pro Tip: If you've lost the directions on how to assemble baby furniture, take photos before and during disassembling to help make it easier to put them back together at a later date.
Store Unused Baby Items in Self Storage
While is can take some time to take all of these tips into consideration, the result is worth the effort. Storing baby gear is a task that's worth taking seriously. Whether you're using professional self storage or your own DIY home storage, you want to make sure your favorite baby gear items stay in great condition for the next child in your life. If you find you're running out of places to store your items for your future bundle of joy, rent a self storage unit from Metro Self Storage. We offer state-of-the-art facilities with the convenient features you need to make storage a breeze. Find a location near you today!