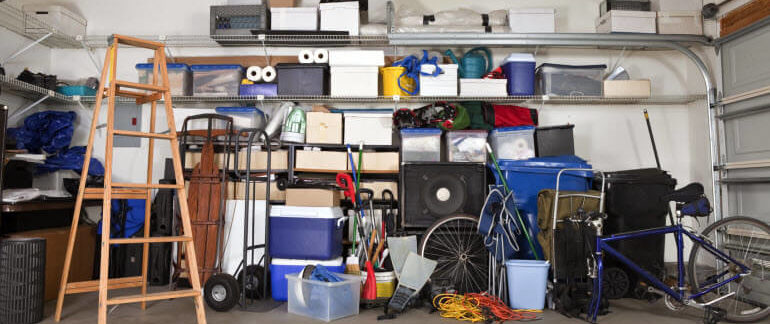 It's Never Too Late To Celebrate National Clean Out Your Garage Day
---
August 29, 2016 | Home Organization
Even though National Clean Out Your Garage Day happens every year, becoming a National Holiday isn't easy. It begs the question—is there a compelling reason to dedicate an entire day to organizing a garage? Turns out, there is. Of the nearly 1,000 garage owners Consumer Reports polled in a recent nationwide survey, a whopping 62% said their garages were overcrowded.
Many of the respondents also said they don't park their cars in the garage. However, leaving your car in the driveway year-round speeds up the deterioration of its interior and exterior finishes and reduces its resale value.
But here is the real shocker: 25% of people who own a three-car garage do not park all of their cars in the garage. Clearly, there are a lot of people who could benefit from renting a drive-up storage unit.
Is your garage starting to feel cluttered or overcrowded? Thankfully, National Clean Out Your Garage Day is just around the corner—we've never been more ready to celebrate.
GARAGE ORGANIZATION TIPS FOR THE DIYer

While slatwall and wire grid storage systems are designed to keep DIY tools in plain sight, most people prefer toolboxes. Especially, if young children are around. If you are an aspiring mechanic, a tool cabinet on wheels can go anywhere in the garage or driveway to make working on your vehicle easier.
Who doesn't love the idea of a hot pink tool box (or purple or lime green) in the garage? The Original Pink Box will get the job done with a pop of color.
Cheaper ways to corral garage clutter is to use something as simple as plastic buckets. Purchase five-gallon buckets to organize everything from dog food and gardening tools to car washing supplies and sports gear. The secret to keeping them organized is to label each of the buckets.
Got kids? If you have children, celebrate National Clean Out Your Garage Day by giving each child an extra-large plastic bin with their name on it for the safekeeping of toys and sports gear. Buckets and bins can be lined up against the wall or on a low shelf off the floor.
GARAGE ORGANIZATION TIPS FOR SPORTS ENTHUSIASTS

Sports enthusiasts can install something like Monkey Bar's sports storage rack on the wall to store unruly basketballs, soccer balls, and footballs in a suspended mesh bag. Storage racks with hooks hold all types of sports gear including pads, helmets, and tennis rackets.
Whether you love to play golf or live for riding your bike every weekend, storing your outdoor toys properly will help them last longer. Keeping your golf bags in your trunk because there isn't enough storage space in the garage is less than ideal.
More than one golfer in the family? No problem, consider a wall-mount golf bag hanger. These hangers can be used to store golf bags and and are designed to keep your investment off of the garage floor.
GARAGE ORGANIZATION TIPS FOR GARDENERS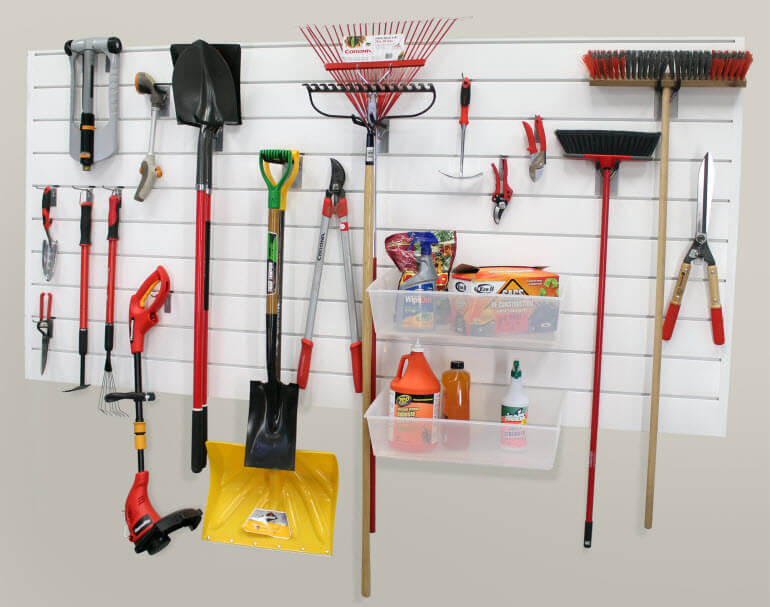 If you are fond of gardening and your garage is tight on space, an outdoor deck box or potting shed to store small garden tools is just what you need. Manufactured from resin, these outdoor storage solutions come in all shapes and sizes and are weather-resistant.
If you need tall storage for tools, potting soil, and fertilizer, Rubbermaid makes vertical storage sheds that won't rust or rot and can be padlocked. Shelves can be added for storing sun hats, knee pads, and gardening gloves, and flooring is included to keep out moisture and dirt.
The most efficient way to store shovels, brooms, picks, and other tall items is a wall mount hanging system because they keep these items safely organized and easy to access. You can also utilize wall-mount storage organizers in the garage for skis, bikes, paddles, surfboards, and climbing gear.
Rarely used items can be stored in overhead bins suspended from ceiling-mounted storage shelves, and bulk items can be relegated to steel shelving units on the floor.
Storing the majority of your garage items on wall-mounted storage systems will give your garage a more organized and less cluttered appearance. These systems also make sweeping your garage clean easier—a clean garage floor will minimize dirt and grime entering your home.
SELF STORAGE IS ALWAYS AN OPTION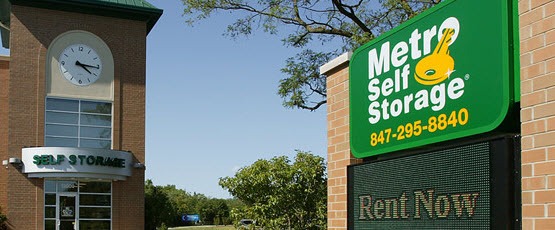 If despite your best efforts on National Clean Out Your Garage Day, you still don't have enough space in the garage to park your car, renting a storage unit is always an option. Metro Self Storage is dedicated to helping you get organized and live a clutter-free lifestyle whether you rent a storage unit, utilize our helpful online tips or both.