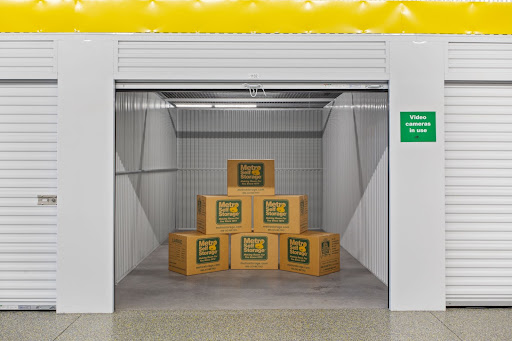 Accessorizing Your Storage Unit: How to Organize for Frequent Access
---
March 8, 2022 | Storage Tips
Everyone has belongings that they don't use on a daily basis. Finding a home for everything can be frustrating for households lacking enough space. The solution? A clean, secure storage unit. So whether you're living in an expensive metro or a are a family that is outgrowing their home, we've got some tips on organizing and accessorizing your storage unit for easy and frequent access. 
State-of-the-art storage facilities are well-lit, secure, and welcoming. They're also cheaper per square foot than homes and apartments. That's why creating and customizing an offsite space to keep extra things like household and business items can be a win-win solution.
Imagine having more closet space, freeing up an extra room, or being able to park your car in the garage! Experts tell us that decluttering and organizing our homes and offices will help keep us on our 'A' game. So it makes sense that the same holds true when it comes to utilizing and accessorizing your storage unit.
Start with a Plan
From moving, decluttering, and downsizing to creating space for an extra home office, there are many reasons people need self storage. Starting with a plan based on your situation can save you time and money in the long run. How frequently will you need to access your items? Do you have an existing storage unit that you'll be working with, or will you need help determining the right-sized unit?
Either way, the key to accessorizing your storage unit is to figure out what can be stored offsite to make life at home more manageable.Taking a basic inventory of the items you plan to store will also give you a rough idea of how many shelves and containers you'll need.
Other planning tips include placing a magnetic whiteboard or cork board with removable adhesive hooks near your storage unit door. This will provide a handy spot to place a unit diagram and leave notes of changes on your original plan.
If you're storing extra mountain bikes or motorcycles, choosing a drive-up storage unit will be like having an extra garage. Alternatively, suppose you're storing other types of recreational gear like camping and fishing gear. In that case, accessorizing your storage unit with shelves will keep your outdoor gear ready to go whenever you are.
Utilize Shelves and Racks for Easy Access
Modern storage facilities should be conveniently located and offer clean storage units, keypad access, top-notch security, and in some cases, climate-controlled units. However, they don't include shelving systems, and it's worth noting that attaching things to the interior walls of your storage unit is never allowed.
Accessorizing your storage unit with a stand-alone shelving system utilizes the space more efficiently and will make visiting your storage unit enjoyable. Stacking your clear storage containers or boxes on shelves for easy access will also create a walkway in the center of your unit, allowing you to move around more freely.
A metal wire shelving system offers superior stability over plastic utility shelving too. Wire shelving systems have a cool, industrial vibe. So when the day comes that you no longer need a storage unit, you can utilize them in a spare room, garage, or office.
Invest in Clear Storage Bins
You won't regret investing in clear storage bins once you realize how much time they'll save you when it comes time to find the items you're looking for in your unit. So whether you're planning to store your family's seasonal clothes and holiday decorations, clear storage containers keep you from having to unpack to see what's inside.
Moreover, investing in the same size containers will make stacking them a breeze. Remember to stack containers two or three deep, with the heaviest items in the bottom containers to avoid crushing or tipping.
Label. Label. Label.
Like location, location, location is to real estate, labeling your boxes is equally important for self storage. Because clear storage containers are more costly than cardboard boxes, it's okay to mix them up as long as you label them.
It's shocking how easy it is to forget what is in a box you just packed and taped! Even so, the shape of cardboard boxes is better for storing things like books. That's why it's especially important to label everything, and there are several ways to do this.
Labeling cardboard boxes filled with the same items such as books is easy. For example, if storing books, labeling the box 'books' is fast and easy. For all other items, placing an itemized note card or a photo of the box's contents on the outside of all cardboard boxes will help keep track of their contents.
Choose the same size boxes and clear storage containers to make stacking and accessing easier. But don't feel limited. With shelves you can use a myriad of shapes and sizes—small, medium, or large moving boxes work great as long as they're stored and stacked together by their respective sizes.
You can find a wide selection of sturdy boxes at all of our conveniently located storage centers right alongside packing tape and other moving supplies.
Consider Choosing a Larger Unit
The most common reason people rent storage is during a move or major life transition. In these instances, the goal is to properly pack and organize the storage unit to maximize space. 
Getting a slightly larger unit for frequent access can make retrieving things less complicated and give you enough flexible space to add more items later. Moreover, should your situation change, at Metro Self Storage, you can upsize or downsize your storage unit at any time.
No matter what size unit you choose, accessorizing a storage unit with shelves and other items for frequent access is a great strategy that will make all of the difference, whether storing household items, personal belongings, or business documents and inventory.
Organize with Metro Self Storage
If you're excited about organizing an offsite storage solution to free up valuable living space in your home or office, Metro Self Storage is here to help. Whether you need a climate-controlled unit to preserve your temperature-sensitive items or you need drive-up unit that serves as an extra garage. 
Our friendly and professionally trained storage teams have years of experience and will help you choose the right size and type of unit to meet your needs. Find a location near you today!