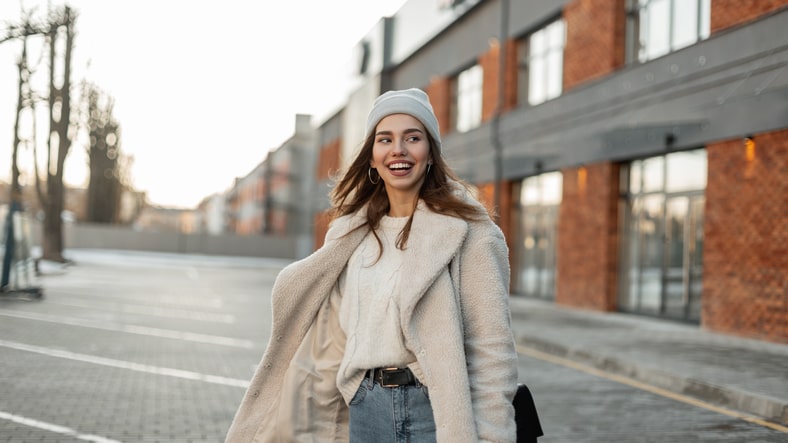 Closet Essentials for a Cozy Winter Style
---
October 11, 2022 | Lifestyle
For many, saying goodbye to warmer days is tough. But fall and winter months bring visions of cozy sweaters and scarves, hot chocolate by the fire, and above all, comfort. But before you start investing in your winter closet essentials, our first tip is to take inventory of your winter wardrobe to find any gaps or items that need replacing.
Whatever clothes types and fashion styles best express your personality, every closet should have a few basic clothing categories. These include outerwear items like heavy coats, winter boots, sweaters, and jeans for a casual look. Today's designers offer an innovative range of sustainable fabrics and natural fibers to high-tech synthetic materials to choose from to keep you warm and dry.
This year, the elevated sweatshirt is the affordable style darling of 2022 with its Interesting details, stylish silhouettes, and fabrics ranging from retro plush and stretchy knits to comfy cotton blends. We've got the basics and more to help you discover your favorite winter closet essentials to elevate your inner fashionista.
Outerwear
The easiest way to define outerwear is any item worn on top of your indoor clothing. Outerwear is versatile and designed to protect you from elements like wind, rain, and snow. During summer, outerwear can be a lightweight, long-sleeved shirt made from sunblock fabric.
Coats
When it's cold outside, your first line of defense is a coat or a jacket. What's the difference? Although we use the words interchangeably, a jacket is typically made from a lighter material like denim and stops around the waistline. A coat is warm and heavy and comes down to the hip or longer. 
Coats are a statement-making piece in any wardrobe. Classic wool coats (hip-to-floor length styles) never go out of fashion and will last decades. It's never too early to start building your coat collection. If you love the outdoors, start with a great ski jacket or puffer for all your winter adventures. For city goers, invest in a leather jacket to pair with a cashmere or wool scarf for a versatile day-to-night look.
Scarves
Scarves never go out of style and are worn by women, men, and children. They are a versatile and functional winter wardrobe essential to keep your neck and upper body warm or to cover your head and ears in cold weather. 
Scarves complement practically an outfit, and designers have reimagined this necessary layer in new fabrics (cashmere is the warmest), patterns, and colors. Here is where you can make a splash with a bold color or whimsical pattern to spice up any outfit.
Gloves
Plan on adding at least two pairs of gloves to your winter wardrobe this season. Insulated gloves for skiing or other outdoor winter sports are, of course, a requirement. However, your hands will be much happier and less chapped during cold weather if you wear gloves when you're driving or hiking outside. 
Cashmere or fleece-lined leather gloves will last years when properly maintained, and In freezing temperatures, gloves are a must-have to keep hands and fingers warm and functional. Even if you live in a moderate climate, stretchy high-tech gloves come in handy for early morning runs.
Boots
Depending on whether or not you live in a city with lots of snow, rain, or both, a good pair of boots can be a lifesaver. Good quality boots are a significant wardrobe investment for everyone, and a good quality pair will last several seasons. 
When it comes to style, shoe designers don't disappoint. From suede-covered plush insoles and waterproof lug-soles for winter sports to stylish boots for a night on the town, you'll love your winter boots when snow or rain is the dominant weather pattern.
Casual Wear
Casual wear covers a broad range of clothing styles; this is where you can let your style shine on any occasion. Casual looks for winter include jeans, t-shirts, turtlenecks, sweaters, and much more.
Jeans
Surprising to some, ripped jeans are still in fashion but add these to your wardrobe storage pile during winter as they won't do much to keep you warm. When it comes to fabrics, choose heavier gauged denim. Or flannel-lined jeans, which have been popular for men for several years and are now available by some designers for women. 
Depending on your preference, skinny and boot-cut jeans are good winter wardrobe staples, and both pair well with boots. You can style jeans in endless ways; dress them up with a holiday sweater or go casual with a turtleneck sweater. Either way, have at least one pair of black jeans in your wardrobe to stretch your winter style all season long.
Sweaters
From fuzzy cardigans to comfy crewnecks, sweaters are one of the most widely available winter wardrobe staples. While traditional winter knits, cashmere, and wool are on the higher end, manufactured materials have come a long way in recent years and are more affordable. So when investing in a winter sweater, it really comes down to your budget and style preferences. 
Even so, if you can afford it, a cashmere sweater is a winter staple that will make you feel glamorous and keep you warm on any occasion. To help you narrow your choices, invest in pullover sweaters and cardigans in various silhouettes. Neutral colors can be paired with any outfit and accessorized with a fun scarf if you want a pop of color.
Elevated Sweatshirts
Not everyone lives in a midwestern city facing sub-zero temperatures that require heavy coats and sweaters. Designers have transformed the boring pullover crewneck, post-workout sweatshirt into new levels of fashion found at your favorite retail outlets. This trend is due primarily to the stay-at-home wardrobe when everyone was tired of living in their old sweatpants and sweatshirts.
And if you're still working from home, pair your sweatshirt with a pair of black leggings, cute slippers, and some fun earrings to be comfortable and look stylish during those endless Zoom calls.
Capitalize on Revolving Fashion Trends
While fashion is sometimes fickle and ever-changing, there is one thing you can count on—fashion trends always come back in style. While the puffy shoulder pads of the 80s are starting to make a resurgence, today's designers are finding most of their inspiration in silhouettes from the 90s to the mid-aughts. 
This is great news because styles are more versatile and hip than ever before, giving consumers like you more choices and the ability to keep the clothes you buy in your closet longer. Don't forget to join the sustainable fashion movement by shopping at your local consignment shop for the best deals on today's fashion.
Rent Your Storage Unit Online with Metro Self Storage
Metro Self Storage can help make switching out your clothes between seasons a little less stressful with our clean, well-maintained, and climate-controlled storage units. Our storage facilities offer convenient locations with one-stop-shopping for essential moving supplies including wardrobe boxes, packing tape, moving boxes, and much more.
Our professionally trained and friendly storage teams aim to ensure you always have a great storage experience with Metro too. So if you're ready to rent your storage unit online and take advantage of all these benefits, reserve or rent online now.
Not sure which unit will work best for your seasonal transitions? Our handy unit size guide is designed to help you choose the best solution for your storage needs.