10 Georgia State Parks to Enjoy Stunning Fall Colors and Warmer Weather
---
November 1, 2023 | Lifestyle
Georgia is a great place to live no matter what time of year it is even though summer temperatures can sometimes be trying. However, something magical happens when Georgians feel autumn in the air. It's time to pull out our favorite sweaters and head outdoors for the change of seasons. So whether you're planning a leaf-peeping road trip or prefer to feel the leaves crunching underfoot, here's where to see all of the autumn hues.
Sweetwater Creek State Park
Located in Lithia Springs 20 minutes east of downtown Atlanta, Sweetwater Creek State Park features a trail lined with trees for fall leaf-peeping. The 215-acre George Sparks Reservoir is famous for fishing. However, swimming is not allowed. If you love kayaking or canoeing, join Georgia's Park Paddler's Club, which offers lessons and outings at many of the state's scenic waterways and lakes. Other trails wind through forests, ferns, and wild azaleas.
Cloudland Canyon State Park – Near Chattanooga
One of Georgia's biggest and most scenic state parks, Cloudland Canyon, offers breathtaking panoramic views in the picturesque mountains of northwest Georgia. For those eager to witness a waterfall, the initial section of the Waterfalls Trail leads just half a mile to the base of Cherokee Falls. Here, perch on the massive boulders, dip your toes in the water.
Amicalola Falls State Park & Lodge
Amicalola Falls State Park & Lodge is about 14 miles northeast of Dawsonville, Georgia. But it's worth the drive from anywhere in Georgia, where the park's lodge offers a range of room options and activities. From hatchet throwing and archery to guided hikes, there is something for everyone at Amicalola State Park. Amicalola Falls is a magnificent 729-foot waterfall, the third-highest cascading waterfall east of the Mississippi River.
Black Rock Mountain State Park
Nestled within the picturesque Blue Ridge Mountains of Georgia, Black Rock Mountain State Park gets its name from the dark rock cliffs with alternating bands of black and white. Hike one of the park's viewpoints with breathtaking panoramic views of the Southern Appalachians, one of the best places to experience the vibrant fall foliage in Georgia.
Fort Mountain State Park
Fort Mountain State Park in Chatsworth, GA.he park is located in the Chattahoochee National Forest and offers visitors stunning views of the surrounding mountains and valleys. Two popular spots to see the season's best foliage are on the Stone Wall, Tower, and West Overlook Trails when, during the fall season, the park's lush forests transform into a vibrant tapestry of red, orange, and gold hues, making it a scenic spot for leaf-peeping and outdoor activities.
Tallulah Gorge State Park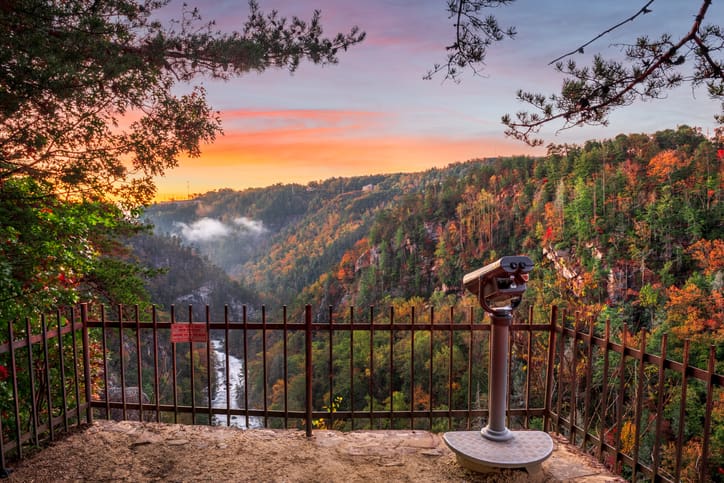 Tallulah Gorge State Park in Georgia is known for its awe-inspiring deep gorge carved by the Tallulah River. The park's wooded trails are surrounded by vibrant autumn colors thanks to the wide variety of trees that create a stunning display. If you're looking for a little adrenaline rush, the park's Suspension Bridge sways 80 feet above the rocky bottom. This park has multiple challenging trails and overlooks, making it ideal for experienced hikers.
Moccasin Creek State Park
Nestled along the shores of Lake Burton, Moccasin Creek State Park in Georgia offers a serene retreat for nature enthusiasts and outdoor lovers. The park's picturesque lake provides a perfect backdrop for fall foliage. The park offers recreational activities like fishing, boating, and kayaking. The 1-mile Overlook Trail is ideal for families with young children, with plenty of photo opportunities.
Adventure seekers should venture further on Hemlock Falls Trails, which leads deeper into the canyon. The trail leading to Hemlock Falls follows Sweetwater Creek and takes hikers through a scenic forest offering fall foliage along the way.
Grant Park
Grant Park is one of the oldest neighborhoods and parks in Atlanta. If you're looking for a more urban experience, plan an outing to Grant Park to experience a delightful blend of nature, history, and entertainment. Zoo Atlanta, Grant Park, and the Cyclorama and Civil War Museum are located here.
No matter where you go in Grant Park, the 131 acres of open space or the Victorian neighborhoods, it's filled with mature trees, including dogwoods, maples, oak trees, and cherry trees bursting with autumn hues in fall.
Panola Mountain State Park
Just 15 minutes from Metro Atlanta, Panola Mountain is a 100-acre granite outcrop surrounded by several species of trees that provide picturesque scenes of fall foliage, including pine, sweetgum, numerous oaks, hickories, and tulip poplars. Panola Park is one of only three "natural heritage areas" designated by the state of Georgia as a place where history, culture, and outdoor spaces come together where people work and live.
The park offers a variety of unique programs, such as tree-climbing, archery, and birding classes. Paved trails are open for biking, dog-walking, jogging, and more.
Fall foliage season in Georgia usually runs from early October to mid-November. Depending on where you are in the state, you may see a change of color as early as late September. In Atlanta, the splendid transformation of fall foliage can be found around every corner. So whether it's a neighborhood walk or weekend getaway, be sure to get outdoors for this year's leaf-peeping season—it's the optimal time for experiencing the breathtaking spectrum of fall hues throughout Georgia.
College Campuses in Atlanta
While not technically state parks, some Atlanta university campuses feel like parks and they are public spaces. The Peach State is not only renowned for its esteemed universities but also for campus architecture and trees that display stunning, vibrant fall foliage. Emory University in Decatur boasts Lullwater Preserve, with trees showing off fiery hues in autumn. Lullwater Preserve features a picturesque waterfall, wildlife sightings, and a 210-foot suspension bridge, perfect for capturing the season's splendor.
Agnes Scott College, also in Decatur, offers a tree walk through their arboretum filled with gigantic oaks and maples showcasing brilliant shades of gold, scarlet, and orange.
Recreational Vehicle and Car Storage with Metro
As an RV owner or someone who loves Sunday drives, you understand there is nothing like cruising along a wide-open highway toward your next big adventure. That's why the friendly team of car storage and recreational vehicle storage experts here at Metro are here to help.
Whether you are parking your RV, large trailer, or classic car, your local Metro Self Storage facility is designed to accommodate your lifestyle because we understand that you want your wheels ready to go when you are.