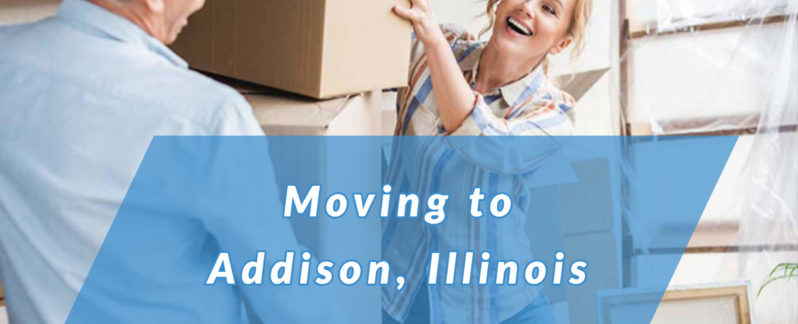 The Definitive Guide to Moving to Addison, Illinois
---
August 3, 2019 | Moving
Moving to a new town can be a nerve-racking experience. But if you prepare yourself for the move, you can turn it into a fun adventure. There's nothing quite like the thrill of a new place—even the mundane, day-to-day will strike you as unique and charming. With the right strategy and an understanding of your new town, you'll have nothing but good vibes when you finally get to sink into your couch after a long move.
Addison, Illinois is no different. It's a charming village right outside of the Chicago metropolitan area. There's plenty of things to see and do, and as long as you know what to expect, it'll be a great place to settle down and put down roots.
Make Your Move as Seamless as Possible
A poorly planned move is stressful. But with a proactive, strategic approach, you can turn your move into a smooth and positive experience. Depending on where you're coming from, you'll first want to figure out which moving strategy is right for you.
For many of us, we can pack our belongings into the back of our car and make multiple trips to and from our new place. But if we have a lot of stuff or we're traveling long-distance, a moving truck is a cheap and straightforward solution. You may even be able to hitch your car to the truck.
When researching a cheap moving truck rental, be sure to check the laws in your state for things like how old you have to be to rent and drive a truck rental. Many states require the driver to be at least 21-years-old. If you are planning a DIY move, park your U-Haul rental truck in your driveway ready for you and your friends and family to load. You can rent for as long as you need to load your belongings into it, move, and unload at your new home.
If you haven't nailed down where you're going to live, then you'll want to rent a self storage unit in Addison. Be sure to check out the new, state-of-the-art Metro Self Storage facility.
What to Expect: Addison, Illinois Weather
Once you've settled in Addison, Illinois, be sure to prepare yourself for the weather. Oh yeah, there is weather in Addison due to it's proximity to Chicago. While Chicago may be referred to as the "Windy City," the origins of that moniker refer to a phenomenon caused by downtown Chicago's tall buildings. In general, most of Illinois is relatively wind-free.
But you'll undoubtedly want to prepare yourself for the Illinois winter. It's a long and cold season that Illinois residents have grown accustomed to. If you're coming from out-of-state, then you may be caught by surprise when the February temperature, taking into account wind chill, dips well below 0 degrees. Those are the kind of temperatures that can cause frostbite in minutes! Ensure you dress warmly, and if you're from a southern state, then it's time to pick out a winter wardrobe.
However, Fall and Spring are incredible times in Illinois. In Fall, the foliage changes from green to spectacular shades of orange, red, and yellow. Temperatures begin to dip down into the 60s, and that's when the sweaters and pumpkin spice lattes come out in force.
And after a harsh winter, Spring is like the light at the end of the tunnel—the first signs of green begin to poke through, the temperature begins to rise, and everyone emerges from their annual hibernation with a smile on their face.
Like much of the Midwest, summer can get hot—with temperatures in the high 90s in the dead of July and August. Although summer temperatures typically average in the high 80s, which isn't too hot for most people.
The Cost of Living in Addison, Illinois
Chicago is a bustling city, and with that reputation, comes a high cost of living. But Addison, Illinois functions as an adjacent village to live in that is cost-effective yet located close enough to Chicago to benefit from the city's metropolitan perks. It's not unheard of to live in Addison, Illinois while commuting and working in Chicago.
The cost of living in Addison, Illinois, is just slightly above the countrywide average. And due to its proximity to Chicago, it has a higher cost of living than the rest of the state of Illinois. Yet the staples of living—groceries, healthcare, and utilities are all under the national average. Housing and transportation are what brings Addison's average above the nationwide standard. The median price of a house in Addison, Illinois is $230,000.
Fun Things to do in Addison, Illinois
Safari Land
Who said amusements parks had to be outdoors? Safari Land is an indoor amusement park that lets you enjoy the thrills of a park year-round. They have bowing, a full arcade, jump attractions, and even go-karts to go along with their amusement rides.
Fischer Farm
What better way to spend a crisp fall day than at a pumpkin patch? Apple cider donuts, civil war reenactments, and pumpkin carving are all calling your name at Fischer Farm. And the farm has plenty of events in the Spring and Summer as well.
Itasca Caribbean Water Park
Sometimes all you need to beat the intense summer heat is old fashioned day at a water park. Itasca Caribbean Water Park is the perfect place to take the family—they have swimming pools, water slides, splash pads, and an assortment of concessions for when your family gets hungry.
There's plenty more to do in Addison, Illinois; your imagination's the limit!
Moving is an Adventure—Make Sure to Have Fun!
No matter where your destination is, it's always fun to have a new place to explore. Addison, Illinois isn't any different. It's conveniently located close to Chicago, so a day trip to the big city is always in the cards. And Addison has plenty of its own charm, coupled with an affordable cost of living that is just slightly higher than the nationwide average.
Most of all, do yourself a favor and ensure your move goes smoothly by planning and choosing the right transportation for your belongings. Once you're there, Addison will do the rest of the work to keep you a happy and active resident of its community.