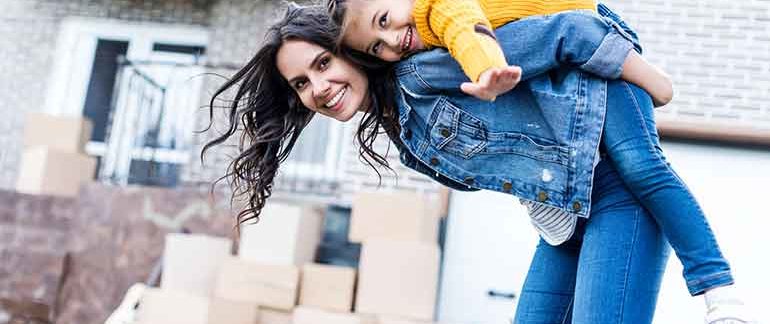 Which is Cheaper, Buying a House in the Winter or Summer?
---
January 20, 2018 | Family Life
Summer is when most people move. The kids are out of school and house hunting begins in earnest. But is summer really the best season for buying a house? Interest rates are at an all-time low but the pandemic crisis means a lot of people might stick with the wait-and-see approach. Even so, sometimes moving just can't wait. If that's the case now could be as good a time as any to opt for temporary housing before buying.
Finding desirable rentals might be challenging this year and committing to buying your next home means moving only once. So the short answer to the question, which is cheaper, buying a house during the summer or winter is that it may not hold true this year.
Historically, if the cost of a home is your top priority, you'd be better off searching for a house in the winter when prices are lower. Year after year, the trend is the same. People who buy a home in the winter, especially during the holiday season, get a better deal than summertime shoppers. But now that we're in the middle of a pandemic, things are uncertain and nobody is really sure what the future holds. Here is what Realtor.com predicts for the rest of 2020:
Home price growth will flatten, with a forecasted increase of 1.1 percent
Inventory will remain low, but the rate of decline steadies and the mix of homes for sale shifts toward greater availability of lower-priced homes
Mortgage rates remain low and may slide under 3 percent by the end of the year
Home sales are constrained by low inventory and diminished seller and buyer confidence as the effects of COVID linger in the labor market
Buyers seeking affordability and space drive interest in the suburbs
This price dip is mainly due to lower competition. Fewer people are out shopping for a home because, quite simply, the weather is miserable. Rain, snow, ice, wind aren't ideal conditions for viewing homes, especially with fewer daylight hours.
Even with the excellent weather, though, it can be hard to make time for house hunting during the holidays. People are traveling, shopping for gifts, and spending time with family. They don't have the time or energy to buy a home.
With fewer buyers on the market, prices begin to drop. This dip is significant enough to change the behavior of sellers and real estate agents. For instance, they might decide to delay listing a home until the spring, when competition begins to pick up again. Or they might temporarily take their homes off the market during the holidays, putting them back up in January or February.
Home Sellers are More Motivated to Sell During Winter Months
Sellers who decide to list their homes despite this price dip are typically more motivated. They're aware that winter is a slow season for real estate, yet they're wanting to sell their home anyway. This decision is often tied to personal or financial circumstances, such as a divorce or job loss, which force them to sell sooner rather than later.
Motivated sellers are usually more open to negotiation on everything, from the selling price to the terms of sale. They want a quick and easy sale, even if it comes at a lower price.
Similarly, real estate agents are often more motivated to close sales in the winter. Unlike the summertime, which is busy with sales and home viewings, the winter is a slow season with few sales. Real estate agents are eager to boost their sales volume, and they have more time to dedicate to individual buyers. They'll work hard to get you the best deal possible.
How much will I save if I buy a house in the winter?
If you go house hunting in the winter, you won't have many homes to choose from—but the ones that are available will be cheaper. With motivated sellers, individual attention, and less competition from other buyers, you can snag a home for much less than in the summer.
How much less? On average, homes sell for about 0.51% less through the holidays and into January. Even if only a half a percent on average, it's cheaper buying a house. Furthermore, that percentage might sound insignificant, but when you consider the cost of a home, .51% can be a considerable amount.
For instance, a $300,000 home will be about $1,530 cheaper in winter. Add winter discounts for furniture, carpeting, and moving services, and you can end up with a nice chunk of cash.
That extra money may or may not be worthwhile, depending on your situation. After all, more people search for homes in the summer for a reason. It can be stressful to house hunt during the holidays, and then to move in bad weather. The rain, ice, and snow isn't just inconvenient and miserable—it's also more unpredictable and dangerous than sunshine.
Moving in the winter can be hard for kids, too. They might have to change schools or leave best friends behind in the middle of the school year. This reason alone is why many families decide to wait until summer to buy a home, even with the higher costs.
It's Easier to Organize a Move any Time of Year with Good Planning
However, with good planning, you can still make a winter move into a positive experience. Especially, when you know how much money you're saving because it's cheaper buying a house during winter months. After a day of lugging boxes, you can cozy up with hot chocolate, warm blankets, and a board game in your new home. Even if you're sitting on the floor, you can still enjoy some family time together.
If you're moving somewhere farther south, your winter weather may even be ideal for moving. Instead of blistering heat, you'll have cool temperatures for packing boxes and moving furniture.
Keep in mind, though, that homes in winter destinations like Tampa may be as expensive in winter, due to tourists and snowbirds visiting the area. Be sure to check the real estate trends in your area before you decide to postpone buying a home.
Regardless of when you're moving or buying a home, you can always use self-storage to make the transition easier. Self-storage gives you the most flexibility for finding a home you love, whether in winter or summer.
Make Moving Easier with Self Storage
Whether you decide to move during the dead of Winter or want to take your chances with a more competitive market in the Spring, you may run into needing self storage to store items as you're preparing a move or are storing items for you new home once you close. At Metro Self Storage we provide flexible month-to-month storage options for your home or business. In addition to our variety of unit sizes, our state-of-the-art facilities are equiped with 24-hour video recording, a moving supply showroom, friendly staff, and other convenient features to make your storage experience convenient from beginning to end. Find a location near you to rent you unit online today!