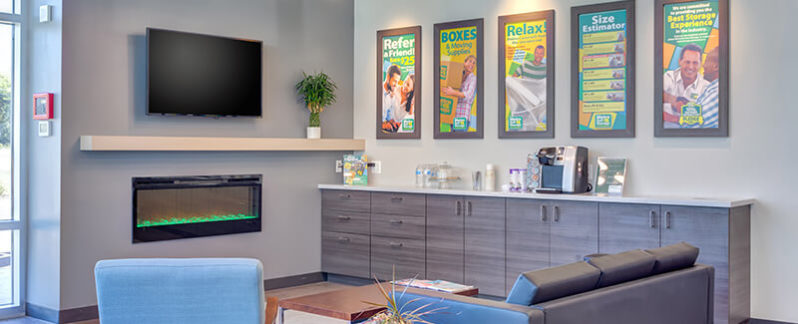 Awesome Self Storage Facilities Make it Easier to Live in a Big City
---
February 27, 2019 | Storage Tips
The two most popular reasons people choose to live in big cities like Chicago or Atlanta are for career opportunities and lifestyle. From tiny apartments to historic homes, self storage can make it easier and cheaper to live in a big city. How? It all comes down to price per square foot. Whether you're paying rent or a mortgage, there is going to be a price-per-square-foot premium for apartments and houses.
Even though self storage rental rates are also higher in metropolitan areas, they're still cheaper than paying extra money every month in rent a larger apartment or home would demand. While moving to the suburbs might be an answer for some. It's hard to deny that urban living comes with a lot of perks—walkable neighborhoods, convenient public transportation, and endless options for shopping and dining.
However, one of the biggest challenges of dealing with smaller apartments and homes is their lack of storage closet space. Garages are a luxury. So whether your love to fish, camp, mountain bike, rock climb, or all of the above, self storage units are an ideal place to store your recreational gear. Your brownstone may have an attic but chances are it gets too hot during summer months to store valuable items.
This is particularly true if you are living near downtown or a high-density neighborhood in a metropolitan area. Either way, you'll pay less for storage unit space. Moreover, you can rent a climate-controlled unit that will prevent big temperature swings and is like storing your stuff in an extra bedroom at home.
Create an Urban Lifestyle with More Space
People frequently think of storage units like an extra closet. This is probably due to the fact that it is easy to describe a small, 5X5 unit like a walk-in closet. Everyone knows, big-city apartments usually come with small closets. Although newer apartments may advertise large closets they still might not provide enough space for some. A lack of closet space can put a strain on relationships whether you live with your significant other or a houseful of roommates.
Instead of searching for a larger apartment or house to meet your growing needs, you can rent a local storage unit for things like seasonal clothes, sports gear, and holiday decorations.
Simply put, storage units create more space in your home making it more enjoyable to live there.  Because storage units are cheaper per square foot, you can choose an apartment based on its location rather than its size.
Designed for Your Unique Situation
Today's modern storage facilities are designed to simplify your life while keeping your comfort and needs in mind. From extended access hours and electronic access gates to online discounts and bill pay options, you'll be able to access and manage your storage whenever you'd like.
One of the greatest things about renting a storage unit is you get to choose the facility. Storage facilities of yesteryear are often old, outdated, and in some cases in disrepair. Newly constructed storage facilities meet all the latest building codes and are designed to be aesthetically appealing and blend in so they complement the surrounding buildings.
In large cities, newly built storage facilities can be found conveniently located near restaurants, gyms, and business offices making them easier than ever to access.
Additional features include large, interior loading bays designed to keep you out of inclement weather and further protect your belongings. Other features frequently found in new storage centers are oversized freight-style elevators, motion-sensor lighting, and climate control.
You can expect to find these superior features at our newly constructed storage facilities:
100% Climate-Controlled Comfort
Climate-Controlled Storage Units
Drive-Up Access Units
State-of-the-Art Security Systems
Excellent Customer Service
Free Online Storage Reservations
Secure Online Bill Pay Options
Motion-Sensor Lighting
Electronic Keypad-Controlled Access
Exterior Energy-Efficient LED Security Lighting
Storage-to-Office Communications Speakers
Live Your Big City Dreams with Metro Self Storage
Creating more space in your home is one of the most significant reasons self storage makes living in a large city easier. Renting a unit on a month-to-month basis is so much easier than finding a bigger home or apartment for your belongings.
If you are a sports aficionado, outdoor enthusiast or both, stopping by and grabbing things like ski gear, mountain bikes, or kayaks can be quick and convenient when you choose a nearby facility. Find a Metro Self Storage location near you to get your storage unit today!