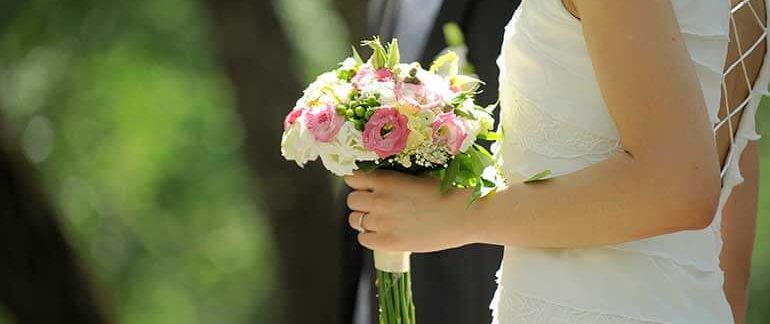 How to Combine Two Households Harmoniously after Marriage
---
February 2, 2019 | Family Life
So, you and your newlywed are moving into together—the wedding went off without a hitch and the honeymoon romantic. Now what? From agreeing on home decor to divvying up household chores, merging two lives can be a challenge. Most agree money can add to the difficulty too. Even so, experts agree on some basic principles on how to combine two households harmoniously.
Create your happily ever after by following our tips on how to combine two households after marriage.
Evaluate Belongings Before the Move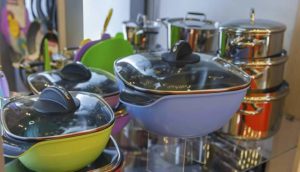 Whether you are moving into an apartment or a house, when combining households you'll quickly discover if you're good at sharing. More seriously though, the first thing to consider is merging existing furnishings since they'll take up the most space.
Each of you should go through your things individually before combining households. Donate anything that won't be needed after getting married. It's also helpful to make a short list of sentimental, must-have items that you're not ready to part with yet.
Once that's done, discuss your inventories and, above all, be respectful of your partner's wishes. Once you're moving into together, identify duplicates first and then any essential pieces you may be missing. If budget allows, splurge on something new that you both love–it's guaranteed to become a favorite or maybe even a family heirloom.
If you're marrying someone older or getting married later in life yourself, that comes with decades of belongings. Too many dishes, furniture, clothes, and memorabilia could lead to a fight or a compromise. The solution could very well be to rent a storage unit.
It will be much easier to hold off on hard and fast decision to edit out of your lives together by putting it in a secure storage unit. Especially, if you make an agreement to revisit your stored items in 3 to 6 months.
You'd be surprised how easy it is to let go of something you thought you'd never part with when you discover you can indeed live without it.
Let Space Dictate Compromise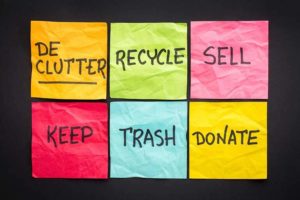 There will probably to be more than a few duplicate items between the two of you that you both want to keep. Especially if you've been living on your own for a while. Instead of arguing over whose couch is the comfiest, let your new home decide which pieces will stay.
Think realistically about your new home's spaces. A giant, L-shaped couch may not be fit in the new family room, and contemporary furniture would be out of place in a Victorian home.
When in doubt, remember that donating or selling items and starting fresh is always an option.
Remember, compromise is to a successful merger, and two heads are better than one. So between one person's spatial awareness and the other's organizational skills, figure out if you need to hire a moving company, rent a storage unit, move to a bigger abode, or all of the above.
Tips for Combining a Multi-Pet Household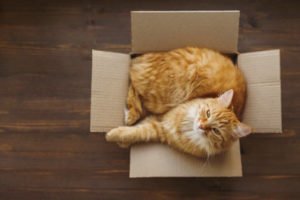 Most couples have to worry about their inlaws, siblings, or friends getting along with one another. But for couples moving with pets, there is the genuine possibility these family members won't play nice!
There are plenty of tales of newlywed's cats and dogs fighting, well, like cats and dogs.
Dr. Ilana Reisner, a board-certified veterinary behaviorist, admits that introducing a new cat or dog into an existing cat or dog household or merging unfamiliar pets into a completely new house can be fraught with adversity. At the Western Veterinary Conference, she shared some tips on how to make the transition easier. Advice? Planning and patience pave the way to pet harmony.
Introduce new pets gradually and supervise the first several weeks
Make sure your pet is comfortable
Use rewards to ensure a positive meet and greet for dog
Be sure you feel relaxed, happy, and optimistic
When introducing dogs limit their movements by keeping them leashed
Don't punish pets for bad behavior but do use rewards for good behavior
Blending Your Lifestyles After Marriage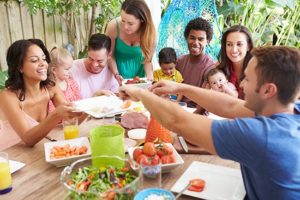 Besides, pets and furniture, it is essential for your lifestyles to be merged. Maybe you wake up at dawn to go to SoulCyle, but your spouse is a night owl. No matter your preferences, pretty much everything will come down to finances.
For couples whose income is not uniform, reaching a compromise on the types of vacations you'll take, how and when you socialize, or who pays for what, are things to iron out.
Planning together is very important to make sure you don't end up living different lifestyles or ways of life in the same house. This will inevitably lead to resentment which could lead to serious problems.
Find a Style You Both Like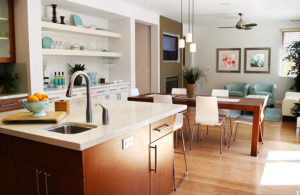 It goes without saying that your new home should be a reflection of both your styles. For some, that means embracing eclectic decor that allows each person's personality to shine through. For others, it means deciding on something new that pleases each of your aesthetics.
Take some time to browse through home design sites together and see if you can find an aesthetic that you both agree upon. Maybe sustainable design suits you both or you'll embark on a green remodel. Just make sure that each person has a designated space where they're in charge of choosing the decor.
Don't Forget to Update Your Finances After Marriage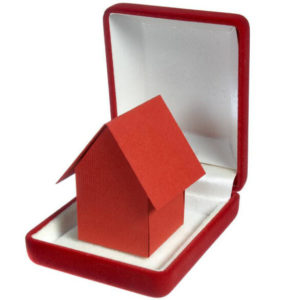 Before deciding what to toss and keep when it comes to financial and legal records, the IRS makes these recommendations: How long should I keep records?
When it comes to organizing your business files and records and consider scanning and shredding these documents (in accordance with IRS rules and guidelines). Imagine the space it will free up! Jen Zweiaker of Zweiaker and Associates recommends keeping backups on a separate drive and in the cloud. Also sound advice: "Always destroy anything containing your personal information before placing it in the trash'" Zweiaker says.
After marriage, add these things to your to-do-list to ensure you have not forgotten the following:
Beneficiaries – Change the beneficiaries on insurance policies and retirement accounts if you've decided your spouse will be the one to inherit your items.
Taxes – Will you be filing jointly or separately? See your tax advisor since some changes will occur in your tax liabilities.
Estates – Estate planning papers and other documents should always be updated frequently but especially after marriage and combining households.
Name Change – If there is a plan to have your name changed, it is important to ensure this is done on all the documents, bank accounts, and even investment accounts.
Create More Space and Less Stress with a Temporary Storage Solution
Besides saying, "I do" you'll need to answer, "What will happen to all my stuff when we move in together?" But the most honest question to ensure marital bliss from the outset is answering, "How will we combine our belongings after marriage?"
Thankfully, married couples have done this successfully for millennia so you won't be the first couple to figure this out. Metro Self Storage can show you how using self storage can help make life a little less stressful and a lot more manageable throughout all of life's transitions. Including combining households after marriage.
You can find the perfect space for your belongings at a Metro Self Storage facility conveniently located near you. We'll help you store everything from family heirlooms to vintage motorcycles.