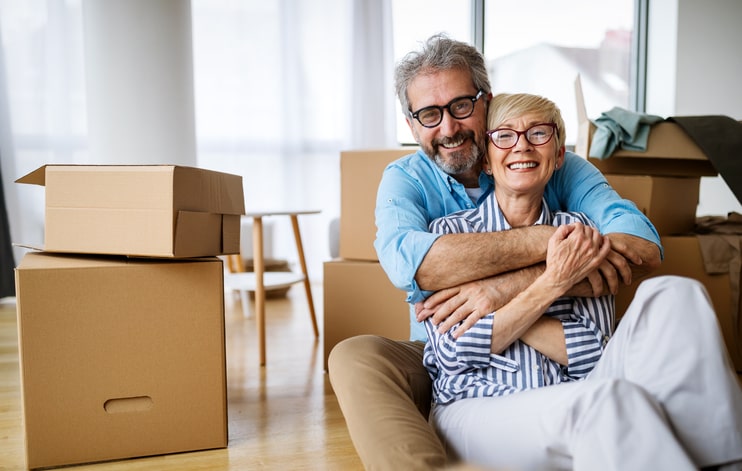 Utilize Affordable Storage to Downsize Your Home for Retirement
---
February 21, 2023 | Storage Tips
When it's time to downsize your home, there is a mix of emotions and what feels like a million decisions. Downsizing typically refers to seniors who reduce their possessions before moving into a smaller home or retirement community. Seniors often find that an affordable storage solution can help alleviate some of the stressors associated with moving.
There are also reasons people temporarily downsize their possessions earlier in life—for instance, making it possible to travel abroad or move across the country to be closer to loved ones. No matter what life change you're facing, using affordable storage to downsize can help ease your transition and alleviate worry when you know your items are safe and secure.
Why Retirement is a Good Time to Downsize
For many, retirement starts in the golden years of life when opportunities to travel, explore hobbies, and volunteer become priorities. Having fewer things to care for and manage will give you a greater sense of freedom. Moreover, the conveniences associated with having a smaller home and less stuff cannot be overstated. Just ask the millions of people who have joined the minimalist movement!
While it's evident that larger homes require more daily upkeep, like cleaning and maintenance, they're also more expensive to heat and cool. If you still reside in the house where you raised your children, large maintenance items like roofs and hot water heaters might need to be replaced soon.
Reducing or eliminating landscaping chores is another priority for seniors as they age and are less physically able to care for bigger properties. So, a smaller home, particularly in a multi-family community can be far easier to maintain than a single-family house on a big property.
How Affordable Self Storage Helps People Downsize
As we mentioned earlier, self storage helps people downsize during all types of life transitions. Over the course of our lives, the need for more or less square footage changes. While growing families need larger homes, empty nesters find smaller homes easier to maintain.
Affordable self storage also comes in handy for staging a home before putting it on the market or while building a new home. From working remotely to traveling abroad, downsizing and storage can make it easier to figure out what you need in the next phase of your life.
How to Cope with Emotions during Downsizing
Whenever the time comes to downsize from a large to a smaller home, it is important to understand that you're not alone. Downsizing possessions is a fact of life for most older adults. Even so, everyone's reasons are unique. Maybe finances are driving your decision or health issues.
There is no denying that making a transition of any kind will bring a host of emotions. So don't be surprised if you find yourself feeling a wide range of emotions. From happiness and relief to sadness and grief, all feelings are normal. So keep looking ahead to the positive aspects of downsizing, especially if you're moving to enhance your health and lifestyle.
Staying organized and objective will help immensely. Sort all of your items into one of four categories — sell, donate, recycle, and keep and use color-coded stickies to categorize furniture and other heavy items. Heirlooms mean something different for every family.
Some seniors may have extensive collections and high-value possessions, while others have a few things that hold sentimental and financial value to their families. Either way, consider storing these items for other family members who will one day appreciate them as much as you.
And don't forget to take photos of the items you discover are hard to part with because you feel a strong attachment associated with a special memory.
In Summary
It's a fact of life that as we age, our priorities, interests, and social circles change. There are many upsides to downsizing, like making it possible to live closer to the activities you spend time enjoying. For example, you might retire to Florida if you love spending time at the beach or to a golf-course community.
Even with all of the benefits, there's no denying that with downsizing comes the task of minimizing. For many people, it's challenging to let go of their sentimental belongings and valued possessions.
When it comes time to retire and downsize your home and take your life in a new direction during your retirement years, the storage team at Metro Self Storage understands and is here to help.
Store Your Belongings with Metro Self Storage
Since opening our first storage facility in 1973, Metro Self Storage has become one of the nation's most respected storage providers. Our friendly and professionally trained property managers are accustomed to helping customers find storage solutions through all types of life transitions.
Self storage provides a secure solution to keep cherished belongings safe when the time comes to downsize your home. Additionally, the added convenience of having your stored belongings close at hand gives seniors the peace of mind they need to make downsizing easier.
Visit Metro Self Storage or contact us to learn more about temporary and long-term storage options near you.