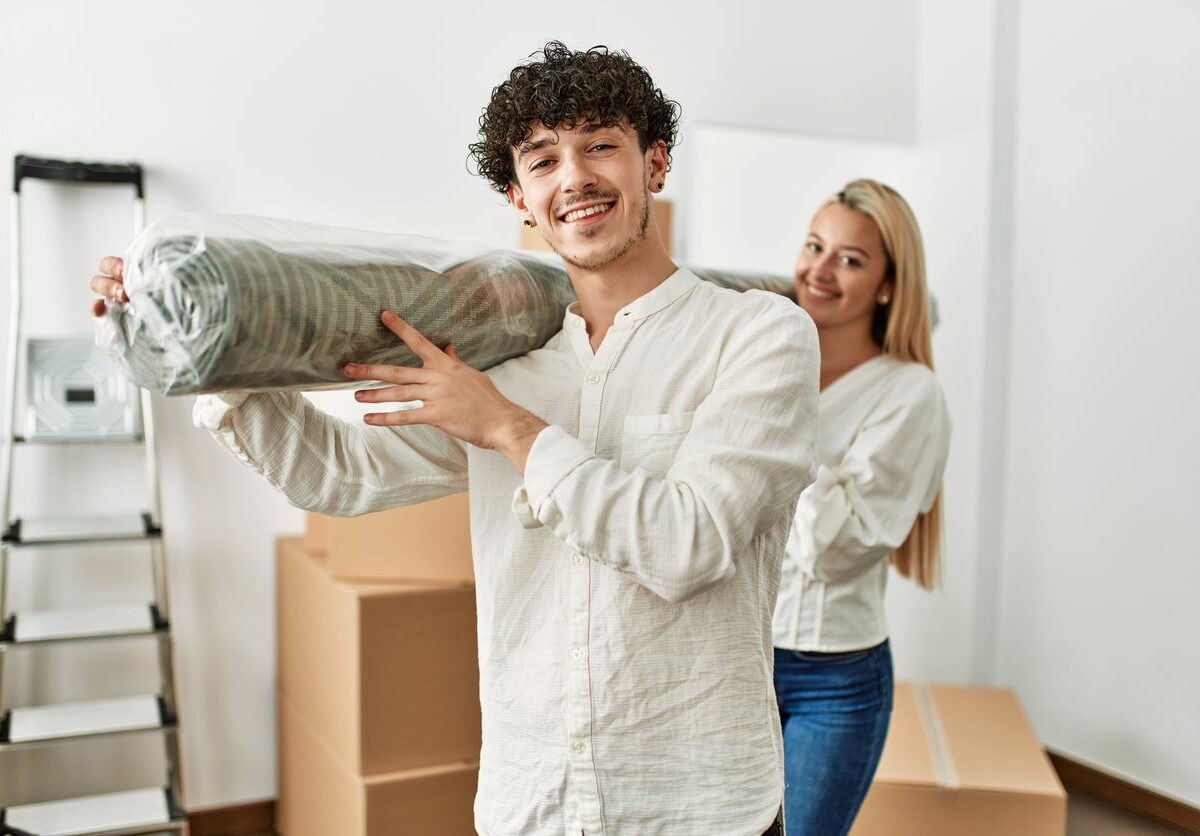 DIY Move? How Self Storage Can Help You Move Without Professional Movers
---
June 20, 2023 | Moving
Organizing a DIY move will save you money and give you more control of your schedule and moving timeline. Even so, we understand that moving is stressful, and whether you're moving across town or the country, each move comes with its unique set of challenges.
The key to a successful DIY move is to stick to a few strategies to make every type of moving job easier. This means forgoing random containers like luggage, trash bags, etc., and investing in moving boxes, which are easier to carry and load onto a dolly. Also, decluttering and downsizing your possessions before you start packing will save you money, time, and energy.
Self storage can be an excellent option for anyone planning a DIY move. Here are some ways that self storage can help with your next move without hiring professional movers.
Save Money
According to Thumbtack.com, an online home management platform, "On average, nationwide, movers cost between $100-$150 an hour depending on the type of move." Additionally, when and where you're moving will determine pricing, as will things like the size of your home and the quantity of packing supplies and moving boxes you'll need.
Professional moving companies also recommend following a somewhat inflexible moving plan for you to follow, which might not fit with your situation or schedule. You'll already be on a schedule to disconnect home services like water, internet, electricity, trash, recycling, etc. For some, the additional costs and stress associated with signing a moving contract and dealing with strangers aren't worth the trade-offs.
By utilizing self storage, you can move your items on your timetable. It also allows you to move things in and out of storage as needed rather than moving everything all at once, making a DIY more convenient and less stressful.
Staging Your Home
Once you decide to sell your home, the next step is to stage it before putting it on the market. Real estate agents advise home staging for the majority of their sellers. And these staging tips from professional stagers will help guide your DIY move: Declutter, depersonalize, and thoroughly clean your home.
Home staging will make it easier for potential buyers to fall in love with your home and can bring a higher offer. Another advantage of putting your personal items, extra furniture, and home accessories in a storage unit is that you'll have less to pack when moving day arrives.
Temporary Storage
Even before you start moving, finding a new place to live can be stressful enough. As a result, many people choose to rent before committing to a long-term mortgage. If you're moving to a new city, self storage can ease the burden by allowing you to store most of your belongings while looking for the perfect home and neighborhood.
Ultimately, self storage can give you the space to manage any move effectively and peace of mind to safely store your items until you're ready to move them into your new dream home.
Rent Your Storage Unit Online
It's easy and convenient to rent your storage unit online with a swipe or a click from your smartphone, tablet, or computer. With Metro Self Storage, you can select your unit size and type, sign the rental agreement, purchase a lock (optional), and secure your gate access code, all from the comfort of your couch any time, day or night.
One of the most reliable ways to choose a service or a product online is through word of mouth and online reviews. Potential customers appreciate that Metro Self Storage has more than 10,000 5-star reviews specific to each of our store locations.
Reliable Security
When renting a self storage unit, security is at the top of the list for most people. And for good reason. Not all storage facilities are equal when it comes to state-of-the-art security features. For example, 24-hour video surveillance, electronic entry gates with unique passcodes, and bright lighting are all essential features.
Some storage companies have management that lives on-site called resident property managers who supervise the property 24/7. Alternatively, on-site storage managers work during business hours.
Knowing your belongings are safe and secure in either scenario will give you peace of mind.
Flexible Leasing Options
Self storage facilities offer flexible rental options, allowing you to rent a unit for as little or as much time as you need. This can be especially helpful during a DIY move when you may need help to predict exactly how long you will need a storage unit.
Self storage facilities are typically conveniently located to make it easy to access your belongings, and most offer extended access hours to meet your needs. A drive-up unit is like having an extra garage, whereas climate-controlled units protect your valuables from extreme temperature swings.
When the big day arrives, have snacks and drinks to help you and your friends and family stay energized during your move. Don't forget to pack a separate bag for essentials like clothes, toiletries, and medications—this would be a good use of your luggage. And remember to say goodbye to your neighbors.
Moving can be stressful and bittersweet, but you'll soon be making new friends and exploring new neighborhoods.
Simplify Your DIY Move with Metro Self Storage
Metro Self Storage state-of-the-art storage facility
Whether you've been planning your DIY move for months or need a last-minute storage solution, Metro Self Storage is here to help. Our friendly storage professionals will be by your side every step of the way, ensuring you're getting the best storage unit to fit your needs.
We've been a trusted storage facility since 1973, and our exceptional service continues daily. To learn how we can make room for you, visit our facility or call us today at 888-466-3876. Ready to rent now? Reserve your unit online!