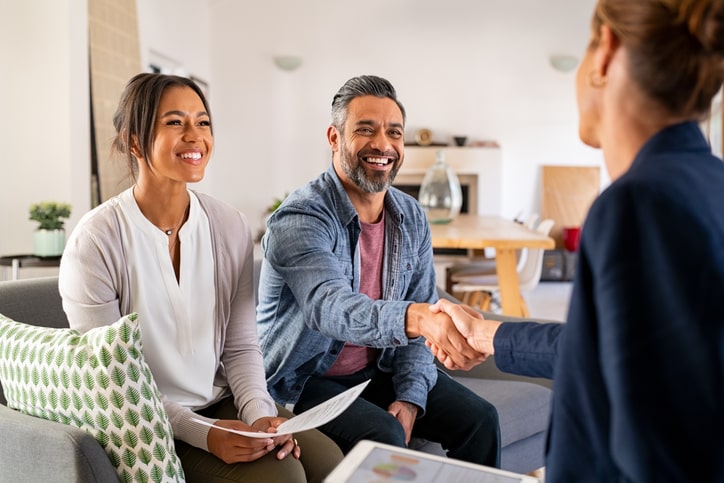 The Benefits of Hiring a Real Estate Agent to Sell Your Home
---
May 3, 2022 | Family Life
There is no denying that selling your home is an emotional journey. It's just one of many reasons that hiring a real estate agent makes good sense. From weeding out unqualified buyers to having a firm grasp on market conditions, a real estate agent is professionally trained and licensed to guide you through a complex process.
Real estate laws vary by state too. For example, nine states, including Georgia and New York, require real estate transactions to be closed by an attorney. In Illinois, closings can be facilitated by title companies and lenders, but an attorney must prepare documents.
Another reason hiring a real estate agent is a good idea is that you'll have an ally on your side, looking out for your best interests. Here are some additional benefits and things to look for when hiring a real estate agent to help make selling your home less stressful.
What's the Difference Between a Real Estate Agent and a Realtor?
A real estate agent undergoes anywhere from 30 to 90 hours of pre-licensing training to help sell, buy, and rent properties. After passing a written exam, the agent must apply for real estate licensing and find a broker to work under to gain experience.
A Realtor is a real estate professional who has become a member of the National Association of Realtors (NAR). To qualify, an agent must pay membership dues, be actively working, hold a real estate license, and have no record of unprofessional conduct.
While it is common to use the terms Realtor and real estate agents interchangeably, it's not necessarily correct. Realtors are held to a higher standard and must promise to abide by the professional standards of the NAR and its code of ethics. Additionally, Realtors have access to and the ability to collaborate with their peers across 54 states, which can be an advantage if you are planning to move to another state. 
Provide Education and Guidance
There are several ways to sell a home: through a real estate agent, for sale by owner, or through an online platform selling directly to buyers. However, if you've never sold a home before, you might be surprised to learn it is a complicated process.
Selling a home requires a lot of knowledge, including all the steps involved in the escrow and strong negotiating skills. Even though it might be tempting to sell your home yourself as commission savings and dollar signs flash before your eyes, you might expose yourself and your family to more complications, heartache, and even legal fees.
Real estate agents are trained in all these areas and more. Agents can see faults in properties that homeowners may not know, which helps avoid surprises once an offer has been accepted. For example, if your home has deferred maintenance, your agent will point this out ahead of time and help you determine the best path forward.
Your real estate agent is also experienced in looking for the best features in your home and will make suggestions to amplify these features to garner more showings. For example, most agents will advise you as a seller to stage your home before photographing and listing your property.
Suppose you're fortunate enough to be in a "seller's market" and receive multiple offers on your home. In that case, your agent will walk you through the details of each offer to determine which one to accept and when it's advisable to make a counteroffer.
Negotiation Experience
When it comes to selling your home, the art of negotiation is not to leave money on the table while closing the deal. Even after a seller accepts an offer, a homebuyer can come back within a specific time asking for credits against the sale's price. In other words, reducing the sales price leaves you with less money.
For example, if your home inspector finds repairs, it's normal for the home buyer to ask for credits, and if reasonable, your Realtor will advise you to accept. But knowing when to say yes to a request and when to say no because the request is frivolous is key to keeping a deal from falling apart.
If things go south and deals fall apart as they sometimes do, your Realtor will be there to guide and advise you each step of the way. A good agent will help you through the emotional journey and regroup with the goal of putting your home back on the market with fresh optimism.
Keep in mind that real estate negotiations don't end after an offer is accepted. Your real estate agent will work with the buyer's agent, the various inspectors, and the title company—to name just a few of all parties involved—until the day the transaction closes.
Do I Need a Specialty Realtor?
Before choosing a Realtor, determine if you or the property you're selling has unique attributes. For example, do you have a luxury property, or are you over 65 or a military member? Working with a Realtor with experience and a designation signifying additional training and expertise in a specific area could be of great advantage.
Additionally, a Realtor with additional training signals someone who takes their job as a Realtor seriously and is willing to invest in themselves to become better agents. Some examples of designations and certifications include:
Certified International Property Specialist (CIPS)
Accredited Buyer's Representative® (ABR®)
e-PRO Certification
Graduate, REALTOR® Institute (GRI)
Military Relocation Professional Certification
Seniors Real Estate Specialist® (SRES®) Designation
​​Questions to Ask a Real Estate Agents Before Making a Choice
People become real estate agents for numerous reasons. Some agents only close a few deals a year. Others become licensed to make their real estate investments to their advantage. Others work full-time as professional Realtors and are well-established with well-respected firms like Sotheby's International Realty, Coldwell Banker, or Keller Williams.
You want to work with someone who is experienced in selling homes in your city and neighborhood and is dedicated to their profession.
Here are some ideas for specific questions to ask as part of your process of finding the best person to help you sell your home:
Are you a licensed Realtor? 
How many homes have you sold over the past year? Did any of the homes sell for more than your original list price? 
How do you market the homes you list for sale? Will online marketing be part of your marketing strategy? (Check to see if your agent has an active social media presence on platforms like Facebook, Twitter, and YouTube.)
Do you have testimonials from past clients? Are any of your former clients willing to provide feedback on their experience working with you?
Will you hold a broker's open house to promote my home to other realtors in your professional network?
Do you have Errors and Omissions Insurance?
How many homes do you currently have listed on the market? Do you have a partner or an associate who works with you? Does your real estate firm provide marketing support? 
What trends are you currently seeing in our city and my neighborhood? 
Do you provide a CMA (Competitive Marketing Analysis)? (A good agent will have one ready to bring this to their first meeting with you.)
In Summary
One of the most significant advantages of working with a real estate agent is their connections to contractors and services providers. Agents maintain strong relationships with professionals who can help get your home in tip-top shape before listing it for sale.
From home painting and repair contractors to professional stagers and photographers, real estate agents work hard to ensure your home shows in the best light possible. Many will even help you stage your home or, at the very least, make suggestions on who to hire.
So when it comes time to sell your home, the benefits of hiring a real estate agent usually outweigh all other options. Yes, you'll pay this person a commission that will add up to thousands of dollars. But someone who can support you each step of the way and help you navigate one of the most significant transactions in your life is worth having at your side.
Helping People Move Since 1973
Once you've made the decision to sell, it's important to stay the course and look ahead. So whether you're moving across town or across the country, Metro Self Storage can help with your life transition.
Many of our facilities can assist you in finding moving truck rentals, and all provide friendly service, extended customer service hours, and top-notch security features for your peace of mind. Check out our facilities to see if there is a Metro Self Storage in your town and reserve online today!