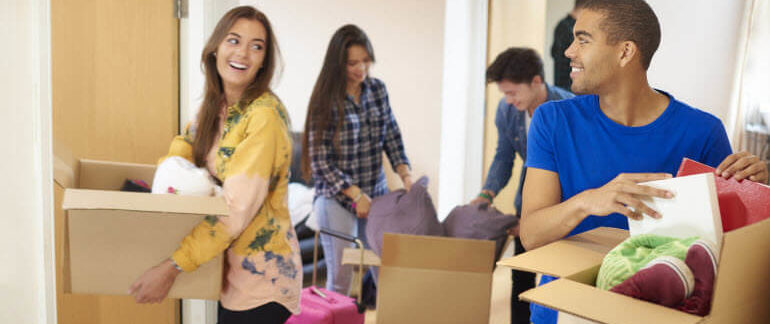 Student Storage Deals: Find Clean, Reliable Storage Units Near Your Campus
---
May 2, 2018 | Storage Tips
Finding the best student storage deals is easy if you plan ahead. Procrastinate and finding cheap storage gets harder as summer approaches. Moreover, living in cramped quarters brings home the fact that there are only so many nooks, cubbies, and crannies to cram stuff into in a dorm room.
When faced with sharing a room, the big question is, "What do I do with all this extra stuff?" From a surplus of college books and university gear to clothes and kitchenware, it's easy to accumulate more stuff than you have room for in your dorm room.
As the end of the school year approaches, you need to figure out how to get everything home—or, do you?
Last year, Yale University in West Haven received 30 tons of donations during Spring Salvage during their undergraduate move-out day. Yes, you read that correctly—30 tons of stuff! Students donated everything from housewares and furniture to clothes, books, and shoes.
While some Yale University students recycle their excess belongings many others from campuses across the country turn to storage units for students over the summer.
Whether you attend a private college campus or are a state schooler at the University of Tampa in Florida (Go Tampa Spartans!), student storage is certainly a popular and viable option.
Get the best student storage deals near your university
If you want to find the most affordable deals in near your school, you'll want to keep a few things in mind so you don't lose out on great deals or have to store your items at a facility further away from campus:
Don't wait until the last minute, start shopping around early to find the best storage deals
Ask if there are administration or deposit fees
Buy your lock ahead of time at Walmart or Target
If your stuff is insured on mom and dad's insurance policy, get a certificate or share the cost of tenant insurance with your friends
Check that the storage unit access hours work with your schedule
Find out what happens to your stuff if you forget to pay
Avoid late payment fees by signing up for automatic payments
Be sure your storage facility has 24-hour digital surveillance
Whether you're going to a public school like Texas A&M University, Corpus Christi, or a private liberal arts college, you can be sure that storage facilities near your campus will offer special deals for college students.
Find Student Storage at Metro Self Storage
If you're one of the many students storing over the summer break, a quick solution is just a call or click away. Make your reservation on your lunch break and with 24-hour access move into your new storage unit when it's convenient for you!