How to Organize Your Commercial Storage Unit for Easy Access
---
February 3, 2021 | Business Storage
Need more space for your business? Renting a commercial storage unit online can offer several advantages over signing a commercial warehouse lease. Commercial and business storage units are cheaper, provide more flexibility and feature built-in security systems.
Even so, how you organize your commercial storage unit for easy access will determine your productivity and the impact to your bottom line. Read on to find out how to organize your commercial storage unit to make it easier to get in and out and back to business.
Businesses that benefit from self storage
When determining the best commercial storage options, be sure to evaluate what you need to keep on hand versus what things are not essential to your business. While it can be tempting to keep things (like sentimental belongings) to avoid making a decision, over-organizing can also hinder your progress.
Home-based businesses and offices,
Brick and mortar retail businesses,
E-commerce businesses
Construction and landscaping contractors
Realtors and home stagers
Interior designers
Pharmaceutical and medical supply sales reps
The type of business you're operating will determine the type of storage unit you need to rent. For example, landscaping equipment storage is one of the most popular types of business to rent and organize commercial storage units.
Renting a ground-level storage unit with drive-up access makes the most sense for landscape contractors. But renting a climate-controlled business storage unit makes practical sense for sales reps, e-commerce and Etsy businesses, and most other types of home-based businesses.
Keep in mind, too, that the cost per square foot is cheaper for a business storage unit than it is for commercial warehousing, apartments, and in most cases, a home mortgage.
Build custom shelves to store vertically
The size of the items your business is storing at a commercial storage facility will determine the type and size of unit you need to rent and how you organize your mini-warehouse.
Either way, it pays to think vertically whenever possible. You're paying for the square footage of your storage unit's floor so utilizing as much vertical space as possible helps defray your storage costs.
Line shelving units along the walls, and be sure to label shelves, plastic bins, and boxes. Plan to place less frequently sold or needed items up higher on shelving units or the more challenging to access areas as this will maximize space and productivity.
Utilize stackable shelf bins or boxes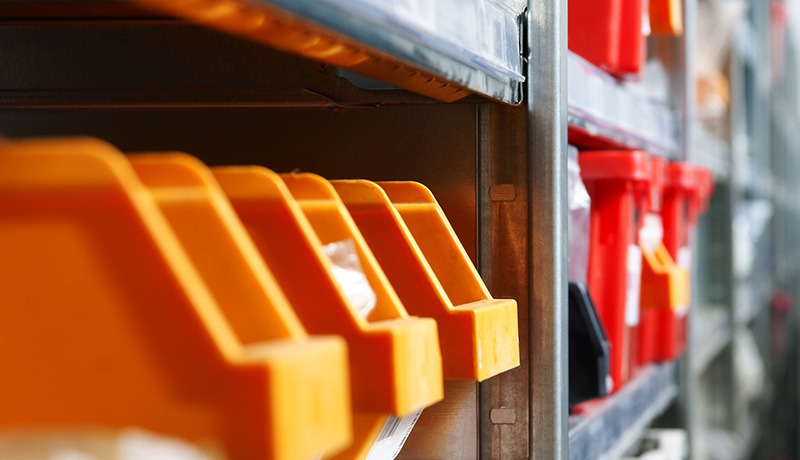 Depending on your type of business, you might be storing inventory directly on the shelves or placing your storage items and other items in boxes or bins. Or even a combination of both strategies.
Taking a cue from warehouse storage, use open bins for long-term storage items. And be sure to label all boxes. Better yet, utilizing see-through plastic storage bins to organize your storage unit makes seeing and accessing items easier in some cases.
Whether you choose to use sturdy moving boxes or plastic bins, keeping as close to a consistent size as possible is preferred for efficient stacking. However, when it comes to commercial storage items, this isn't always possible.
Plan walkways to make accessing items easier
Before making the final decision on your storage unit size, create a floor plan on graph paper of how you envision utilizing your space. Long-term storage items can be stacked at the very back of your units. If you're storing business or medical records, you can even make the stacks two or even three boxes deep.
But our storage experts recommend stacking boxes no more than about 4-feet high to prevent moving boxes from crushing in overtime. If you're using something other than cardboard boxes to store these items, you may go over this threshold.
Do you need to organize a shipping station inside your storage unit?
If you run a home-based Esty business, it may make sense to organize a shipping area inside your unit. If this is the case, be sure to choose a climate-controlled unit unless it's easier to park right next to an exterior drive-up access unit (sometimes you can find these with climate control).
It's rare to have electrical outlet units, so plan to bring your fully charged laptop and access WiFi through your smartphone's hotspot feature. So when choosing your ideal commercial storage unit, be sure you have a good connection.
Declutter your commercial storage unit regularly
Don't let the out-of-sight-out-of-mind pitfall impact your productivity. Decluttering your home office, home, or any space for that matter can seem like a daunting task. But we guarantee it's worth your time to employ good habits that are sure to boost your productivity.
As you would do for a warehouse, plan the upkeep and organization of your commercial storage unit with regular maintenance and audits of what's inside. It could be time to donate old, unused items taking up valuable space. Are any of the boxes or bins getting worn or breaking down?
Commercial Storage Amenities
If you're wondering if the features and amenities offered at storage facilities will meet your business needs, here's what you can expect to find at Metro Self Storage facilities. With more than 140 locations to serve you, Metro's newest storage facilities are built with bright, welcoming storage offices that feature lounge areas and CCTV to demonstrate 24-hour security. Interior loading bays like the one featured above and drive-through storage keep customers out of inclement weather.
Additionally, Metro's new facilities offer storage-to-office communications throughout the buildings, energy-saving LED lighting, and are 100% climate-controlled with large interior drive-thru loading bays. All locations feature amenities listed above in addition to hard-to-find moving boxes and packing supplies in one convenient place. Here's what to look for when renting your commercial storage unit:
Contact-free rentals
A mobile-friendly website
Free 7-day storage hold
On-site storage teams
24-hour industry-leading security
Extended customer service hours
Free package acceptance
Climate-controlled and/or drive-up units
Pristine property maintenance
Open on Saturdays and Sundays
Wide driveways for drive-up units
Large, interior loading bays for multi-story facilities
Organize your commercial storage unit like you would your home. In other words, with a little upfront planning and commitment to decluttering and organization, you'll enjoy a smoother workflow and better delivery and customer service.