Home Projects to Complete This Winter
---
December 29, 2019 | Home Organization
Winter is right around the corner. The days are shorter, the trees are bare, and snowstorms are on their way. Before you feel the full effects of winter and want to curl up under a blanket with hot cocoa, you need to be proactive and take care of some things around the house. Here are a few home projects to tackle before Jack Frost reigns over winter.
Utilize Storage Units
We adorn our yards with so many different things during good weather seasons. But what are we supposed to do with all that stuff once it starts snowing? To prevent damage to your outdoor items and keep your house from becoming overrun with clutter, consider renting out a self storage unit before beginning your home project.
The most popular outdoor seasonal storage items include glass patio tables, cushions for outdoor patio furniture, and lawnmowers. These items and more can be placed safely inside a storage unit so you won't have to worry about them breaking, cracking, or becoming damaged by the cold, snow, and wind. Having a storage unit offers you peace of mind for those items while also clearing up space in the basement, garage, and outdoor shed.
Replace Windows
Old, outdated windows are one of the most significant energy leaks in older homes. So why pay to heat your home if you're only going to lose the warm air through drafty windows? Taking the time to install new windows now will save money in the long run and will help keep the cold outside where it belongs. If new windows aren't in the budget, try installing new window treatments that are designed to help conserve energy.
New windows will improve the aesthetic of your home both inside as well as curb appeal and may increase your home's value as well. Other options include installing custom bay windows or windows with built-in blinds that are designed to conserve energy and can increase the value of your home should you decide to sell in the future.
Clean Your Heating System
Before you fire up your heater for the season, if you haven't already, be sure to change out the filter. Replacing the HVAC unit's filter in your home before or at the start of the winter season, plus again after it has ended, will help make sure your home's air quality is healthier. Changing filters at home and in the office is especially effective if anyone in your family suffers from allergies, asthma or other respiratory illnesses as a clean filter will prevent more toxins and particles from coming through vents.
Upgrade Furniture and Appliances
The cold and snow will generally make a lot of people want to stay indoors as much as they possibly can when not outside enjoying winter activities. Make sure that your home is up to the task of making everyone as comfy and cozy as possible. For example, this is a great time to replace your living room sofa so that you can comfortably curl up and binge-watch the latest series on Netflix while sipping a warm drink and watching the snowfall outside. Also, with all the activity kitchens see during winter months, make sure that kitchen appliances are up to getting the job done. If you notice something isn't working quite right, be sure to repair or replace it before winter arrives.
Touch Up Paint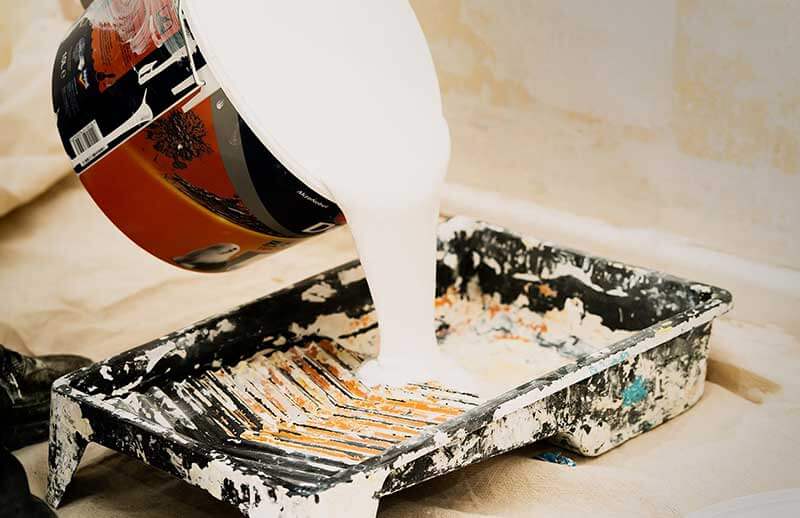 If you're budget-minded and want to get the biggest bang for your buck, painting is the way to go as nothing can change up the look and feel of a room quite like the color on the walls. For subtle changes, you can go a shade lighter or darker, depending on how much sunlight comes into your home. Or if you're feeling more daring, change the wall color entirely and go for a more bold and vibrant color. If you live in a region of the country that doesn't see much precipitation during winter months, then this is a great time to tackle any outdoor painting projects as well.
Check Plumbing
No one likes surprises in the dead of winter, especially when that surprise comes in the form of frozen or burst pipes. Take the necessary precautions ahead of time before temperatures are steadily dipping below freezing and follow some winter plumbing tips. Spending the time now to check things out in advance could save you a lot of your time and money in the future.
Now is the ideal time to take advantage of doing some home renovations before it officially becomes winter to make sure your house is ready for the season. Because before you know it, it'll be below freezing for a seemingly endless amount of time. Checking off some of these home projects will also make you feel more accomplished will last long after the last snow melts.