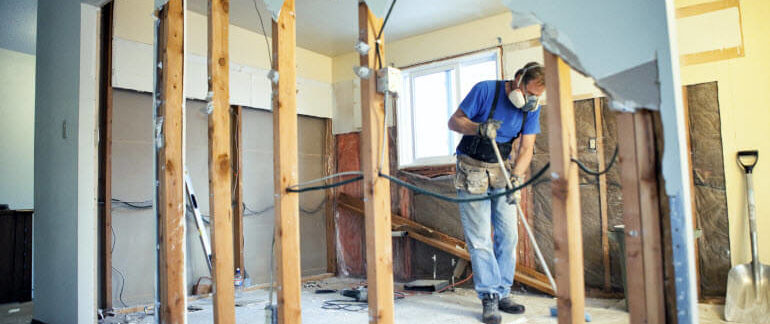 Utilize Self Storage During Your Home Improvement Project
---
May 30, 2016 | Storage Tips
There are lots of reasons why people decide to remodel rather than move. If the kids are in a great school, or you love your neighborhood, you might not want to give those things up. While spring and early summer are the best times of the year to put your house on the market, you might decide to undertake a home remodel instead. If you utilize self storage during your home improvement project, you can decrease the chaos of remodeling while increasing the value of your home.
Whether you hire a professional remodeler or you are planning a DIY home improvement project, remember that things tend to get crowded when you start moving things out of one room and into another. Additionally, contractors and other people you may not know well may be trekking in and out of your house. While you can do a lot to protect your items from possible theft or damage during a major remodel, you cannot always be home to keep a watchful eye on everything.
Benefits of Self Storage During a Remodel
A home improvement project can be stressful and requires a lot of work and planning ahead. Renting a storage unit can help ease the burden and keep your valuables safe and out of harm's way. Dust and debris can damage furniture, home accessories, and other personal belongings. Even though the size of your remodeling project will determine the size of the storage unit to rent, you might be pleasantly surprised to discover how much a 10X10 unit will accommodate.
Here are just a few of the many benefits you get when renting a storage unit when you are renovating your home:
Protect your furnishings from dust and debris
Keep highly valuable items safe from possible theft
Prevent tables from being used as work surfaces
Keep your spaces better organized
Personal and household items like jewelry, area rugs, and electronic equipment can be safely stored away from home in a secure storage unit. Choosing a slightly larger storage unit than what you need will make accessing your stored items easier. Just like you will want to create a main flow of traffic through your home, you will want to create an aisleway in your storage unit unless you won't need to access the items you plan to store for the duration of your remodel.
Do I need a climate-controlled storage unit during my home improvement project?
If you plan to store temperature-sensitive items, then choose a climate-controlled storage unit. Especially if you live in a high heat index city in the Midwest or a Southern portion of the country where summer temperatures soar and humidity increases. While there are no hard and fast rules for what to store during a home makeover, homeowners typically store these types of items during their home improvement projects:
Larger pieces of furniture, such as sofas, tables, beds, nightstands, dresser drawers, entertainment centers, and bookcases
Area rugs, draperies, and extra bedding
Artwork, paintings, and framed photographs
Floor and table lamps
Computer equipment
Stereo equipment and cameras
Declutter and Prep for Your Home Project with Self Storage
Before you begin your home improvement project, your home should be free from clutter. Balancing the demands of a family is always a challenge, whether you work at home or commute every day. Sports gear, seasonal coats and boots, and backpacks quickly turn into chaos. Renting a storage unit ahead of time, will not only help you keep your valuables safe, but it will also give you the opportunity to declutter your home and organize your home and to ensure a successful start on home improvement project.
At Metro Self Storage, we've has a reputation of making room for our residents, neighbors and business owners since 1973. Whether you're taking on a home imporvement project, need to declutter your home, or anything in between, our friendly storage team can help you find the right unit size to fit everything you need to store. Find a Metro Self Storage facility near you and rent your unit online today.