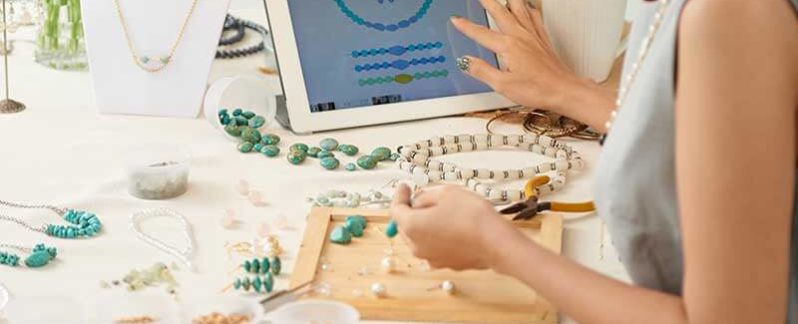 How Etsy Shop Owners and Crafters Can Benefit from Storage Units
---
March 22, 2020 | Home Organization
Do you own an Etsy shop? And are you seeking new and innovative ways to expand your business on Etsy and distinguish yourself from others in the market? If yes, it is a great idea to rent a storage unit for your diverse business needs.
Platforms, such as Etsy, provide re-sellers, wholesalers, and crafters, with access to a global marketplace. However, it soon becomes apparent to many sellers that their inventory consumes a lot of space, particularly if you are also creating your wares to sell.
A self-storage unit can save you a great amount of money and also help you get on your feet if you are a small business owner or a crafter who makes a living by crafting and selling beautiful items.
You know and understand the amount of work that goes into your custom signs, jewelry, or clothes if you are an Etsy shop owner or artisan. Contrary to what most people usually believe, it is a full-time job. When you start to get more customers, your supplies and storage needs begin to skyrocket.
And if you are running your Etsy shop from your home, note that the additional space a storage unit provides can help you in striking a better work/life balance. This is because you will be able to declutter your home space from your work supplies, which is excellent.
Here is how every crafter, skilled artisan, or artist, can benefit considerably from a storage unit.
Better Organization
You already know how much better things operate when everything is organized. If you organize your workspace, you will enjoy many benefits. For example, you will know what supplies your business needs, and you will be able to keep better track of what orders you need to fill and mail. And that is not all; you will have more room for your future production needs. You can channel your inner organizational guru when you have the space of a convenient storage unit for your Etsy shop.
And the great thing is that you will not have to worry about your family or roommate getting things out of place. Note that renting a self-storage unit makes a lot of sense in this situation. This is because it is a dry, safe, easily accessible place where you can stash your yarn, beads, canvasses, shea butter, fabric, and many other raw materials.
Space for Future Growth
When expanding your Etsy business, you will face one problem. Your home will, at one point or another, limit your ability to increase your sales depending on what you sell. For example, if you mainly sell jewelry, note that you may probably go without additional storage for quite a while. This is because items, like rings, earrings, bracelets, necklaces, and brooches, usually take up little space.
In contrast, if you are selling bigger or bulkier items, like collectibles, toys, furniture, or clothes, you will find yourself running out of storage space fast, particularly if your sales start booming.
So, although you may not need that extra space right away after your Etsy shop really takes off, you will start to experience more demand for your products and hence, more materials. You are bound to require more space in order to keep up with your orders. So, rent out a storage unit for your needs, instead of storing all of your items in the home.
A Place to Meet Customers
Here is another excellent way a self-storage unit can benefit you. It gives you the perfect space to meet your customers. It is worth emphasizing that it helps keeps your personal and business life separate, allowing your Etsy customers to see the creative space that you use for brainstorming and creating some of their favorite products, such as bracelets.
This does not only protect your privacy, but it also helps give you a professional touch, and you can use it to impress your customers. And if you would like to impress your customers more, you should keep your storage unit organized. You can use shelving units and cubbies for this purpose.
Ideal Place for Photos
Every Etsy owner has to take some photos for their account. You should take some time to make your storage unit professional and also give it a personal and creative touch. This is because when it comes to operating an online business, such as your Etsy shop, the pictures can, at times, matter as much as the quality of your products.
Turning your self-storage unit into a makeshift photo studio is a great idea if space is an issue for you. You can hang a cool backdrop, hook up the most suitable lighting, and stage your items. Take these steps, and your online presence will reflect your high-quality products.
Final Thoughts
A storage unit is one of the best answers to your Etsy business growth issues and challenges. You cannot only keep all your Etsy items in tiptop shape with a storage unit, but you can keep them organized as well.