The Ultimate Guide to Moving with Kids
---
June 11, 2017 | Family Life
Moving with kids can be a big challenge. On the one hand, you need to focus on getting everything done for the move. Tackling a seemingly endless to-do list of things to organize and pack may seem overwhelming. However, at the same time, you need to think about your kids and their emotions as they work through the change.
To help you strike a balance between moving and parenting, read through this guide and note anything that's important for your situation.
Prepare Your Kids in Advance of Your Move
A move can come with a lot of unknowns. What will moving day be like? How long will it take to travel to the new place? What will the new house, neighborhood, and school be like? What will your kids do for fun?
Your kids need time and clarity to process these questions and more. You can help them adjust to the change simply by providing as much information as possible. These details can help remove part of the fear and anxiety that comes from the unknown.
Think carefully about how you will tell your kids about the move. Make sure there's plenty of time for open questions and honest conversations, both after you break the news and in the following weeks. Depending on whether or not you are moving with a baby and the age of your children, consider getting books from the library about moving with kids, or write a book together about the move. Include photos of your current home and life, as well as pictures of the place you're heading.
These kinds of activities can help your kids feel less apprehensive because they help them to understand what's happening.
Focus on the Important Things that will Stay the Same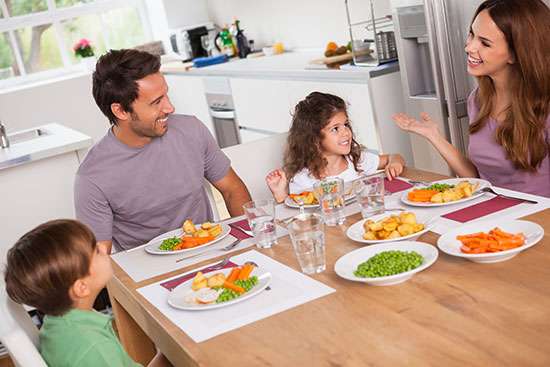 When you talk about the move, be sure to highlight the key parts of your kids' life that won't change. For example, you can mention that your child's toys, furniture, and clothes will be coming along. You can even pack your kid's favorite things in a special bag that stays accessible through the move. Then, you can always bring out these items as sources of comfort.
As much as possible, try to keep the same routines, too, especially if your children are young. Bedtime routines, family rituals, and daily/weekly habits can all bring reassurance during the instability of a move. For instance, if you normally go to the library or make a special breakfast once a week, try to maintain that habit through the move.
Keeping up important relationships can also make a big difference for your child. A move doesn't have to mark the end of a close friendship, especially with resources like Skype, Facebook, email, and phone calls, as well as old-fashioned letters and packages. Support your child's long-distance friendships; these connections are essential to your child's emotional well-being as they navigate into a new social world.
Make the Move as Stress-Free as Possible for Your Children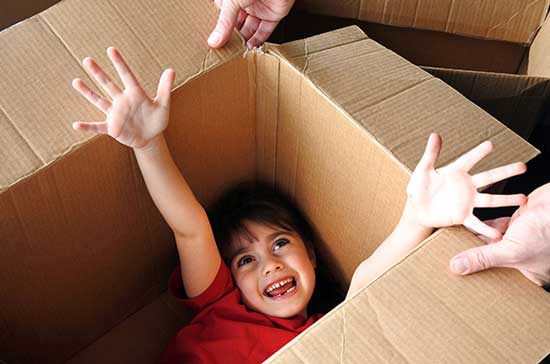 When you're moving by yourself, you can get frustrated and upset without affecting many people. However, when you're moving with kids, your stress levels can impact their emotions and experience. The more stressed-out you are, the more they suffer.
For this reason, try to prioritize reducing your own stress during the move. For example, stay organized by following a checklist and color coding your boxes with duct tape. Then, when you start moving into your new home, you can rent a self storage unit to minimize clutter and chaos. This peace of mind isn't just good for your own health; it also helps your child feel more at ease with the move.
Find Ways to Have Fun when You're Moving with Kids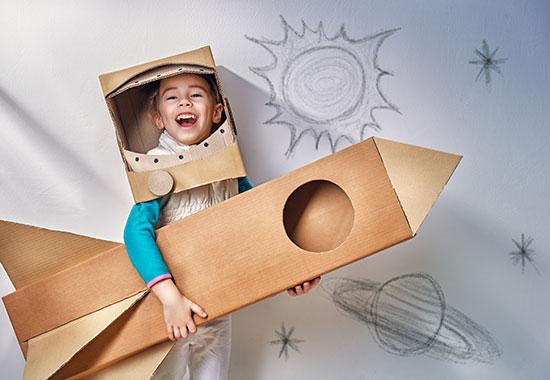 It's hard to stay positive about a move if you're always focused on the chores and hassles of moving. Instead, make the move into an adventure by including fun moments and activities in the day. For example, you can take an ice cream break while packing or visit fun places while traveling to your new home.
Think of ways your kids can have fun while you're busy, too. Stock up on games, books, and toys, so they won't get bored. One excellent new game or book can make the move into a good memory for your kid, rather than a nightmare.
Other ways to take time out and have some fun during a move, is to turn your moving boxes into toys, forts, and games.
Make New Connections and Friends
One of the hardest parts of moving is finding where you belong in your new community. You can help your kids with this challenge by getting to know your neighbors and finding activities your kids could get involved in. For example, you can check out local clubs, sports teams, and kid-centered events at the library. Support your child's involvement, and let them try out a range of activities. It may take a while before they find something that clicks.
However, be aware that your children may need time to adjust before diving into a new social life. Although your kids may adapt quickly, it's not unusual for children to feel out of place for several months.
Likewise, expect some regression as your kids acclimatize to their new environment, especially younger children. A move can cause a child to sleep worse, eat less, and backslide on potty training. Remember that these setbacks are temporary.
With your support and understanding, things will eventually get back to normal again. Moving with kids can be difficult, but in the end, your children will adapt to the change and flourish once again.
Rent a Storage Unit for Your Next Move
Whether you're moving with children, pets, or you and your spouse, having a storage unit can come in handy if your new home is smaller than your previous home or you need a place to store additional furniture and items while you hunt for a new home. At Metro Self Storage, we offer flexible month-to-month storage, top-notch security features, and a friendly storage team that is available to answer any storage-related questions. Don't delay. Find a Metro Self Storage location near you and find out how we can make room for you today!