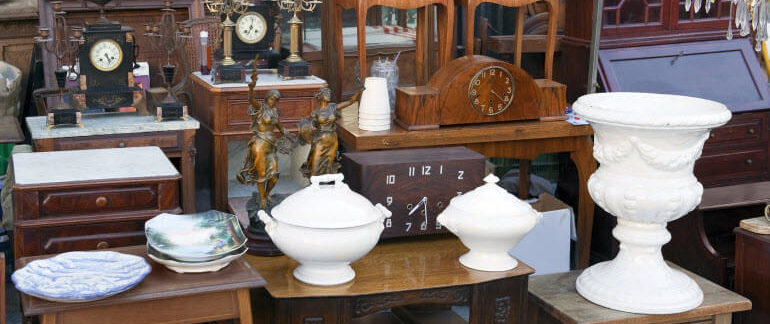 How to Prepare Family Heirlooms for Storage | Moving & Storage Advice
---
September 19, 2016 | Family Life
When it comes to preserving your family traditions and memories, it is important to learn how to prepare family heirlooms for storage so they will be around for future generations. Family heirlooms include expensive objects such as antique furniture or a Cartier necklace.
However, anything from furniture and musical instruments to recipes, photos, and diaries could be considered a family heirloom.
The decision to rent a storage unit for your heirloom or declutter it all depends on your family, the types of items under consideration, and whether or not you consider the items in question valuable multi-generational heirlooms.
Why should I place antique and wood furniture in storage?
Boomers and even some Generation Xers often find themselves decluttering and downsizing while Millennials are moving into urban settings that offer smaller dwellings. Who wants to haul around grandpa's 500-pound antique oak writing desk? It begs the question: Are the days of younger generations wanting to prepare their family heirlooms for storage long gone?
For today's modern sensibilities, how a piece of furniture functions is just as important as how it looks. The trend to build smaller homes and apartments continues to grow to make space-efficient multifunctional furniture a must-have—think IKEA bed with spacious pull-out drawers discreetly built into the bed frame.
Nevertheless, there are instances where long-cherished furniture is worth the investment to place into storage for future generations. Even if you are downsizing, you can justify the cost to store items if a child, niece, nephew, or another relative you plan on passing it down to has expressed a sincere interest in taking the item in the near future.
For example, heirloom wood furniture, like a pine antique armoire imported from England, is often irreplaceable. So, if you plan to save a treasured item, be sure to read our post on how to properly prepare your wood furnishings for storage to ensure they are as beautiful coming out of your storage unit as they were going in.
10 Steps to follow when placing musical instruments in storage
Whether you have a priceless African drum, a Guarnerius violin, or various guitars you have collected over a lifetime, all musical instruments and electronics are sensitive to environmental conditions such as hot and cold temperatures, dust, and humidity.
Keep these guidelines in mind to ensure the safety of your valued objects whether you are storing family heirlooms, electronic equipment, or antique instruments:
1. Choose a secure, clean, and climate-controlled storage environment.
2. Thoroughly polish brass instruments before storage.
3. Clean and condition wood instruments with the proper type of rub recommended by your local music store.
4. Oil leather drums to keep the skins from drying out, which will lead to shrinking and cracking.
5. Store each instrument separately and in its original case if possible.
6. Line cases with acid-free paper if your case shows visible signs of wear.
7. Instrument cases should be placed off the floor on shelves or on top of wooden pallets in your storage unit.
8. Purchase tenant insurance for your storage unit to protect your musical instrument heirlooms from a natural disaster, fire, or burglary.
9. Plan to visit your storage unit at least twice a year to inspect and maintain your stored instruments.
10. When in long-term storage, periodically tune and play your musical instrument to keep it in the best condition possible.
Instruments made from durable metals—cymbals, French horns, tubas, slide trombones, and other types of brass instruments—are easier to prepare for storage than instruments made from more than type of material. With the proper preparation and storage techniques, there is no reason your instruments shouldn't last many lifetimes.
While inheriting family heirlooms might be like the lottery for some: almost anything that represents family history and memories can be considered as a valued possession. If you need help storing your objects of value, contact your local Metro Self Storage facility for knowledgeable advice and helpful service.