Storage Unit Sizes: How to Choose the Right Size Unit Every Time
---
October 28, 2018 | Business Storage
Most people wing it when choosing a storage unit size for the first time. Naturally, this usually results in renting (and therefore paying for) more space than they need. Here's how to prevent that from happening to you.
It's easy to rent more storage space than you need—and other than budget constraints, renting extra storage space can be a beneficial strategy in some circumstances for businesses and households alike.
For example, if you plan to use a storage unit as an extension of your home or business and need to access it on a daily or weekly basis, a bigger unit is easier to organize. A drive-up storage unit also allows for quick trips and is like having an extra garage.
Here are some tips to help you choose the right-sized storage unit every time.
What can I store in a 5X5 storage unit?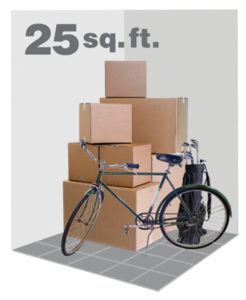 Let's take a look at a 5×5 storage unit. Most commonly referred to as a walk-in closet, a 5X5 storage unit is about the smallest size you will find at your local storage facility. Anything smaller is called a storage locker.
You can fit things like sporting equipment, holiday decorations, gardening supplies, and a few boxes into these small storage units.
If you rent a climate-controlled 5×5 unit, feel free to place family photos, books, clothing, and collectibles into your space.
Just how small is a 5×5 storage unit?  Well, it's small enough that if you are over 5-feet tall, you won't be able to lie down inside. Not that anyone would want to take a nap in their storage unit, but at Metro Self Storage, we keep all of our spaces so meticulously clean, it might be tempting.
How big are 5X10 storage units?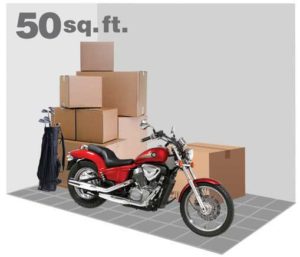 Think of a 5×10 as about the size at an average walk-in closet. These storage unit sizes will fit the contents of one bedroom or a dorm room. Other types of items you can fit into a 5×10 storage unit include ATVs and motorcycles as well as seasonal sports items like golf clubs.
If you have these types and sizes of items, they will fit into a 5×10 storage space when the unit is packed appropriately.
Favorite packing materials to keep your valuables in their original condition include mattress covers, furniture pads, wooden palettes to keep items off cement floors (this is especially true for outdoor drive-up units), and sturdy moving boxes.
We also suggest using lots of bubble wrap for breakables and to place filling materials like compostable shipping peanuts or crumpled paper between items inside each of your moving boxes.
What can I fit into a 10X10 storage unit?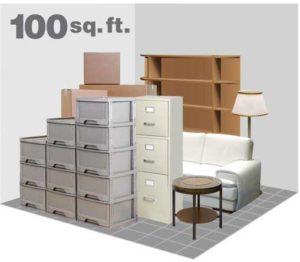 Next up are the ever-popular 10×10 storage unit sizes. These units are about the size of one bedroom. Homeowners, apartment dwellers, and business owners all utilize medium storage units.
The number one reason people rent at 10×10 storage unit? To reduce clutter and free up needed space in their homes, apartments, or businesses.
Another reason people rent self storage units for their valuables is that many storage facilities provide security features not found in homes.
For example, standard security features at Metro Self Storage facilities include 24-hour digital surveillance, secure gated entry, and perimeter security fencing.
When it comes to commercial storage, 10×10 storage unit sizes are one of the most popular sizes for all types of businesses.
From law and medical offices to handymen and landscapers, 10X10 and larger storage units hold a wide range of items and offer secure storage for business records, tools and power equipment, and important documents.
What can I store in a 10×15 storage unit?
A 10×15 storage unit will typically hold the contents of a two-bedroom apartment or a small home. Keep in mind, the amount of things you can fit into a storage unit largely depends on how much you own and your lifestyle.
If you're the sentimental type who can't throw anything away or have outdoor gear for every season of the year, make a careful and realistic assessment of your storage needs.
Moving is a perfect time to declutter and downsize your belongings. However, for people serving in the military, moving and deployment can come on short notice. So reasons people might want to upsize their storage unit is because they aren't ready or don't have time to organize and donate their extra belongings.
Go with a 10×15 storage unit if you have multiple bedroom sets, bookcases, and appliances in addition to a couch and a loveseat.
It' worth noting that if you live in a region of the country that experiences extreme heat in the summers or freezing temperatures during the winter months, be sure to speak with your storage facility manager about the benefits of climate-controlled storage units.
What can I store in a 10×20 storage unit?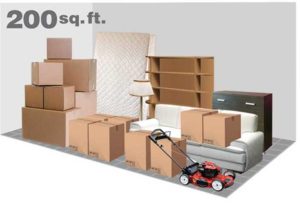 A 10×20 storage unit is about the size of a one-car garage and will hold the items from a two- to three-bedroom house or apartment.
These types of units are the right size if you are storing multiple bedroom sets, dining room sets, office furniture, larger appliances like a fridge or washer and dryer as well as numerous boxes.
In addition to meeting the storage needs of larger households, 10×20 drive-up storage units are also suitable for vehicle storage.
So if you have motorcycles, jet skis, a classic car or even smaller modern-day cars will fit into 10×20 storage units,
Easy to imagine, right? Moreover, these storage units feature large, roll-up doors making loading and unloading your items as easy as possible.
How big is a 10×30 storage unit?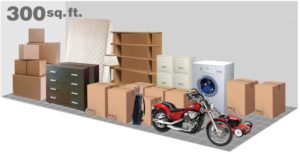 A 10×30 storage unit is typically the biggest unit size you'll find at a storage facility. So if you have collectibles or sentimental belongings, such as a large painting, a gargoyle statue, a topiary, a rowboat, or an ATV then large storage unit sizes are the right choice for you.
These large storage units are ideal spaces for business and commercial storage and inventory as well as equipment and surplus supplies for restaurants and retail stores.
Whether you are a contractor, local corporation, or small business owner, renting a storage unit at a cheaper rate than what you would pay at a traditional warehouse can be beneficial to the bottom line.
If you need a larger, commercial unit, call our friendly customer service team to see if we have a location with warehouse storage unit sizes near you.
Metro Has More Tips for Preparing Your Items for Storage
The knowledgeable and helpful staff at Metro Self Storage can always assist you in selecting the right-sized unit for your personal and household storage needs. Additionally, small and medium storage units are frequently used for business records storage.
For business storage, placing shelving units on one side of your storage unit will leave a narrow but accessible aisle to access file storage.
No matter what you plan to store, try to stack boxes no more than about three to four feet high. In some cases, you can also place boxes on top of sturdy furniture like an oak table.
But our best advice is to check with your local self storage facility manager to discuss temperature, humidity, and packing methods ahead of time for personalized storage tips.
With more than 45 years of experience in the storage industry, we recommend you get an even better visual sense of the storage space by visiting your local storage facility in person.